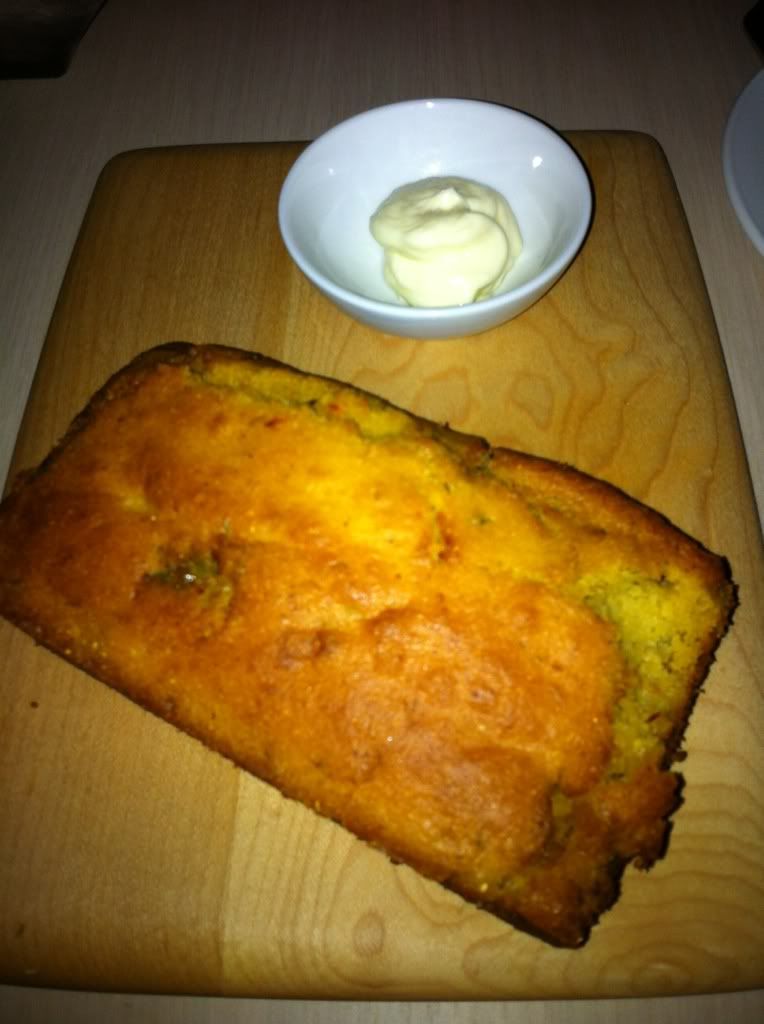 So yet another New York transplant has made its way to Miami Beach; The Dutch opened its doors to the public this passed week. We headed over to The W South Beach hotel where The Dutch is located and I can honestly say I had never seen so much collagen, fake tits and skin tight mini dresses in my life. There were all sorts of hoes running around that hotel, tourist hoes, guidette hoes and chonga hoes lookin for their papi chulo. We made our way to the restaurant after getting slightly lost inside the hotel. The restaurant looks similar to one of those Ikea display rooms with little odds and ends atop modern looking bookshelves throughout the place. The staff at the door and bar all looked like Abercrombie & Fitch models and were friendly. The restaurant was filled with people laughing and genuinely having a fun-filled time, at first glance the place looked very promising.
Once we sat down our waiter, was kind enough to go over the menu. We looked over it and had a hard time narrowing down what we wanted. One thing we did notice, there is nothing particularly Dutch about the menu, none the less, they had an eclectic selection of food. My date opted for bottled sparkling water (he's fancy like that) and the runner that brought out the sparkling water had a hard time understanding the concept that only one person wanted sparkling water. Not only did the runner have a hard time understanding this, so did our waiter. Even to the extent of pouring sparkling water into my humble cup of flat water. Besides that minor snafu, our dinner was relatively smooth sailings.
We started out with their complimentary cornbread. It was really soft, moist and flavorful. Lather it up with some of their homemade buttah and it sky rockets to another level. You get a whole mini loaf to yourself and you cant help but have just one bite. You have to be sure to eat it with caution, you can easily eat the whole loaf by yourself and be full before your appetizer hits the table.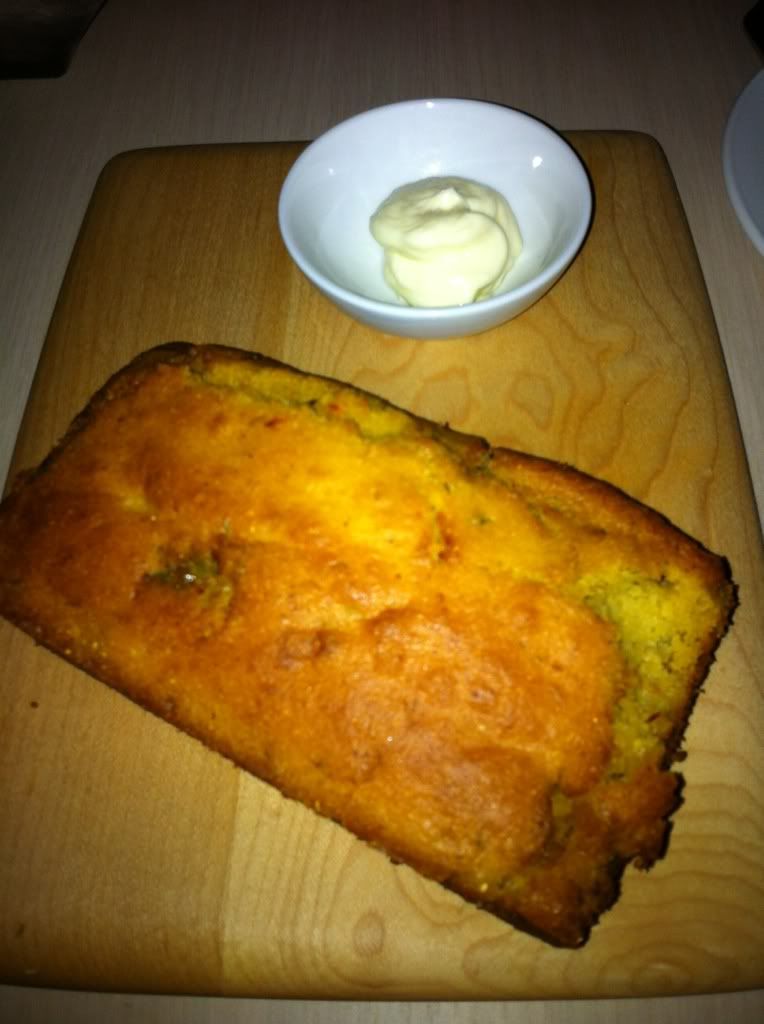 Immediately after our bread, we were presented with our three different appetizers. First I'll cover their Spicy Coconut Lobster. The presentation on this was really neat; it's served in a halved coconut shell over a plate filled with crushed ice. The lobster itself seemed almost like a lobster ceviche served in a creamy sauce. Although, there wasn't much spiciness to the dish as its name would suggest, it was very flavorful and fresh. My date only allowed me one bite of this dish, because he's not only fancy, he's also greedy. So I'm not able to elaborate too much on the sauce or minced vegetables that were in it. All I can attest to is that the one bite I had definitely left me wanting more. The lobster was tender and the sauce really popped with flavor.
Up next I had their Roasted Beet Salad. The salad is comprised of pieces of fresh grapefruit, fresh goat cheese, pistachios, giant chunks of roast beets and some arugula sprinkled over the top. I had honestly never had beets before and this was my first time having them (truth be told, I've been a vegetable-phobe the vast majority of my life) and I really loved the flavor of the roasted beets. I loved the combination of goat cheese and grapefruit alongside the intense flavor of the beets. It worked really well and the little added crunch from the pistachios was a fun touch to this out of the ordinary salad. Only two slightly negative things I have to say about this dish are as follows: the actual chunks themselves were too big and I would've preferred them cut into smaller mouthful pieces and I would've loved to see more goat cheese on this dish instead of a light sprinkling. Other than that, I really enjoyed it.
We then moved onto their Steak Tartare. The menu states that the tartare is served with arugula, truffle dressing and walnuts. However, the dish we were served had the steak tartare, over a phenomenal truffle dressing, a fried quail egg, crostini and arugula. I personally loved this dish and it was easily the best dish of the night. The truffle dressing was creamy and intensely flavorful, the meat was fresh and the crostini added a great crunch and variety of texture to the whole dish. The quail egg just made this already great dish even better. I found myself scraping the plate with my fork trying to get every last drop of truffle dressing when it was all over. It was that good.
We then moved onto the their Blue Crab Pizza that comes with tomato, zucchini, jalapeno and thinly sliced cucumbers. I didn't try this appetizer because I was trying feverishly to save room for my entrée and dessert. My date ate the whole pizza like a champ. It was a very thin crust and served on a large wooden cutting board. The colors on the pizza were bright and all of the ingredients appeared fresh. He did say that he felt the flavor of the crab meat was slightly lost amongst the overpowering flavors of the pizza sauce, jalapeno and cucumbers. None the less, we continued our journey.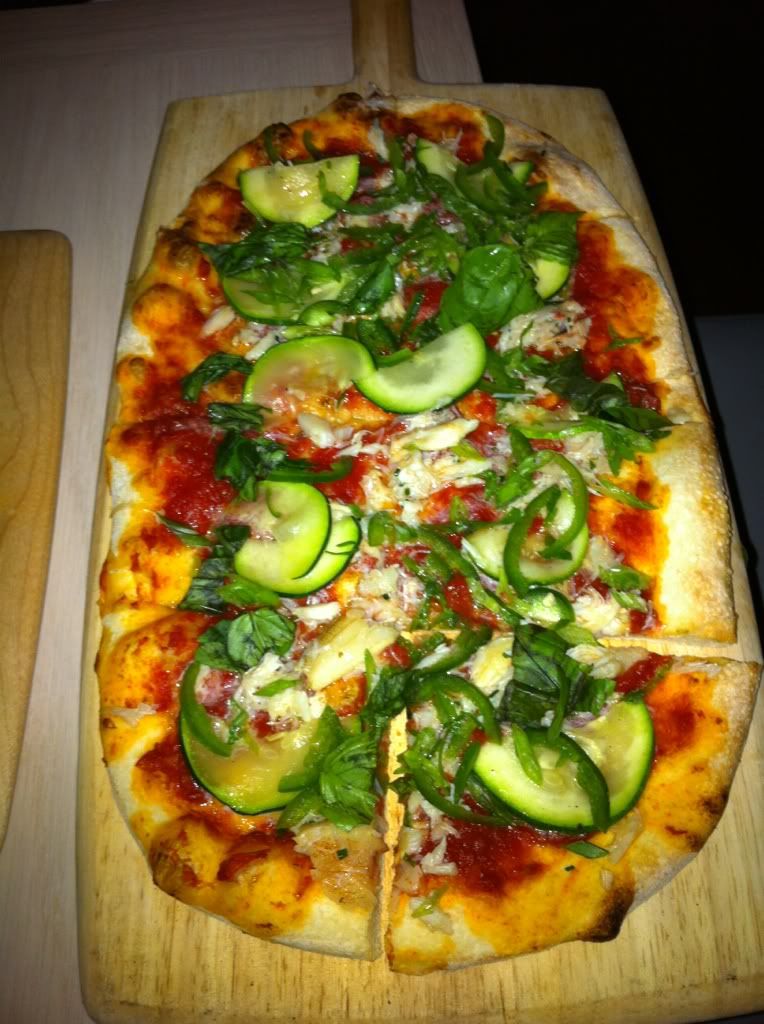 We finally moved into our entrees. I kept it simple and went with their Pappardelle with lamb ragu, homemade sheep's milk ricotta and minced mint over the top. I loved the freshness of the pasta and the sauce was wonderfully great but in no-way overpowered the flavor of the lamb, if anything the lamb's flavor was enhanced by the sauce and the tiny hint of fresh mint went perfectly. These folks didn't skimp on the meat either, this was a heavy meat sauce with tons of meat in every bite. The ricotta also had a great, creamy texture. Again I would've liked a bigger dollop of ricotta on my pasta (keep in mind I'm a total cheese hound and I always want more cheese). This dish was a true testament to how different a plate can be when you use fresh ingredients. I honestly had no complaints about this dish and wouldn't hesitate in having it again.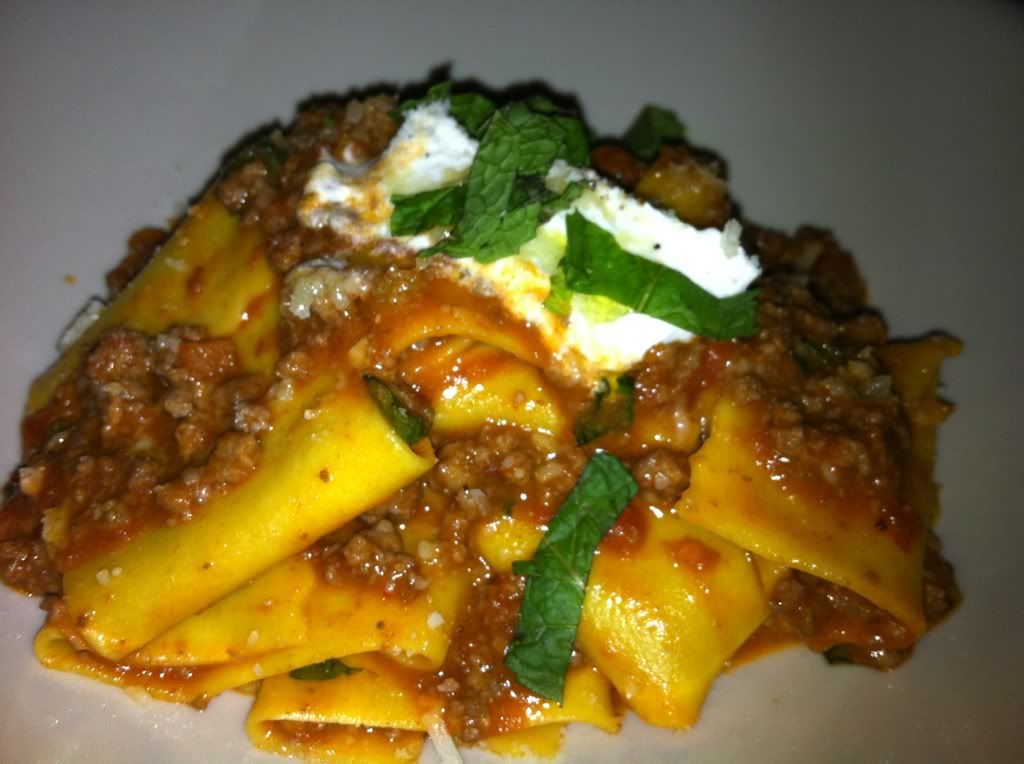 My date had their Maine Sea Scallops with heirloom cauliflower and citrus. His dish was so colorful and it looked absolutely delicious. That greedy bastard didn't share any yet again. The dish had three of the biggest sea scallops I have ever seen set a top two different sauces and a wedge of what looked like mandarin orange over each piece. I'm embarrassed at the lack of details I have about this dish because it looked so damn good. The cauliflower was so brightly colored and looked like they had just picked it from the garden. Atop of that there was also a small sprinkling of pine nuts and caramelized onions. He gobbled that dish up like a marielito during Noche Buena and he didn't hesitate to tell me that it was his favorite dish along with the steak tartare. Bastard.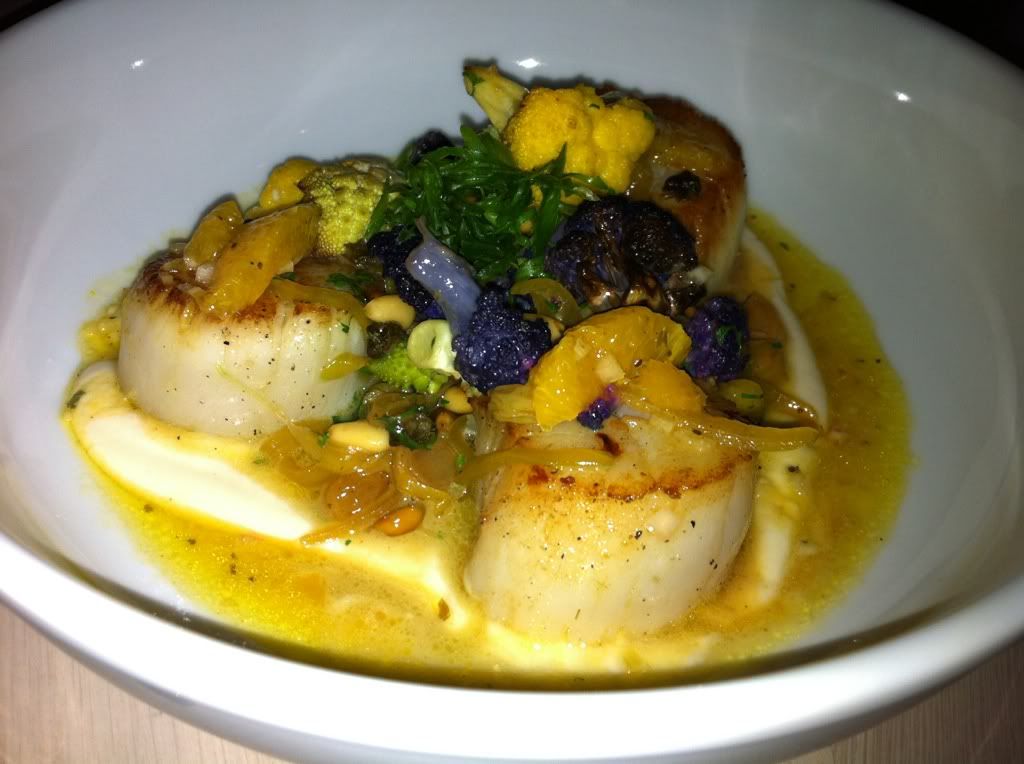 Finally, we wrapped up the night with a fat slice of their Devil's Food Cake. This was so delicious, it was chocolate cake with a really thick chocolate fudge frosting in between each layer of cake. The flavor of real chocolate and fudge beamed through and the side of White Russian ice cream tied in perfectly and helped mellow the richness of the chocolate cake. This dessert just made you keep eating more. My favorite part of this dish was the icing on the cake, the menu states it's a black pepper boiled icing. I didn't necessarily taste any black pepper and if you ask me the icing seemed like a thick and creamy meringue that added a nice creaminess to the cake. I love chocolate and the intense flavor of real dark chocolate had me at, "Hello."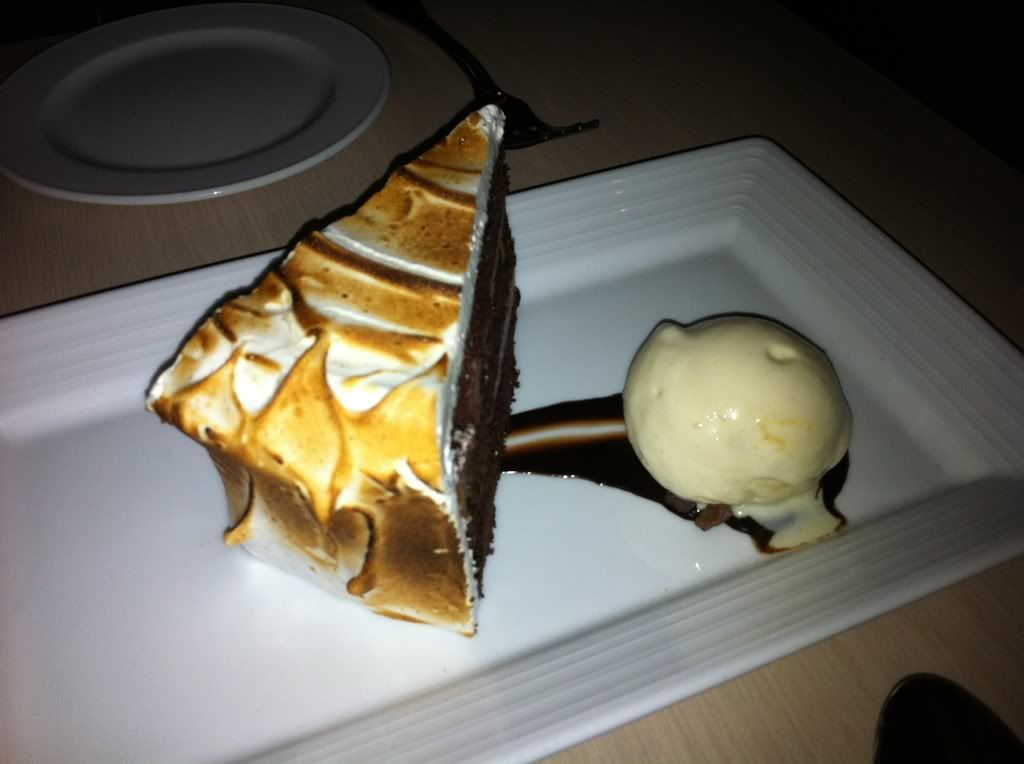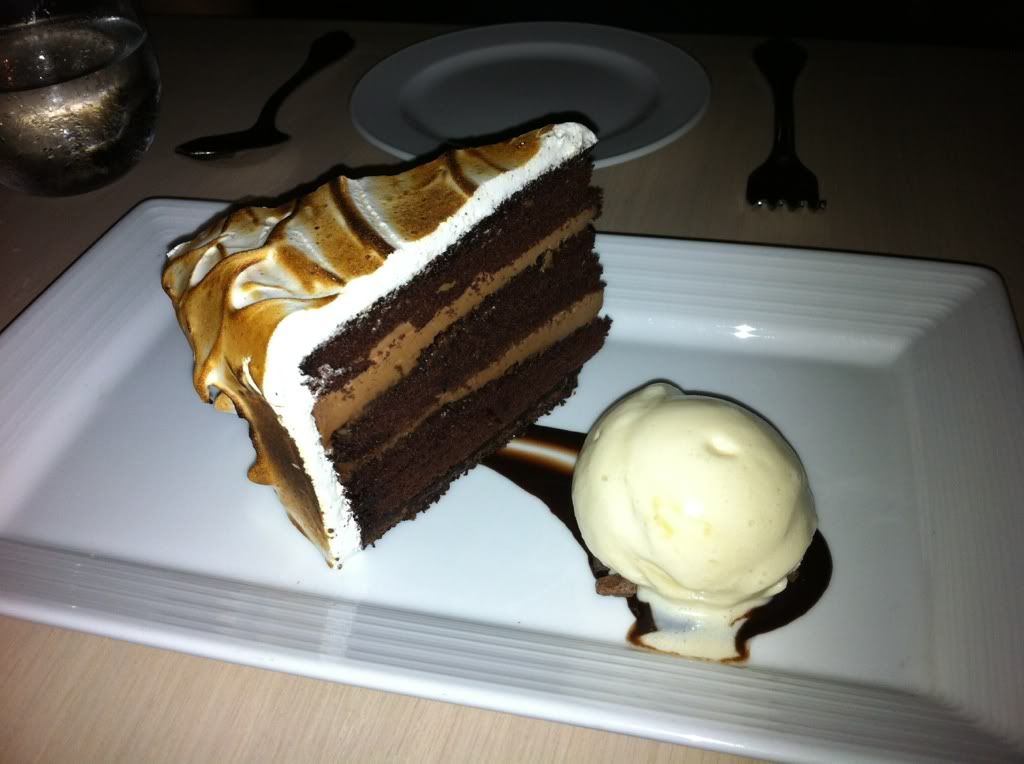 I really liked this place and wouldn't hesitate in going back. Overall, the food is great and fresh, the location is ideal for people watching and the restaurant is aesthetically pleasing to the eye (if you like Ikea catalogues) My only major complaint is that there are no restrooms inside the restaurant itself. If you need to excuse yourself to the bathroom, you'll be gone for about 30 minutes because the nearest restroom is on the other side of the hotel. The price range of this place is a little on the high side, so its definitely a place to go if you want to splurge or impress a hot date. Either way, it's a place to check out if you're looking for good food or tourist hoes in the hotel lobby.
_________________
Restaurant Details:
The Dutch
Inside the W South Beach Hotel
(305) 938-3111
2201 Collins Ave
Miami Beach, FL 33139