So I've made it my own personal agenda to try every burger that Bulldog's Burgers has to offer. Since my Hot Mess burger left me wondering if the other burgers on the menu were just as good, I didn't waste any time in rushing back to try another. This time I decided to tackle the Hunk of Burnin Love burger. This certified black angus beef burger comes with crisp bacon, pepperjack cheese, caramelized banana jam (yea, I just typed BANANA jam and burger in the same sentence!) and spicy peanut butter on a toasted bun. That's a whole lot of flavor and I haven't even bit into the damn thing. When I finally got the burger it looked like this: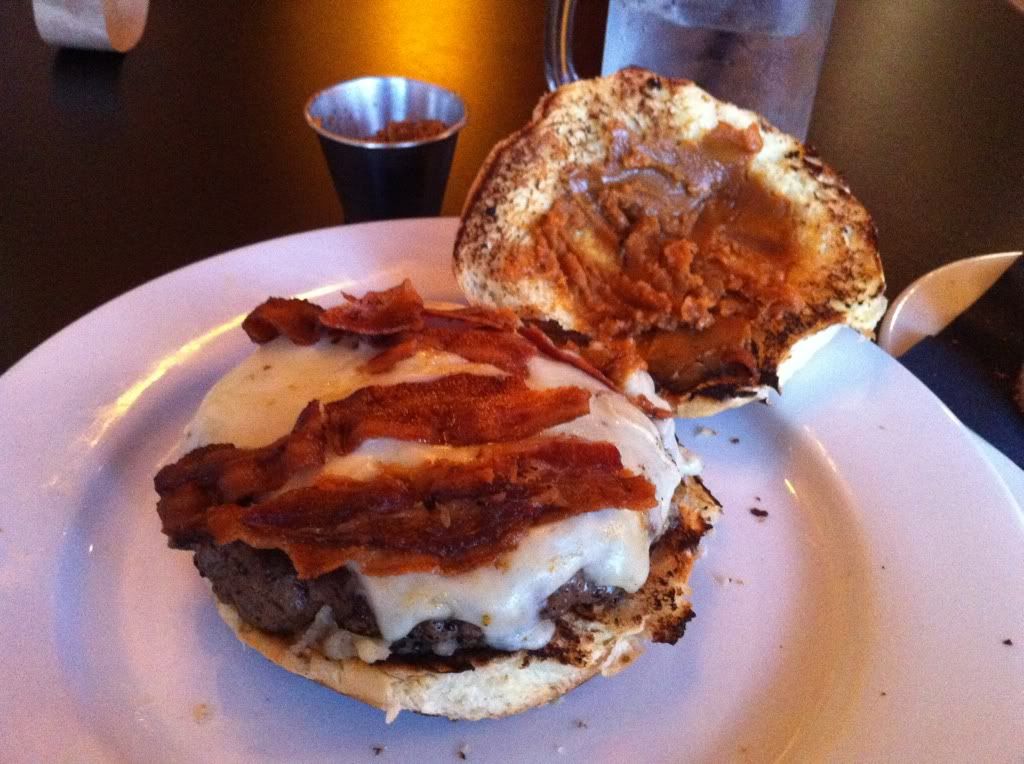 The beef itself was good, juicy but not overly greasy. The caramelized banana jam gave it a very funky and almost sweet flavor that went well with the spiciness of the peanut butter. The peanut butter itself was very thick and spicy, but in a way that wasn't overpowering or painful. The flavor of the peanut butter reminded me a lot of a spicy thai peanut dressing/sauce. The bacon unfortunately, was extremely dry and brittle, almost as if it had been sitting out for a while. I'm a huge fan of crispy bacon (or any kind of bacon, for that matter) but this bacon definitely didn't taste fresh. Which is a total shame, as it did the burger an injustice. Over all, the burger was very good, I really did enjoy the creative and adult pb and banana twist on a burger.
None the less, I plan on going back and trying my hand at the rest of the menu, perhaps their Morning Glory burger or their Heat burger.