By now, a lot of people know about Sweetness Bakeshop or their spin off food truck Sugar Rush. Within their first year of existence, Sweetness has gotten rave reviews for their cupcakes that come in dozens of creative flavors, cakes, ice creams and desserts. Sweetness has even become so popular that they even have developed their own 'perks' program, where you can earn free food and prizes with every dollar spent. Oddly enough, you never hear much about Sweetness' Savories Menu. Sweetness Bakeshop actually offers creative sandwiches, wraps, salads and daily lunch specials ranging from burgers to quiche depending on what day of the week it happens to be. They also have their own 'Build Your Own Sandwich' option.
I've been a fan of their Raspberry Brie sandwich for quite some time. This sandwich comes with
black forest ham or oven roasted turkey (I prefer turkey), brie, raspberry compote, field greens on french bread. I've always been a big fan of sweet and savory mixed together and this particular sandwich does that nicely in a way that isn't too overpowering. The fact that I have ooey gooey brie cheese in my sandwich is also a big plus in my book!
This past weekend I went to Sweetness Bakeshop and decided to steer away from my usual Raspberry brie sandwich and try something new. I opted to try their Mangocado Chicken sandwich. This sandwich also plays on the sweet and savory side with seared chicken, avocado, tomato, field greens, cilantro, lime, & red onions topped with their own homemade mango spread. I also noticed that over their avocado they drizzled black pepper and olive oil, reminiscent of my mom's cuban avocado salad. I decided to add Havarti cheese to my sandwich, because lets face it... EVERYTHING is better with cheese. The sandwich was actually very tasty, the only downfall is I wish they would have used a tiny bit less olive oil drizzle, as it took away from the flavor of the mango spread. None the less, it was a really good sandwich and what felt like a healthy lunch.
After my sandwich, I went ahead and helped my self to two mini cupcakes. It would've been damn near blasphemous to go to Sweetness and not have a cupcake. I ended having their Maple Bacon cupcake, yet another sweet and savory play. Which as the name sums up, it's a maple cupcake with bacon pieces, maple butter cream and sea salt. It's almost like breakfast in a cupcake.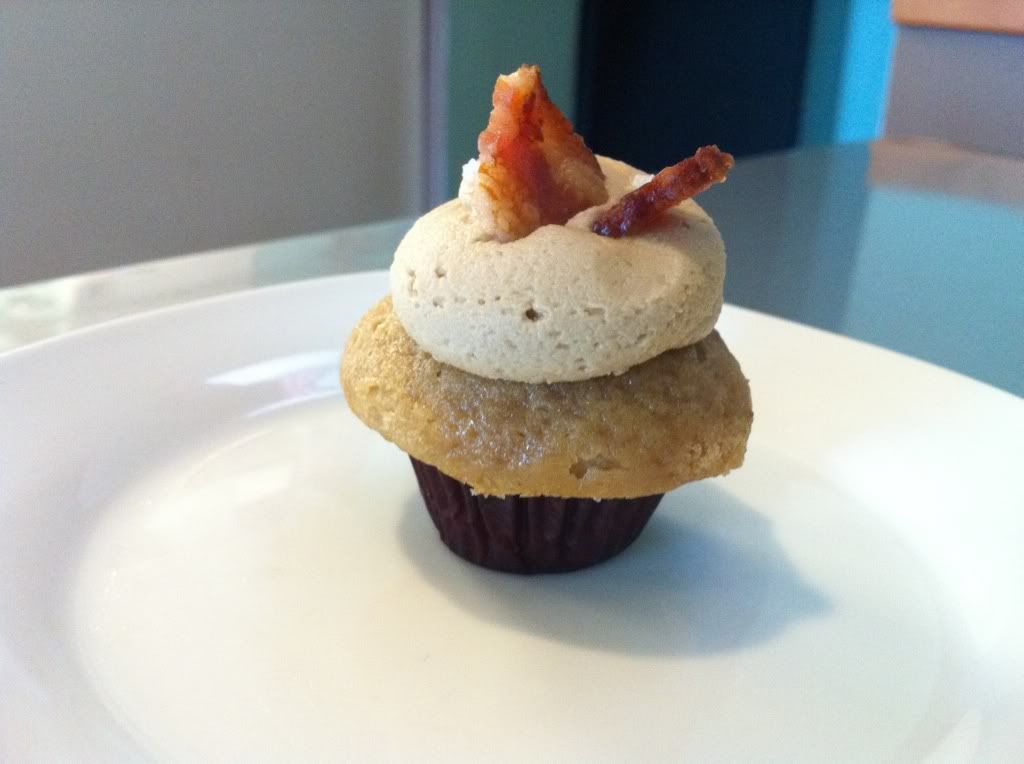 My second cupcake was their
PASSIONately In Love, which consists of chocolate cake, filled with passion fruit curd and topped passion fruit buttercream. And as the girl behind the counter best put it, "Anything this place does with passion fruit, is just awesome." And the truth is, she's absolutely right.
So the lesson learned is, there's a lot more to Sweetness Bakeshop than what meets the eye.The next time you pop in for a dozen of their awesome guayabera cupcakes, be sure to check out their Savories Menu for some tasty lunch!
_______________________________________
Restaurant Details:
Sweetness Bakeshop
9549 SW 72nd Street
Miami, FL 33173
(305) 271-7791
http://sweetnessbakeshop.net