With a name like NeMesis Urban Bistro, I was intrigued from the start. With my curiosity piqued, I had driven down to the restaurant on a Monday after work a few weeks back, only to find out they're not open on Mondays. Defeated, I left but promised myself I had to try this mysterious and elusive place out. I decided to march my way back this past Friday, insisting on trying out their food. The restaurant is a small place, with very colorful, unique and intricate art and decorating throughout the entire space. Everywhere you looked your eyes were mesmerized by a different art piece or decoration. The kitchen itself is also open and visible from anywhere in the restaurant, which is very neat. I've always liked being able to see cooks and chefs create your food; if you've ever seen the movie Waiting, you can understand why. The place itself was fun and funky all on its own. My favorite decoration are the upside down umbrellas that hang from the cieling as you walk in. As I walked in, I decided to help myself to a seat at the bar since there were only a couple of patrons in the restaurant.
Within minutes of sitting down, a spritely woman came up to me and began questioning me as to how I found out about the restaurant, if I had a reservation and everything short of asking to see my birth certificate. Once I divulged that I had found out about the restaurant through twitter, she insisted on knowing my twitter account name. This had never happened to me and all I could think about was the soup Nazi from Seinfeld. She finally stated that I was in her restaurant, that her name is Micah and she's the owner. She also stated that she asks everyone about how they heard of the restaurant since she uses no PR personnel and with the recent media over the restaurant's name, she's become protective. And protective she was, like a lioness safeguarding her cub. After passing my initial interrogation and interview process, I realized that Chef Micah Edelstein is indeed vigilantly careful of her baby and her craft (as any chef should be). Her initial abrasiveness subsided only to show a woman who is very passionate about what she does and is seemingly very sensitive about her work.
Chef Edelstein then went on to explain her menu with patience and great detail. She mentioned she had a blueberry beer with fresh blueberries, which immediately got my attention and I went with that. The fresh blueberries in the golden ale were completely refreshing for a hot summer night. The beer itself was really light and had a tiny hint of blueberry which was only magnified by the fresh blueberries floating about in the glass.
For my food choices, I decided to stick with the sexy nibbles side of the menu and get a couple of small dishes. My first dish was the Leek & Fig Braised Duck Potstickers. The potstickers also come with a drizzle of guava cardamom sauce. I took my first bite and wow, what an interesting and delicious take on potstickers. The flavor of the guava and cardamom sauce highlighted the flavor of the duck in a neat way but by no means overpowered the flavor of the meat. This only left me excited to see what else was in store.
Onto my next sexy nibble, I went with their Tuscan Sushi. The description simply read "Prosciutto, Mascarpone, Gorgonzola and Figs 3 ways," and that was enough to sell me. Once I got my 'sushi' I was captivated, it looked like your typical Japanese sushi, but it tasted nothing like what I'm used it. The texture alone was pure madness. From the creaminess of the mascarpone and gorgonzola, to the firmness of the prosciutto and then let's not forget the fig. One of the figs on each piece of sushi had caramelized sugar much like a brulee, that gave the dish a surprising and delightful crunchiness. It was an awesome party in my mouth and no one else was going to be invited. Once I was done with this dish, I was sad to realize that I didn't have any more sushi bites left. I debated if I wanted to order another Tuscan sushi plate, if I wanted to get dessert or if I wanted to be a complete fat ass and get both. I decided to control myself and just get dessert.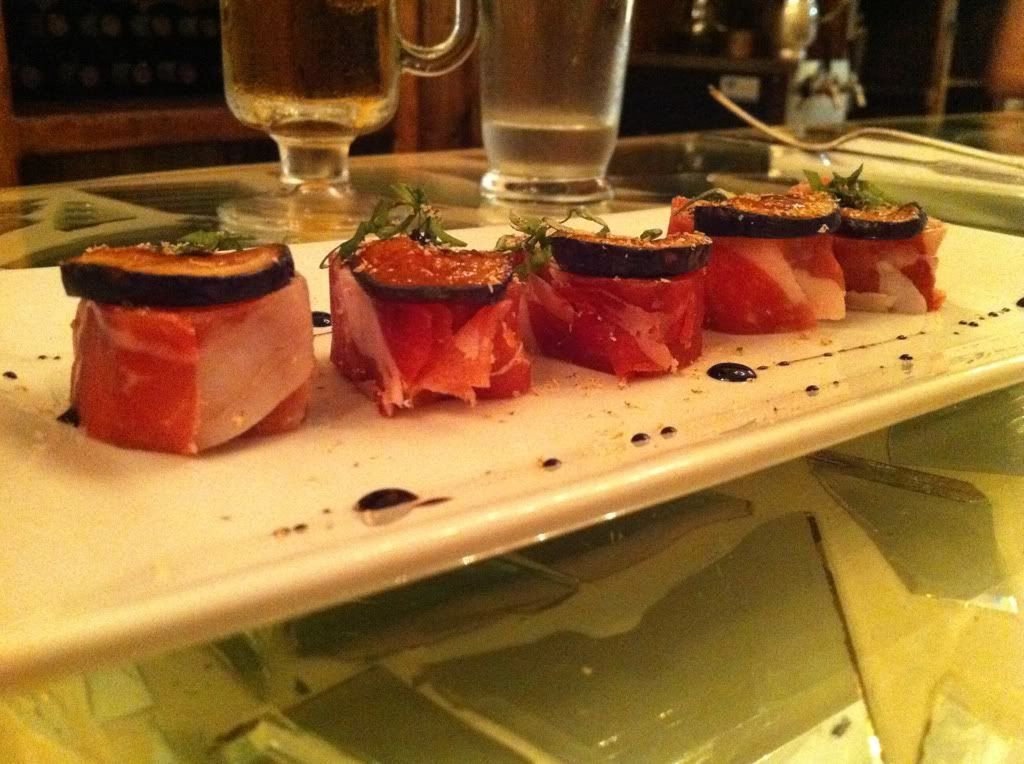 Just like the rest of the menu, every dessert listed in the dessert section was interesting and intriguing. I decided to go with the Huckleberry White Chocolate Bread Pudding. The bread pudding also listed as being joined by hibiscus honey, Greek yogurt and poppy seeds. What I expected was overly sweet, ooey-gooeyness. Instead what I got was at first glance similar to fried pork chops, but as I had already learned that night, looks can be so deceiving in NeMesis. I took a bite of the bread pudding, making sure to get a little bit of everything in the bite and what I tasted was subtle, sweet yet slightly tart at the same time. The bread pudding was firm and slightly crisp on the outside yet soft and warm on the inside. The Greek yogurt and poppy seeds gave the pudding a slight tartness that was a perfect contrast to the hibiscus honey. It was a subtle yet wide ranged flavor that hit every taste bud; perfect way to end my first visit to this great restaurant. I ate every last bite and even scooped up the left over Greek yogurt and honey. I was left completely stuffed and wishing I had worn sweatpants instead skinny jeans.
I really enjoyed this place; from the decoration and art in every part of the restaurant to the presentation of Chef Edelstein's plates. I loved how the Chef took dishes we all know and decided to re-conceptualize them and turned them on their ass. She gives everything a new spin and new life. I enjoyed how personal the place is with the Chef greeting everyone that came into what seemed like her second private home. In addition, the entire staff is extremely attentive, from the line chef Christine to the servers. If they didn't know the answer to your question, they were eager to find the answer for you. I should mention that they are only open for dinner and the earlier you get there the better. When I first walked in, there were only a couple of people in the establishment. However, by the time I left the place was full with a few people standing around waiting for a table. This place is great if you really want to impress a date or just go out and celebrate anything. I definitely plan to go back very soon, there were so many other dishes I wanted to try but didn't have room for.
________________________________________
Restaurant Details:
NeMesis Urban Bistro
1035 North Miami Ave. (In the Legal Art Building)
Miami FL, 33136
(305) 415-9911
www.nemesisbistro.com