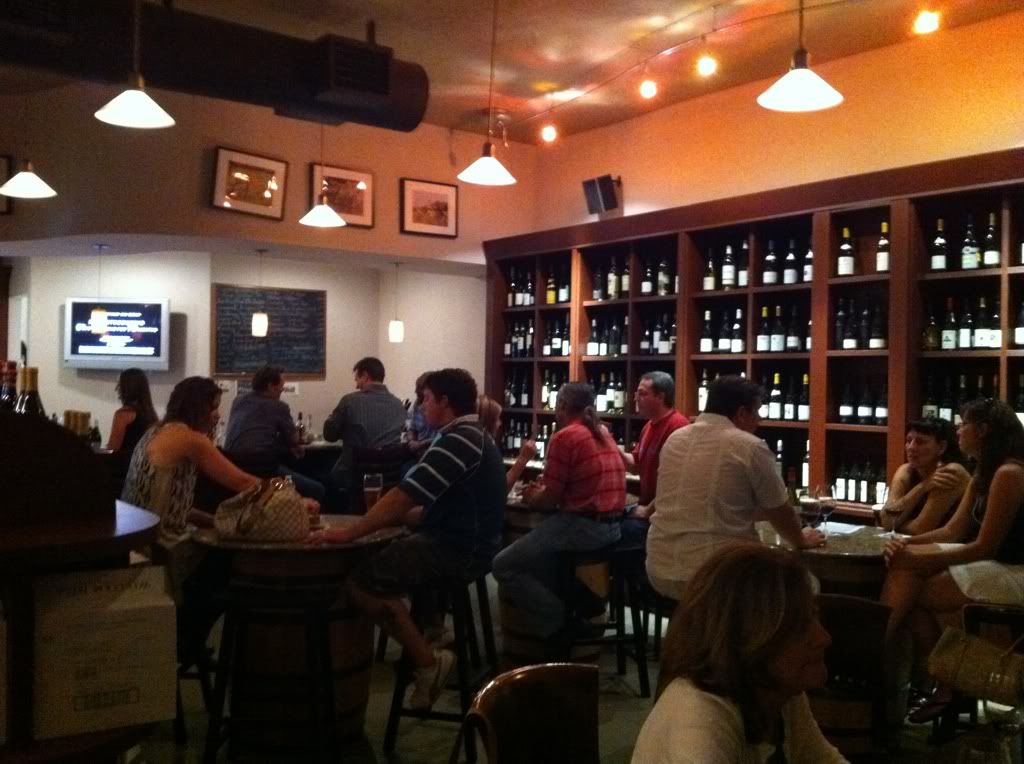 It was Friday and for once my girlfriends and I miraculously had nowhere to go for a change. I remembered this hole in the wall wine bar in Hollywood was having a FREE beer and rum tasting. As many of my friends know my favorite kind of beer and rum is free beer and free rum! So naturally, my girlfriends and I drove over to downtown Hollywood to enjoy some free spirits at Hollywood Vine. This little wine bar is located on the west end of downtown Hollywood on Harrison Street. It may look small, but Hollywood Vine actually sells over 600 wine and spirits in addition to offering over 40 different cheeses, meats and snacks. They have a few high top tables and bar seating that gives the place a very laid back, casual and "loungey" feel. They've got a couple TV's hanging up over the bar that usually show whichever sporting event is on that night They don't have a kitchen on the premises and therefore don't sell any prepared food. However patrons are welcomed to bring in their own dishes from neighboring restaurants such as Lola's on Harrison across the street.
I had been to Hollywood Vine several times in the past on Tuesdays when they offer their weekly free wine tastings. Every Tuesday they sample about 5 different wines for absolutely free. If you don't like the wines they're offering for free, you can always buy yourself a glass of a different wine or buy a bottle to drink there. Every other Friday, however, they have samplings of various spirits depending on what's in season. In addition to our beer and rum sampling we also walked over to their fridge where they have all of their cheeses, meats, and other good things on display. Typically, one of the employees will hand you a plate and you get to pick and choose whatever you want. Once you've decided, you hand your plate filled with fatty goodness back to the employee who then slices everything for you and brings it over to your table. In essence you get to create your own charcuterie plate.
For this trip we ended up going a little over board and helped ourselves to some smoked Gouda, Aged Goat cheese, Mozzarella, fresh Salami, spicy Spanish Chorizo and roasted tomatoes. Everything was neatly sliced and served with tiny Melba toasts. All of the cheeses and meats were insanely fresh and all of their complex flavors shined through. My favorite though, has always been their smoked Gouda with some their roasted tomatoes on a piece of Melba toast. I've been trying to figure out the recipe to their roasted tomatoes for ages, but my version never comes out as good as theirs. Luckily, between the beer, rum and snacks by the time we were ready to go we were actually quite full.
I've always really liked this place, it's a great place to come with your friends, drink some wine and just chat in a laidback setting. In my case, it's a great place to go with my girlfriends to discuss that "asshole guy" that I can never seem to figure out, but wish I could. Once we were done snacking, talking crap and drinking it up, one of my friends decided to buy a few wines. Luckily, the staff at Hollywood Vine is not only nice but they know their shit when it comes to booze. They were able to help guide my friend on choosing wines based on what she was looking for and her budget. All in all, I love this place. This is a great place to check out (even if you're not in the area), especially on Tuesdays!
_________________________________________
Restaurant Details:
Hollywood Vine
(954) 922-2910
2035 Harrison Street
Hollywood, FL 33020
www.hvine.com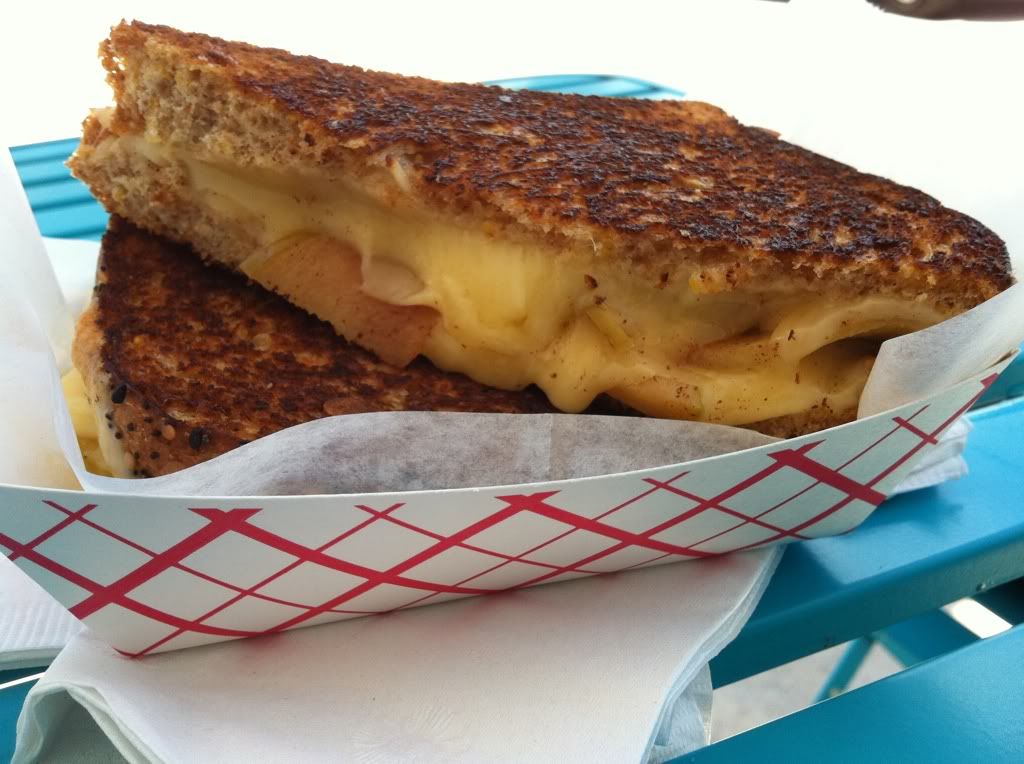 You can never go wrong with a grilled cheese. Like many people, I grew up on these easy made sandwiches. With the recent food truck explosion, one truck that is very near and dear to my heart is Ms Cheezious. They offer specialty grilled cheese sandwiches, build your own grilled cheese, tomato soup, Turkey 3-bean chili, fries and other great things. They burst onto the scene right around Art Basel 2010 and their staff is the sweetest, most welcoming bunch of any of the food trucks I've encountered (yea, I said it).
Ms. Cheezious offers unique specialty sandwiches or you can choose to build your own sandwich with eight different cheeses to choose from, six funky add-ons and several different bread options. When I am feeling on the adventurous side, I usually go with gruyere, havarti and bacon on sourdough. In recent months though, I've stuck with three of their specialty dishes. Whenever I am on my sweet and salty kick I always get the Grilled Harvest with extra cheese. The Grilled Harvest comes with cinnamon spiced apples and havarti cheese on multi-grain bread. I always ask for extra cheese on this one because for starters, there's nothing wrong with extra cheese (duh) and without the extra cheese the apples over power the sandwich and you don't get much of the cheese flavor or texture. This is such a funky mix, but it lands on the slightly sweet side of the spectrum. So if you're looking for something slightly more salty and less risqué then move along.
My salty favorite over at Ms. Cheezious is none other than their Grilled Bacon and Blue sandwich. This grilled sandwich comes with bacon with blue cheese and green onions on sourdough bread. I personally didn't know that blue cheese could be ooey and gooey until I had this sandwich. The minced green onions are mixed in with the cheese and give a great dimension and depth to this savory wonder. The bacon is cooked just right and is a natural companion to blue cheese. This sandwich is actually one of their top 2 selling sandwiches off this truck and definitely one to check out.
Onto my favorite sandwich off the Ms. Cheezious truck, the Sweet Meltdown, or how I like to refer to it as the Sweet Oblivion. The Meltdown comes with ricotta cheese and orange marmalade on Texas toast then sprinkled over the top with confectioner's sugar. The sandwich also comes with a side of chocolate dipping sauce for your dunking pleasure. When thinking of this sandwich I like to think of it as a handheld stuffed French toast. The ricotta cheese is subtle and lets the orange marmalade's flavor shine through. The chocolate dipping sauce is great and I always ask for extra (there's never enough chocolate, ever). However, there's no perfect way of eating this sandwich. Whether you dunk the sandwich into the chocolate sauce or drizzle the sauce into the sandwich, you will get messy and that is ok in my book.
The truck is decked out with a voluptuous cartoon woman with tattoos in a scantily clad bikini. They also play all sorts of great music. The staff is always friendly and inviting and the prices are a lot cheaper than the other grilled cheese truck running around town. I am a definite regular at this truck. All of their sandwiches are perfectly toasted and buttered on the outside, so toss that south beach diet to the wind when you come to this truck. I suggest going with friends and sharing, that way you can try different sandwiches. Usually though, I eat half of my sandwich there and take the other half to go. If you haven't made your way to Ms. Cheezious, then hurry the hell up and go already.
___________________________________
Food Truck Details:
Ms. Cheezious
http://twitter.com/#!/mscheezious
http://mscheezious.com/