I recently made my way over to Chow Down Grill's new South Beach location to try out some of their Asian fare. I entered the restaurant and was in what seemed like the restaurant's lobby where a hostess greeted me with a bright smile. She asked if I wanted to sit at the bar or a table, I decided to stick around and I chose to sit at a table. She lead me through an arch that led into a very dimly lit and seemingly vast room where there were several large picnic tables and booths. I had a seat and my waitress Heidi came over and introduced herself. She was very informative, friendly and explained that the food is cooked fresh to order. Heidi also mentioned that the restaurant operates on sustainable produce and meats from local farmers. She also mentioned my two favorite words, "Happy Hour" and suggested a beer or cocktail from the bar. I eagerly took my beer and looked over the menu.
I have to admit the lighting in the restaurant was a tiny bit distracting, especially after a long day at work. I was tempted to ask for my beer in a sippy cup and curl up in my booth for a nap. Luckily though, Chow Down Grill plays some of the best music I've ever heard in a restaurant. The music was so good that Heidi was kind enough to find out what Pandora station the restaurant was using. The station is called 'Pheonix' in case you were wondering.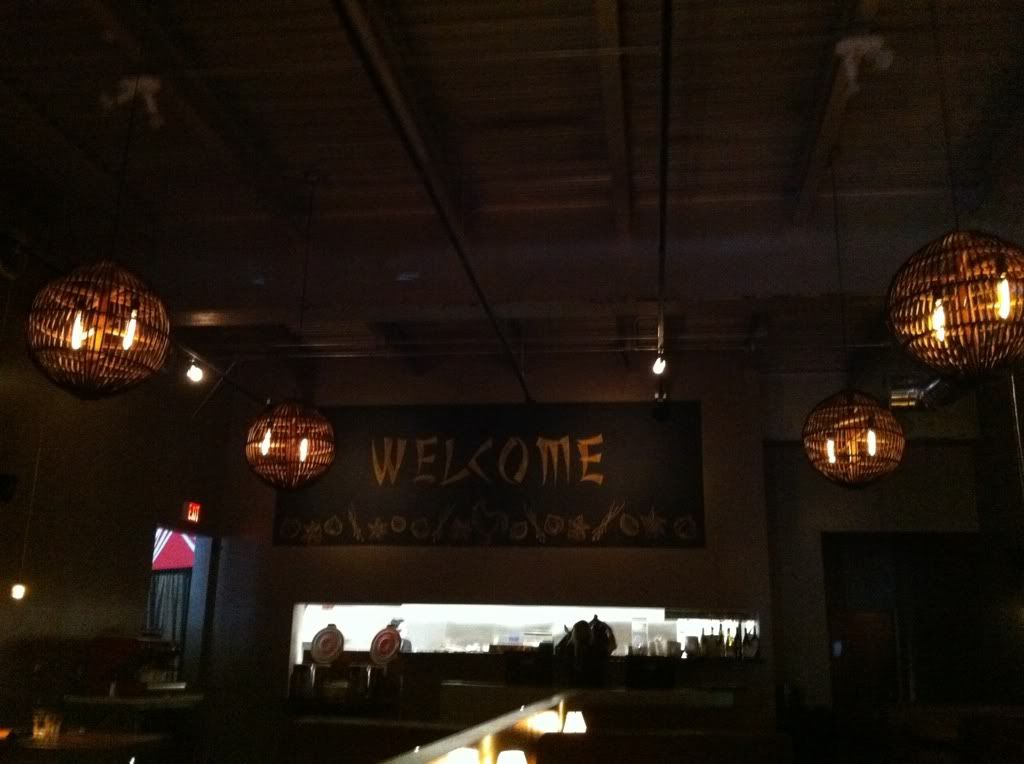 When it came to picking out my food, I decided that for starters, I'd go with their fried chicken wontons with peanut sauce. What I received were 6 delicately plated wontons with a drizzle of peanut sauce, sesame seeds and scallions. Along with the wontons, came six different sauces. The sauces included house-made soy sauce, spicy peanut sauce, spicy Chinese mustard, hoisin sauce and sriracha chili sauce. For the wontons though, I felt that the best pairing was between the house-made soy sauce and their (not so) spicy peanut sauce. The wontons themselves were crisp and fresh. The portion of chicken inside the wonton was a bit on the skimpy side, but the meat was tender and had great flavor. Finally, the peanut sauce that came drizzled over the top was great, complex yet slightly subtle. The sesame seed garnish added to the toasty flavor that shined through. I inhaled them and was sad to catch myself debating whether or not to lick the peanut sauce off the bowl when the wontons were gone.
As an entrée I decided to try their sweet and sour chicken with white rice. The menu description was simple yet really intriguing, "Sweet and sour sauce with Mango / Walnut / Pepper / Onion." Keep in mind I'm used to generic hot pink sweet and sour goop with chunks of canned pineapples and maraschino cherries. What I got was a beautifully colorful plate with generous slices of mango, onions and red peppers with walnuts. The sauce appeared to be soy based and the chicken breast was perfectly grilled and sliced over the sauce. The whole chicken breast was plump, juicy and went perfectly with the sauce and mango slices. The flavor was refreshing and great. the fresh mango and red peppers gave this dish a new life. Chow Down Grill's take on sweet and sour chicken really revitalized my idea of sweet and sour anything and I'm eagerly looking forward to going back soon.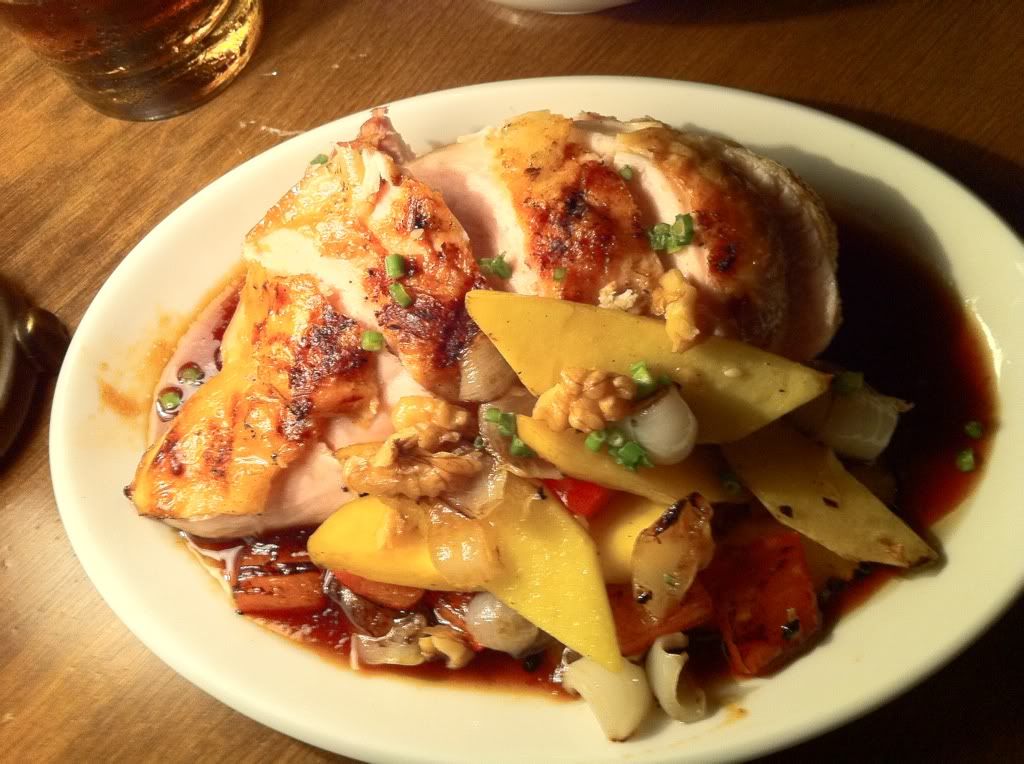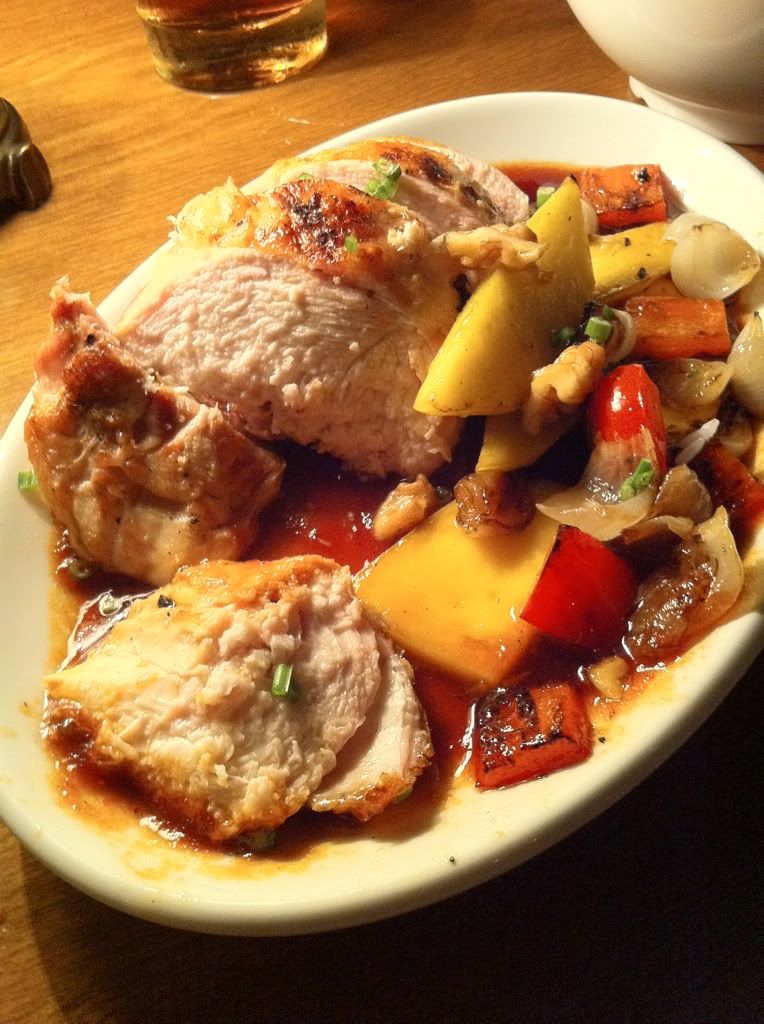 I ended up not getting any dessert this time around, but I definitely intend to on my next visit. I really enjoyed this place, from the zen atmosphere, friendly staff and great music to the wonderfully fresh food. I've been looking for quality chinese food for a long time and I'm glad to say I've finally found it. The best part about this place? That it's less than 5 minutes away from my job!
________________________________________
Restaurant Details:
Chow Down Grill
920 Alton Rd
Miami Beach, FL 33139
(305) 674-1674
www.chowdowngrill.com