So it was a lazy day and my friend owed me lunch, so I dragged our asses to Pinecrest to try out Oye Cuban Grill. I had looked over their menu online and a few things had caught my attention. From the look of the menu, they were doing authentic Cuban food with a modern twist. Growing up in Hialeah and being part Cuban, I'm pretty critical of Cuban food and my standards are typically pretty high. None the less, we trekked down south and gave this place a try.
The restaurant is in the large Suniland shopping plaza right on US1. The restaurant has lots of competition with Flanigans, Sir Pizza, Sushi Rock and Chicken Kitchen all located in the same plaza. None the less, when my friend and I got there the place was really busy. They offer indoor and outdoor seating, but we decided to sit inside and enjoy the comforts of air conditioning. The place has a modern look but still manages to hold on to Cuban traditions and customs. Even their bathroom doors have neat pictures of Lucille Ball and Desi Arnaz to designate male and female restrooms. A large part of the kitchen is exposed and visible from any part of the restaurant. We decided to sit in one of their booths and people watch. Our server was young, energetic and patient with us newbies. He went over the menu with us and gave us his own personal favorites and recommendations.
We decided to start off with some of their chorizo croquetas. I had never had a chorizo croqueta so I was definitely intrigued. Growing up, I'd always had either ham, chicken or cheese but chorizo was a new spin for me. We ordered one each to play it safe and what we got were two plump and large croquetas. We dug in and wow! There were tiny chunks of chorizo throughout the creamy interior of the croqueta. My friend and I looked at each other and without saying anything we both knew we had to order more. They were fresh, piping hot and the seasoning on them was perfect. They were perfectly crisp on the outside and creamy on the inside. They came accompanied with a lime wedge, we decided to throw some lime juice on them and the flavor expanded even more. The lime heightened the flavor of the chorizo brilliantly and I was happy.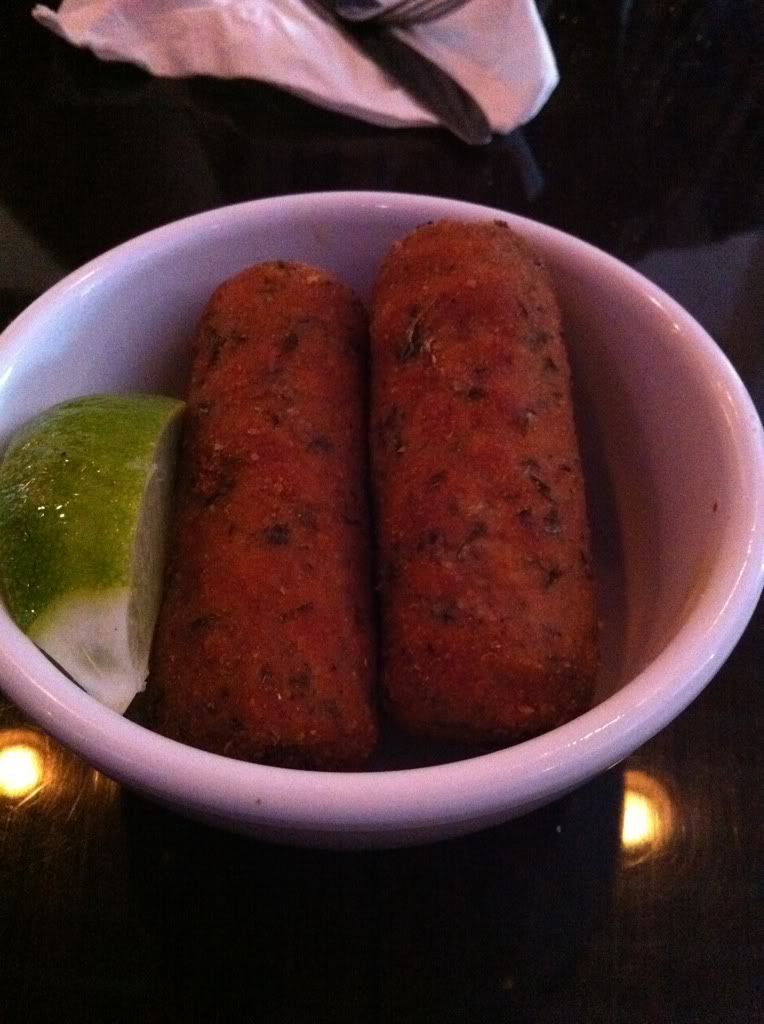 When it came time to order we decided to try a couple of their specialty sandwiches. I went with their "Fat Cuban" sandwich. The description read as follows, "Our signature sandwich weighing in at 1.5 lbs! Roast pork, Oye chicken, tavern ham, croqueta of your choice, maduros, Swiss cheese, topped with pickles, tomatoes and potato sticks, served with our creamy mustard sauce on pressed Cuban bread." This thing sounded heart-attacklicious and I wanted in! When I told the server that I wanted that sandwich he gave me a, "you-have-no-idea-what-you're-getting-yourself-into" look and boy was he right. A family of 5 could have easily eaten off this one sandwich and been satisfied. The sandwich was stacked at least 4 inches high and served with cassava (yuca) chips. I looked at the sandwich for a few minutes figuring out a plan of attack on how to actually stuff it in my mouth (insert lascivious sexual reference here). I thought it was a neat touch how they had the restaurant's logo pressed onto the sandwich. I finally just threw caution to the wind and went for it. The flavors were insane and hit my taste buds like fireworks. The mild sweetness from the maduros was the antithesis of the pickles and mustard. Each bite was completely different because there was no way I could get all of it in one bite. The pork was very well seasoned with old school Cuban mojo, I decided to throw in chorizo croquetas since there was already ham in the sandwich. The chicken was also very well seasoned. The marriage of all these ingredients concluded in an extremely flavorful, messy sandwich that requires a game plan, better than U.M.'s defense, on how to tackle it.
My friend had their Miami vs. Philly cheese steak sandwich. The sandwich is their take on a cheese steak sandwich "Miami" style. It's sliced palomilla steak, Swiss cheese, grilled onions, their roasted vegetable mix (which includes squash, zucchini and roasted red peppers) on soft Cuban bread. This sandwich was also monstrous and could have easily been shared between two people. My friend (being a true fat ass) added extra cheese and bacon to his sandwich. The Cuban bread was freshly baked and possibly the softest Cuban bread I have had in a long time. The steak was perfectly seasoned and although I was skeptical about the roasted vegetables, they tasted great in the sandwich. Instead of chips my friend upgraded to French fries. Their fries were fresh, very hot shoe string fries with a sprinkle of paprika over the top. I loved the paprika over the fries, it gave them a little something special that I definitely appreciated.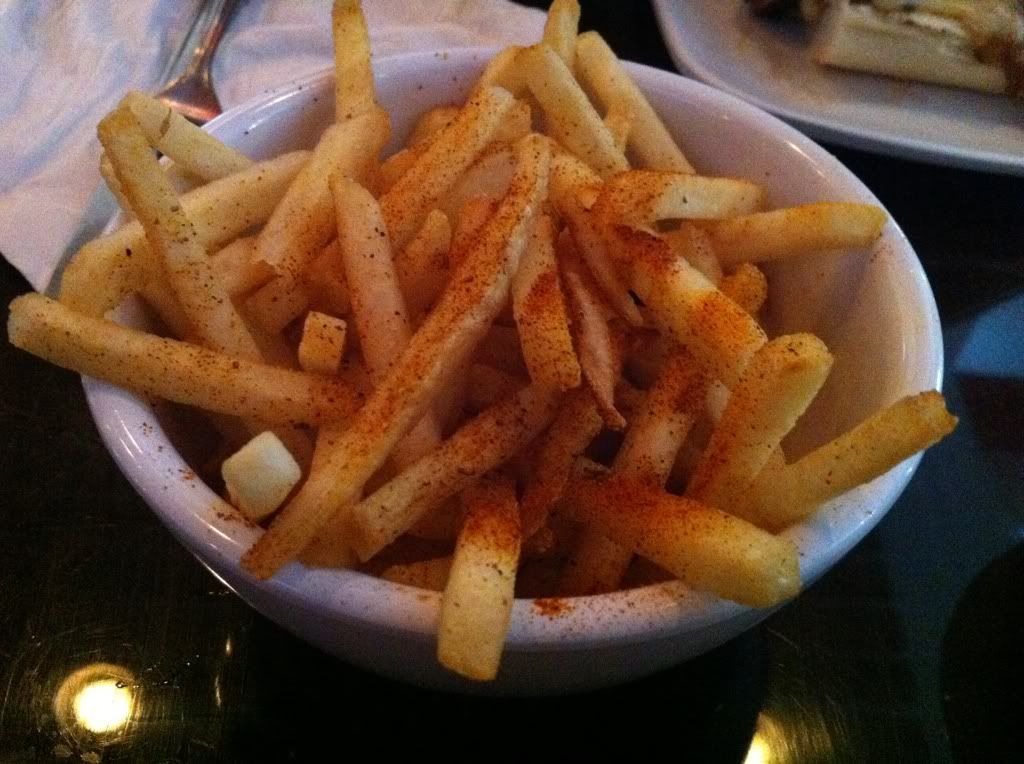 Next time, I have to remember to wear stretchy pants and a few more people to help me eat my sandwich. I couldn't even finish half of my sandwich and for the price, this was a great value. My sandwich cost $10.00 and could have easily been shared. I really liked the spins they've added to classic Cuban cuisine. There were several dishes I want to go back and try such as their Sweet Sweet Guava BBQ ribs, Cuban Sloppy Joe, Cuban Tacos and Frita Burger. I look forward to going back and checking out the rest of the menu. This place is giving new life to Cuban cuisine and bringing it into the twenty-first century. Definitely a place to check out if you've gotten tired of old school Cuban food and looking for a new take on old favorites.
________________________________________
Restaurant Details:
OYE Cuban Grill
(786) 249-4001
11327 S Dixie Hwy
Miami, FL 33156
www.oyecubangrill.com