It was a stressful day at work when I decided to grab a girlfriend and drag her to happy hour in Lincoln road. We had grown tired of Doraku, Sushi Samba and Nexxt Cafe and decided to peek our heads into Rosa Mexicano to see what they had to offer. Rosa Mexicano's Lincoln road location had opened its doors to the public earlier this year and I've been interested in trying it out ever since. We found they did indeed have a happy hour menu, albeit a short one. The place itself is funky and modern looking with large metal columns and colorful walls throughout the large restaurant. The menu offers a handful of appetizers at special prices and some drink specials. To our waitress' surprise we ordered every food item on the happy hour menu and two margaritas to help wash it all down, naturally.
While we waited for our drinks, we snacked on their spicy peanuts. Instead of bread, this restaurant offers its patrons peanuts roasted in their spicy house seasoning mix. These little suckers definitely pack a punch and the worst part is once you start eating them you can't seem to stop, these little guys were just like Pringles. So by the time our margaritas came we were really thirsty and in need of a cool down. My friend and I got their traditional margarita. It tasted fresh and was definitely refreshing after those spicy ass peanuts. The flavor of the tequila wasn't
overpowering, but no doubt a couple more of those would've had me singing, "Las Mañanitas," in the middle of the Lincoln road fountain.
We ended up with five appetizers on our table and the first one to appear was the Ensalada de Mercado, otherwise known as their market salad. It was a simple salad, nothing extraordinary. It was mixed greens, halved cherry tomatoes, orange segments, red onions, carrots and radishes tossed in a very flavorful and light honey-lime vinaigrette. The menu stated the salad also comes with avocado; however, the avocado was mysteriously missing from our plate. None the less, it was a good salad to get the palate started and for only $3.90 you really can't ask for more.
Up next we moved onto their Tacos de Pollo (chicken tacos). The pulled chicken is served on warm flour tortillas and topped with cilantro and chopped onions. Alongside the tacos is a chile de arbol salsa that gives these little tacos an awesome yet subtle kick. The chicken itself is slightly charred and really well seasoned, smother on some of that salsa and you've got a party in your mouth. I really enjoyed these and wouldn't hesitate getting them again. The best part is that they're small, about 2-3 bites per taco, so I didn't feel bad when I was tempted to order 10 more.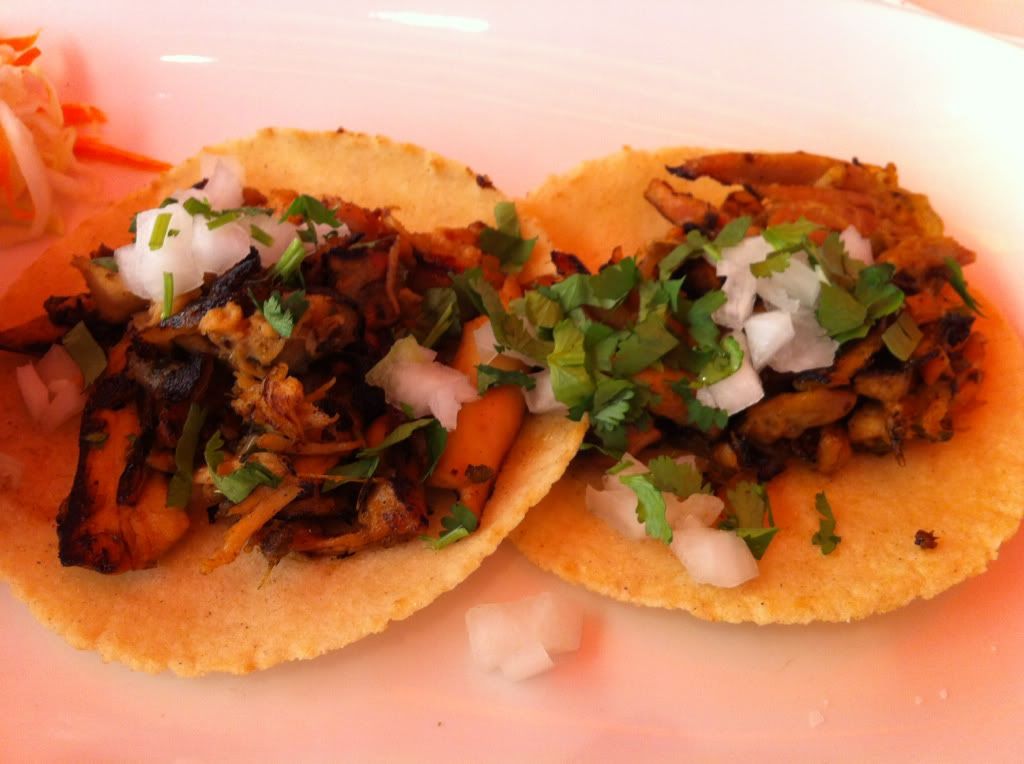 The next set of tacos we got were their Tacos de Panza con Callos de Hacha, in other words pork belly and sea scallop tacos. Definitely an interesting combination between the scallops and pork belly so I was slightly hesitant to try it out. These tacos are served on the same flour tortillas as the chicken tacos. Unfortunately, I was a bit disappointed with these. The pork belly tasted great and was perfectly cooked. The scallops, on the other hand, were so miserably under-seasoned that it dragged down the entire dish and made the whole thing taste bland. The tacos are topped with a citrus habanero salsa which was very delicious all on its own. I ended up taking the scallops out completely and just eating the pork belly and citrus salsa on its own. The hint of orange and lemon flavors with the pork belly went really well together.
Up next we tackled the Flautas de Pollo. Their flautas came out smothered in a variety of different sauces. The three chicken flautas are rolled and lightly fried, then topped with salsa verde, crema, salsa pasilla de oaxaca and queso fresco. The combination of the salsa verde, crema and queso fresco made me say, "Well slap my ass and call me Consuelo." The best part was that these awesome fluatas from Mexican heaven only cost $4.50 during their happy hour.
Finally, we had their Queso Fundido or melted cheese fondue. If you know me, you know there are two things I really can't live without (other than Family Guy of course) one of those things being cheese. So when I saw melted cheese fondue on the menu I started clapping my hands out of glee and chanting, "Hercules Hercules!" I digress, the fondue came topped with smoky chorizo and chopped cilantro. The menu specifies that it also comes with rajas, or roasted mexican peppers, but our waitress informed us that they were out of them at that time. This was easily my favorite dish. The fondue is served with flour tortillas for easier eating and portability. The smokiness of the chorizo with the fresh flavor of the cilantro went perfectly with ooey-gooeyness and slightly saltiness of the chihuaha cheese. I would have this again in a heartbeat and just thinking about it is making my mouth water.
Rosa Mexicano is one of several New York restaurants that have made their way to Miami Beach in recent months. Their happy hour menu is not only very affordable but a great way to sample what this restaurant has to offer. My girlfriend and I had 5 appetizers and 2 drinks and spent only $40 (including tip). If you're in the Miami Beach area looking for Mexican food in a funky and modern place or are in need of a good happy hour, definitely give this place a shot. For a neat treat, you could order their guacamole and watch them make it from scratch with fresh ingredients tableside. Their happy hour offerings may not be many, but overall they're great.
_____________________________
Restaurant Details:
Rosa Mexicano
(305) 695-1008
1111 Lincoln Road
Miami Beach, FL 33139
http://www.rosamexicano.com