I had never heard of Crave and much less that it had opened in Merrick Park two weeks ago. Luckily for me, my boyfriend had mentioned it when I was trying to think of places to go to dinner with my friends. After some research into the menu I realized this was a small national chain with a diversified menu similar to Cheesecake Factory (minus the cheesecake). The menu offers a lot of continental/new American dishes as well as a decked out sushi bar and wine list. One of my friends had visited one of their Minnesota locations and raved about it, so we decided to give it a shot. Once at the restaurant you realize how enormous it is. The outside dining area is bigger than most locally owned restaurants, venture inside and you are slapped in the face with a gargantuan space that screams, "Viva las Vegas!" The décor reminded me a lot of the Bellagio, with Chihuly-esque glass structures hanging from the ceilings and walls.
While we waited for my friends, we tried a couple of appetizers and drinks. I kept it simple and ordered their edamame. The edamame is tossed in a sriracha soy glaze that gives it a nice kick and by the time I was done, my lips were burning and tingling. The edamame was perfectly cooked and very well seasoned; luckily for me, my date was too busy with his food so I didn't have to share.
My date had two appetizers; he started off with their Sunomono Salad (a fancy way of saying cucumber salad). The salad is really light and refreshing with cucumbers, daikon and carrots tossed in sweet rice vinegar. The presentation was also very simple and colorful with the bright greens, orange and yellow hues popping against the contrast of the white dish. The rice vinegar tasted great and was a good compliment to the thinly shredded daikon and cucumber.
Up next, my date had their Grilled Ceviche. I know what you're thinking, "Grilled Ceviche, isn't that a total oxymoron?" and you're absolutely right. That's actually what intrigued us about the dish. The menu has a simple description for this dish that states, "Shrimp, scallop, kimchee, mango and cilantro." What we got was a bowl filled with shrimp, scallops, chopped mango and minced cilantro with 3 orange segments and 3 slices of avocado. As you can see in the photo, the avocado had some slight brown spots, but nothing that was too unbearable. As some of you may know by now, I'm allergic to shrimp, so I couldn't try this dish and have to rely solely on what my date's thoughts on the dish were for this post. He said that the freshness of the ingredients wasn't top notch, but none the less it was a good dish with a great combination of fruits and savory flavors. Whether the name GRILLED Ceviche is 100%befitting is still to be determined, but it was a flavorful dish none the less. I will comment, I've noticed that my date's consumption of shrimp has skyrocketed exponentially since it's become clear that I'm allergic… coincidence? I think not.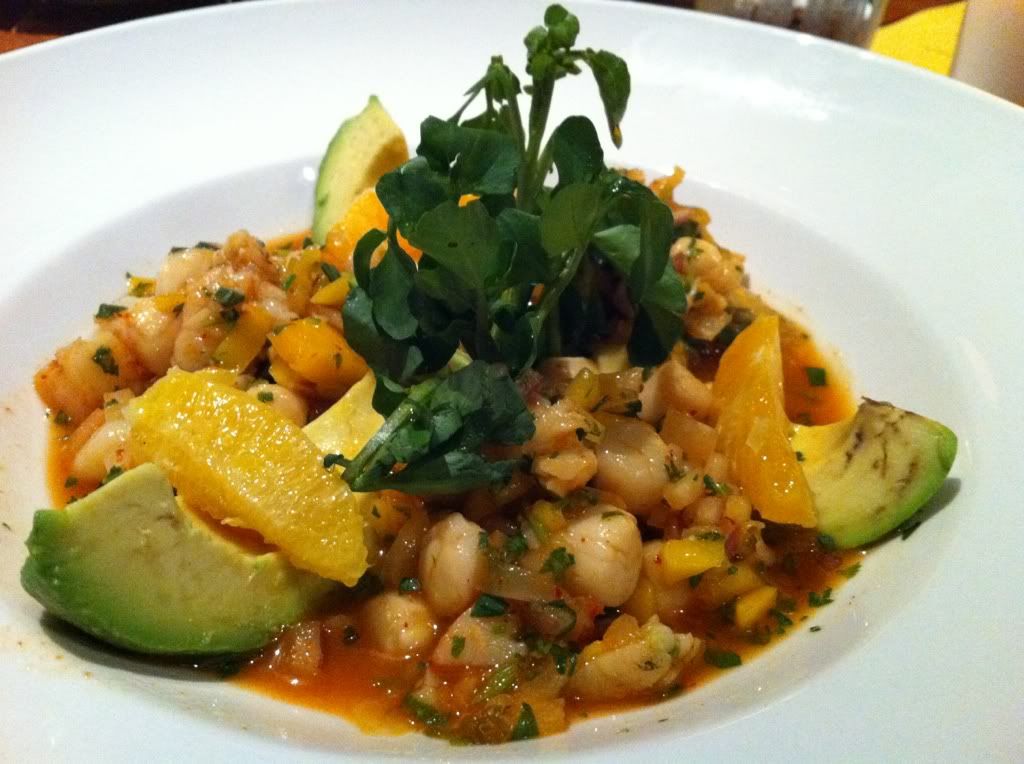 When my friends joined us, we dove straight into our entrees and everyone ordered completely different types of cuisines. The menu is all over the place, like Britney Spears when she hasn't had her daily Lithium dose. My friend Manny went with their sushi, his wife and my date both had pasta and I had a pizza. I'll start off my talking about my friend's sushi. He got two different rolls, their Sumo Roll and Crunchy Spicy Tuna Roll. The sumo roll is a tempura roll with a combination of spicy salmon, mango, cilantro and asparagus with a drizzle of sweet eel sauce over the top. The Crunchy Spicy Tuna roll comes with Spicy tuna, shrimp tempura, cream cheese, avocado, cucumber, seaweed salad, crunchy flakes, and sweet sauce. My friend was a concentrated sushi eating machine. He did at one point mention that the sushi did taste good and the fish was fresh. The fact that he inhaled his food and didn't look up much during dinner was a positive sign.
My date had their Shrimp and Andouille sausage pasta (another shrimp dish, I smell a conspiracy!). The dish comes with linguini, sautéed shrimp, andouille sausage, spinach, broccolini, tomato and fresh parmesan all tossed in a slightly spicy vodka cream. I was unable to taste this dish, but the vegetables were all brightly colored and my date did mention the dish had a nice kick to it that went well with the sausage and shrimp.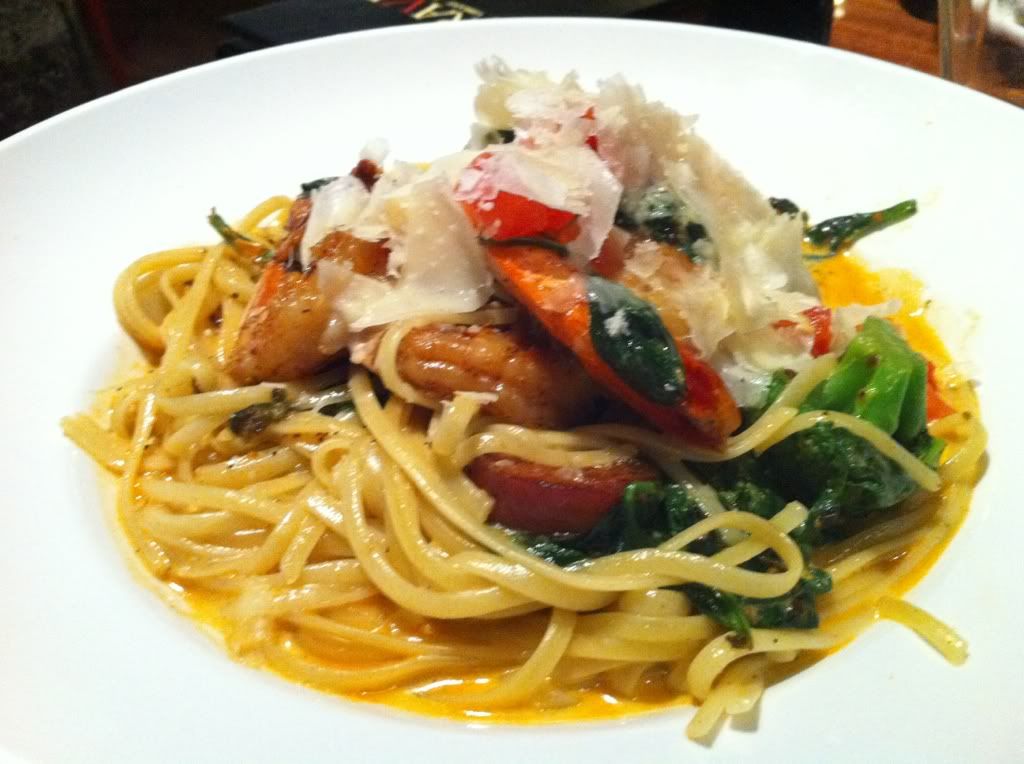 My friend Jen is easily one of the pickiest eaters in America. I know as she reads this she is probably saying out loud, "I AM NOT!" I still love you Jen, but you are picky…don't be mad at me! Although she was debating over two different dishes, at the last minute she decided to have their Roasted Chicken and Penne pasta. The pasta comes with roasted red peppers, kalamata olives, goat cheese, pine nuts, minced basil tossed in a romesco sauce. She enjoyed the red peppers and the fact that they were still al dente and firm. The Chicken tasted fresh and the pasta was also cooked al dente. The romesco sauce gave it all a great, slightly spicy flavor that tied together all the ingredients nicely. You can imagine our amazement when she left all but 5 pieces of pasta behind. If the picky eater of the bunch ate her whole plate, you know it can't be bad.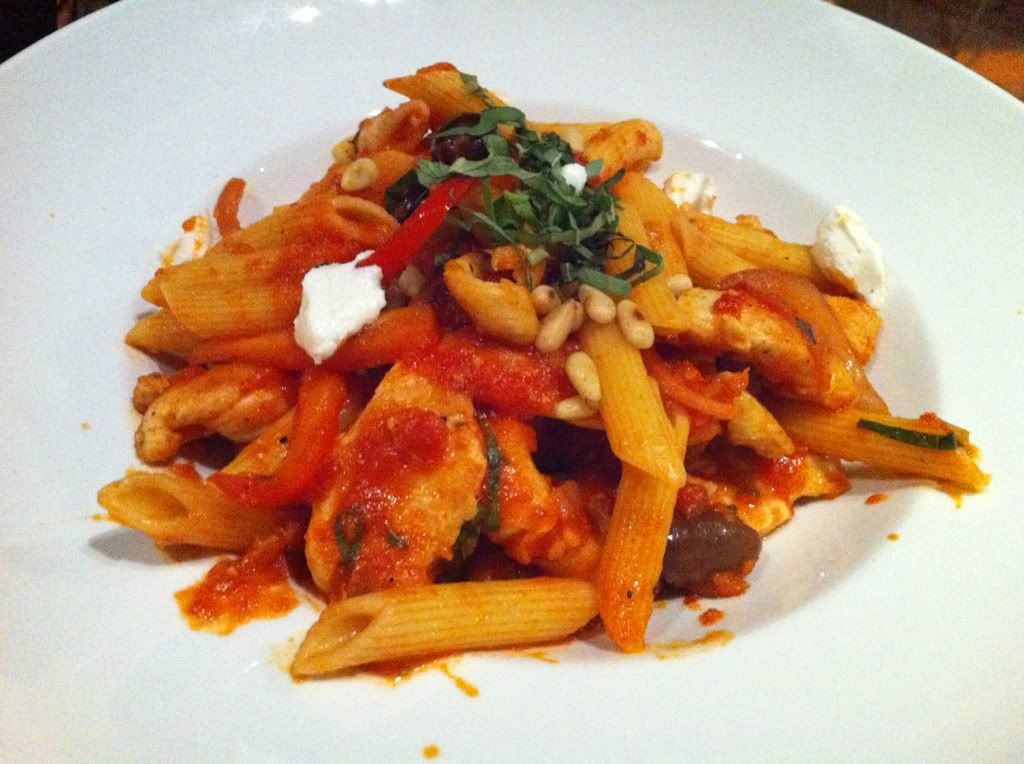 I ended up having their Grape and Apple flatbread pizza. I was in a vegetarian friendly mood that night and this dish seemed relatively healthy. I really enjoyed this dish, the crust was really thin, and almost cracker like around the edges (I realize some people don't like this kind of crust, but given the toppings it worked well for me). The pizza came topped with a ton of blue cheese crumbles, thinly julienned red apples, halved seedless purple grapes and drizzled with honey and minced parsley. The menu mentioned that the pizza comes with rosemary, but my pizza had no rosemary in it whatsoever. None the less, this giant flatbread was really tasty and the red apples and grapes went well with the blue cheese. And don't let this dish fool you, it is actually very filling yet it doesn't leave you asking the waiter for a wheelbarrow and stretchy pants.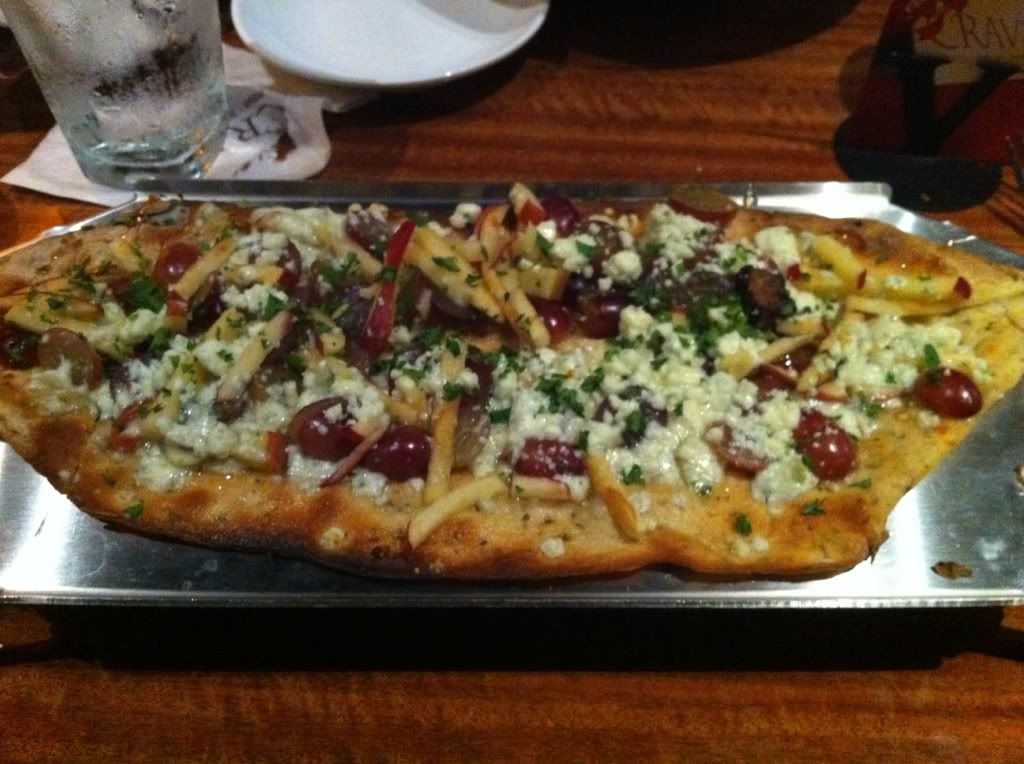 My friends decided to try a couple of their 'Crave Miniatures' also known as dessert shots. My friends went with their Tiramisu and Salty Caramel Mousse shots. The Tiramisu was delicately layered almost like a miniature trifle and topped with a generous dusting of cocoa and a chocolate decoration to give it some extra pizzazz. My friend Jen inhaled her shot and was kind enough to grace her husband with one tiny spoonful before devouring it. Her husband ate the bulk of the Salty Caramel mousse shot that looked airy and light as a mousse should. The presentation of this shot was less decadent and fancy but it looked delicious. I was too stuffed to try either one of the desserts, but both of my friends assured me they were very good.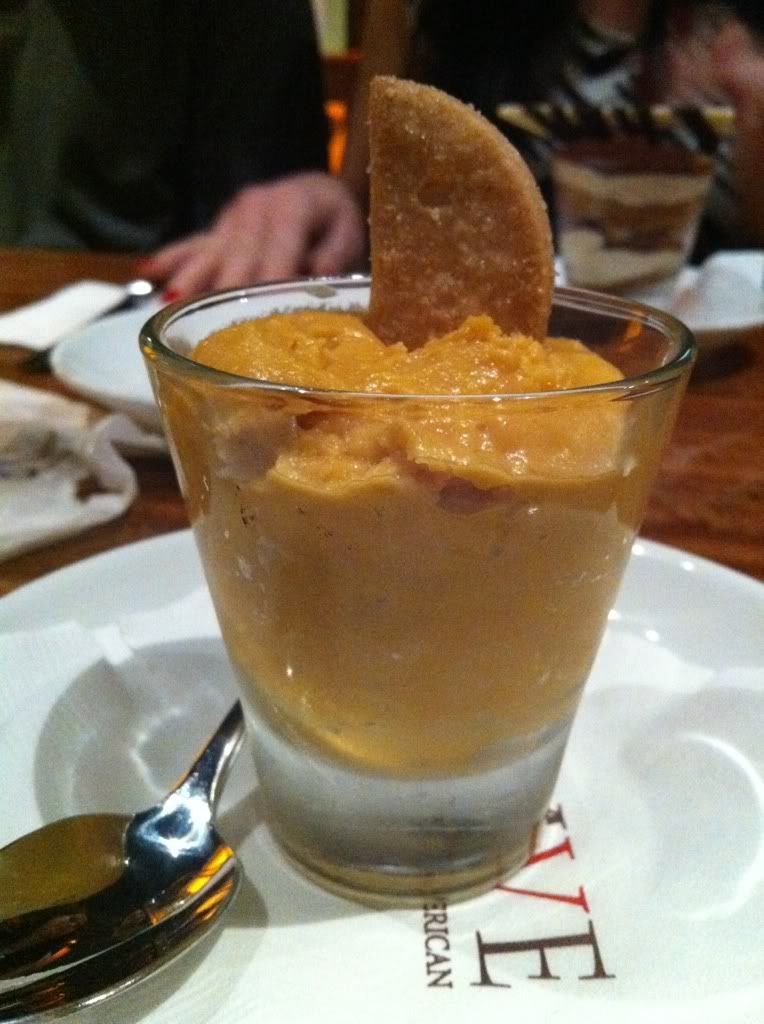 All in all, our meal and experience was a favorable one. Our waitress was jovial, helpful and eager to assist us with suggestions. The food was good and the restaurant was definitely busy for a Thursday night. If you're looking for a large place to host a party or a restaurant that is a notch above the Cheesecake factory, then give this place a try. The menu does spread itself rather thin with so many various options and cuisines. As with several chain restaurants that have so many options, it doesn't particularly excel or wow, but they execute their dishes well in an above average manner. This is their second outpost in Florida, with their first located in Orlando, and I expect more locations to pop up in South Florida.
____________________________
Restaurant Details:
CRAVE
4250 Salzedo Street
(Inside Merrick Park across from SAWA)
Miami, FL 33146
(305)444-4595
http://www.craveamerica.com/location_coralgables.html