I had been a fan of Latin House Grill since it came onto the food truck scene in the beginning stages of the food truck rush that hit Miami. They had gimmicky names for their dishes like "Muffin Tops," "Mad Love" and "Chuchi Bowls." They boasted about how their truck was a family run operation, which is actually the bulk of most food trucks that are out. But even with their gimmicky nature, I liked their food, specifically their international muffin tops. So when they fell off the radar and starting focusing their energy to make the transition from truck to restaurant I was excited for them. Only a very small few food trucks (actually I can only think of one other) have successfully made the jump. The actual restaurant opened up right next to Sweetness Bakeshop, which I personally thought was an ingenious idea. The restaurant offers wine and a small (yet nice) selection of beer. The northern wall is adorned with bright graffiti art. The bar also features some graffiti along with TV's that are usually showing sports. Their menu took their original classics and expanded it with some Miami/Tex-Mex selections.
The first time I went I opted to start off with their Chilanga Quesadilla. According to the menu, this quesadilla comes from the Districto Federal/Mexico City. The quesadilla comes stuffed with mozzarella, provolone, swiss cheese and your choice of meat. I didn't know Mexico City put provolone, swizz and mozzarella in their quesadillas, but c'est la vie. The meat options are chicken, veggies, chorizo, cabo wabo, ribeye steak, calamari, carne asada, vaca frita and shrimp. For the quesadilla I decided to go with their ribeye. The quesadilla is actually a large portion and could easily be someone's whole meal. The meat tasted good, but could've use a hint of salt and the light drizzle of avocado lime sauce and crema over the top gave it a nice touch. The meat, although tasty, was really greasy and it made it almost impossible to eat the quesadilla with your hands. Every time I picked up a piece of the quesadilla, a pool of grease was left behind on the plate. Next time I will try this with chicken.
My boyfriend decided to have their Taqueria Calle Tacos. The tacos come in corn tortillas and are topped with you pick 'em meat, crema, avocado lime sauce and pico de gallo. He decided to have 2 with chicken and the other 2 with ribeye. He personally liked the flavor of the chicken tacos over the ribeye. When compared to the chicken, he felt the steak tasted average and over-cooked since it's shaved very thin.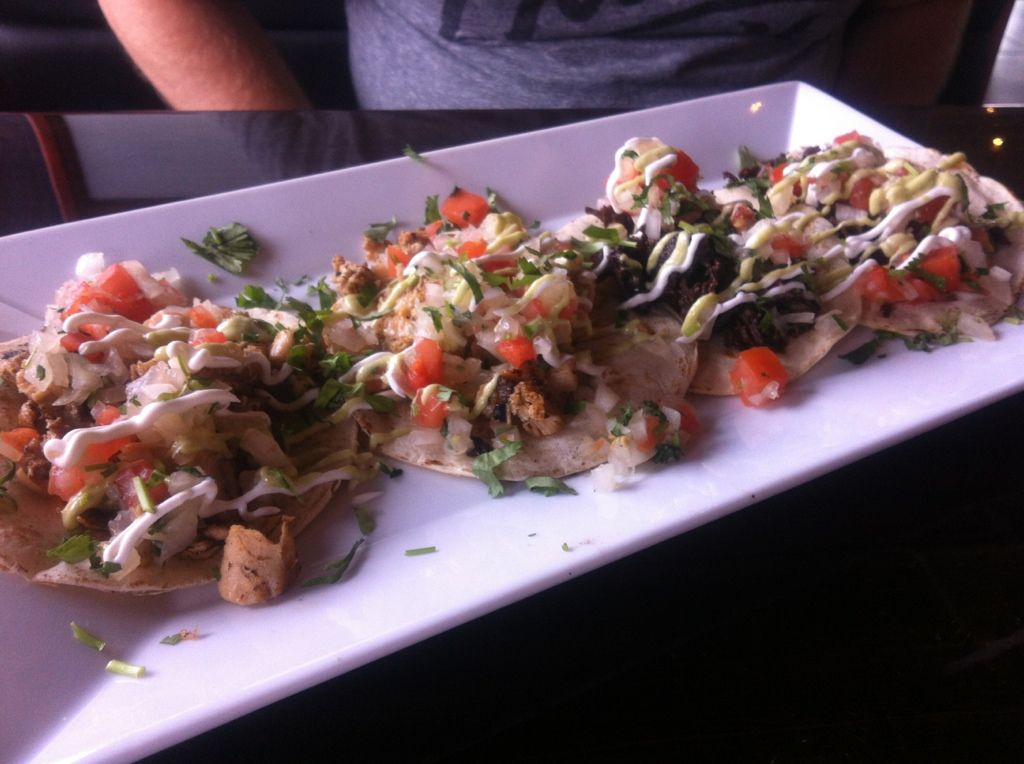 I decided to have their French Muffin Top. I used to love getting these at the food truck roundups, so I was excited to have it. I only ordered one because that quesadilla is truly filling. Their price had gone up since they had been sold on the truck, but I guess that's to be expected since these folks have more bills to pay. The muffin top came with a side of their Tangled Love, which are really thin potatoes that have been fried into a tangled ball. The mini burger was smaller than I remembered but just as delicious. The burger comes topped with brie cheese, honey and sliced almonds. This burger has that sweet and salty combination that I love.
On my second visit we decided to change things up. I started with their Queso Fondu Madlove. This cheesy meaty mess combines chorizo, melted Chihuahua cheese and their Madlove beef. It was delicious but every tortilla chip we tried to use would fall apart. So as true fat assess, we picked up our forks and just started eating it straight from the pot. Definitely an appetizer to have and probably not share with absolutely anyone.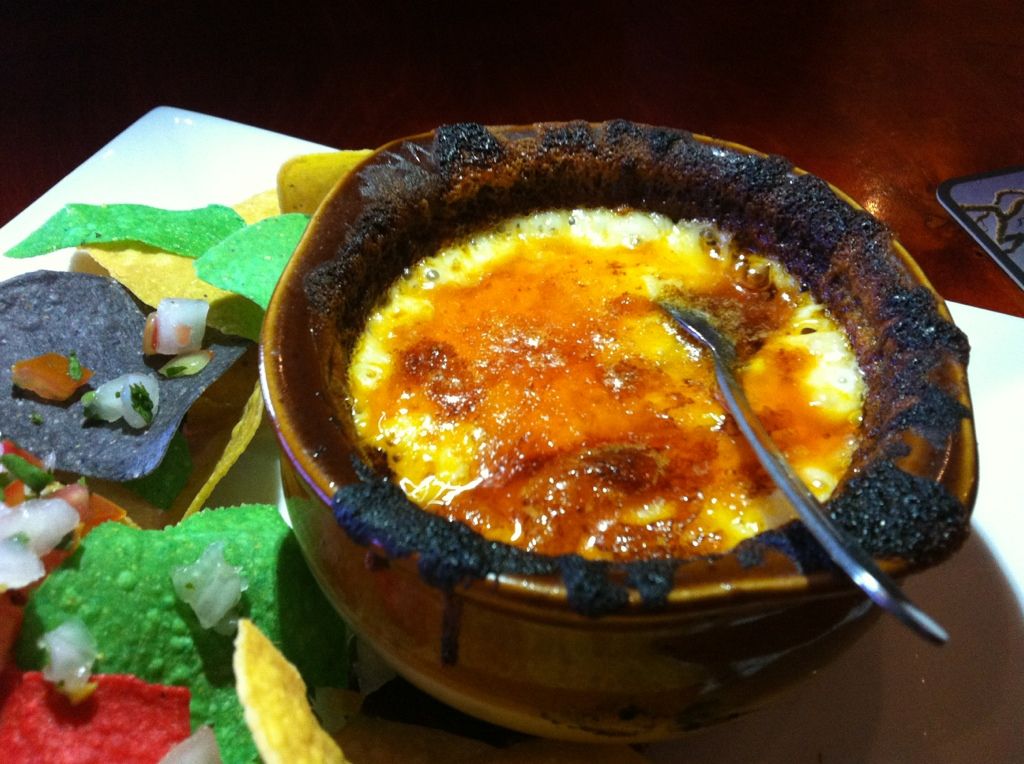 On my second visit I went with my close friend who decided to have their Chuchi Bowl of Rice. This is also a 'pick your meat' dish, so my friend went with chicken. The bowl also comes with yellow rice, topped with pico de gallo, avocado lime sauce and crema. What she got looked A LOT like a Chicken Kitchen Original Chop-Chop; it also tasted like it as well. Don't get me wrong, it was good and I'm in no way knocking down Chicken Kitchen. The rice and chicken were both well seasoned but for the price paid at LHG ($10, not including tax & tip) my friend will hit up Chicken Kitchen instead.
As my entrée on my second go around, I decided to go with their Chimi Burrito. Another 'pick your meat' dish. I decided to go with Vaca Frita. The burrito comes in a flour tortilla and is stuffed with yellow rice, fried sweet plantains and three types of cheese. The menu does not tell you that this burrito is actually fried, but it is. This deep fried behemoth also comes with a side Tangled Love potatoes. I would've preferred a non-fried burrito, but "irregardless it's delicious." They've got their vaca frita down to a science; the flank steak is perfectly seasoned and cooked with onions that just add to the whole burrito's flavor. The rice and cheese went perfectly together (think arroz imperial) and the sweet plantains gave the whole thing a nice hint of sweet. Along with almost everything else in the menu, this is also topped with a drizzle of avocado lime sauce, crema and pico de gallo. I ended up asking for an extra side of avocado sauce and crema because, a light drizzle on this bad boy just wasn't going to cut it. This burrito was a winner.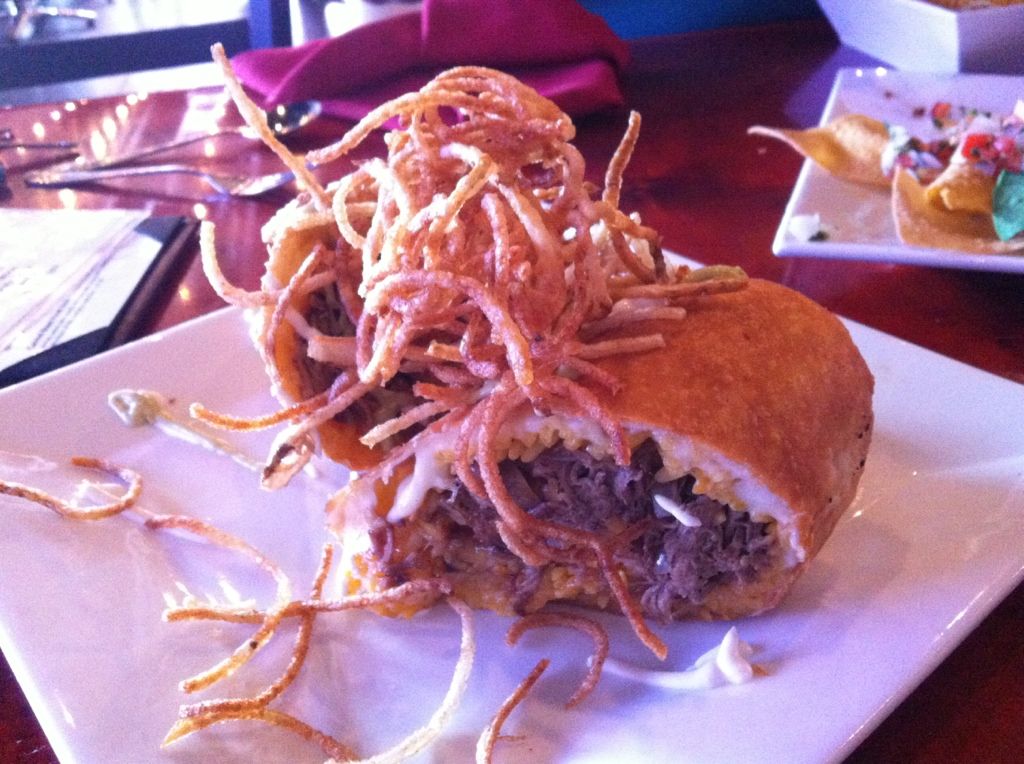 Overall, I will probably go back to this restaurant if I'm in the area. On our second visit our service was poor. We waited almost 40 minutes to get our appetizer; we had to practically flash a boob to get our waiter to refill our drinks and even to pay. On our second trip our waiter was more preoccupied with figuring out what channel the Heat was playing than attending to patrons. We didn't try their desserts because, I mean... c'mon... they're right next to Sweetness Bakeshop! Some dishes I will most likely avoid in the future such as their rice bowl and others I will definitely revisit. If you ever tried them as a food truck and have been missing them, definitely give them a visit since they're offering all of their old classics.
_________________________
Restaurant Details:
Latin House Grill
9565 SW 72nd St
Miami, FL 33173
(786)564-LOVE
http://www.latinhousegrill.com
This passed weekend I hit up Pubbelly with a group of some of the best ladies a girl can know. I had been to Pubbelly a few months back and this was my second visit. Whenever I'm in the area I always end up at Pubbelly Sushi (their sister restaurant) and never find my way back to the original gastropub. We were five hungry gals looking to paint the town red. The dishes at this restaurant reminded me of that old CD in high school, you liked every song except for a couple that you always found your self skipping over.
Couple things to keep in mind, this place brings out dishes as they're ready and it's all tapas style. Our waitress although nice was very free flowing when it came to taking our order and didnt seem too familiar with the menu. We were throwing names of dishes at her in random order and she just nodded. I definitely give her props for not forgetting a single dish. The restaurant is small and doesn't take reservations unless it's a large party; otherwise, it's first come first serve.
We ordered a good chunk of the menu and got a little bit of everything. To start off we had three type of dumplings. I insisted on getting the Pumpkin and Duck dumplings because I remembered those fondly from my first visit. Tiny pieces of orange sat atop each dumpling. Soy brown butter around the dumplings, hints of cinnamon in the pumpkin and tiny pieces of almond for a bit of a crunch. They were absolutely delicious and just how I remembered them. We then had the Pork Belly and Scallion dumplings, the pork belly flavor slapped you in the face along with a hint of onion marmalade and a nice scallion zip. This was a more savory and bold flavor when compared to the slightly sweet pumpkin/duck combo, but great either way. The unanimous favorite throughout the table was the Short Rib and Corn dumplings. These dumplings had corn soy, rich black truffle, well-seasoned short rib and giant shavings of parmigiano cheese. These dumplings gave all us gals the O-face without the messy sex part.
Up next we had their Croquetas. This seemed to be a unanimous let down for everyone at the table. They're made with short rib and porcini mushrooms and are served with ramp aioli. All five of us agreed that they seemed to be missing a little something, yet none of us could really point out what they were missing. Nothing about these croquetas really called our attention and were unfortunately lack-luster.
We also ordered their Burratina. This is where we all got a little concerned, typically Burratina is supposed to taste mild like a creamy mozzarella, yet this Burratina didn't taste like that at all. The minute we all bit into this salad we were hit with a sharp flavor. We deconstructed the salad eating each piece separately to identify the sharp flavor. It wasn't the brussel sprouts, sliced green apples, soy or Jerez vin. It was the cheese. My cheese monger/Cheese Course employee friend was the first to point it out, it tasted like blue cheese. The concern was then, Burratina is NOT supposed to taste like blue cheese. While my friend asked our waitress about the cheese, I was already looking through my purse for a secret Imodium stash. The waitress seemed confused and somewhat dumbfounded, her response was "I don't know what it's supposed to taste like, but when I had it I know I liked it. Then again I love blue cheese." Not sure what to make of that, I'm not in anyway an expert and don't presume to be, but this dish just seemed a bit aloof and left us all scratching our heads.
We ended the savory portion of our meal with their Kimchee Fried Rice with pork belly and pineapple. This is one giant bowl of rice that is meant to be shared, unless you're a monstrous fat ass. In that case, have at it. The rice is served with a poached egg and green peas. Once you pop the yolk on the egg and mix around all that goodness, it's time to eat. It's got a great spicy kick, but nothing unbearable. It definitely won't have you running around with smoke coming out your ears. The pork belly and pineapple gives it a sweet and salty kick that compliments the kimchi well. Definitely a great dish that I would easily have again.
We then eagerly moved onto dessert. One dessert wouldn't be enough to satisfy five hungry gals so we decided to have three. I jumped with excitement at their Brownies & Bacon dessert. It came with their homemade soft serve ice cream, chocolate brownies, caramelized bacon and ganache. I'm sad to say I was a bit disappointed, the brownies were great, but I was completely missing that smokey/salty bacon flavor. It was as if there was no bacon in the dessert at all and this made me sad. In addition, I didn't like their soft serve ice cream which is apparently served on every single damn dessert they offer. Up next, we went with their Caramel Custard served with warm caramel, roasted apples, short bread cookies and soft serve ice cream. The caramel custard (think flan) tasted very "eggy," which I didn't really appreciate. The apples, caramel and cookies were a great combination on their own. Lastly, we had the Warm Chocolate Tart. This was my favorite dessert; the chocolate tart (think chocolate flan) came topped with bananas, caramel, nut powder, waffle crisps, ganache and that damn soft serve ice cream. The ice cream really took away from this dessert primarily because it didn't have any stand-out flavor or richness. In order to enjoy this dessert you had to move the ice cream to the side and get a little bit of everything else in one bite. All in all, I'll probably skip dessert altogether next time I visit.
This is a great restaurant, do not get me wrong and I wouldn't hesitate going back. Definitely a place to check out if you're looking for a fun tapas style place for a date or girls night. There's a couple dishes I probably won't get again and I'll skip dessert as long as they have that flavorless soft serve ice cream on every single dessert. Like any restaurant, we came across a couple of misses, but mostly had hits. Their dumplings, breads, salads, Mofongo and fried rice were all delicious and fresh. I applaud their inventiveness and always trying to do things differently.
______________
Restaurant Details:
Pubbelly
(305) 532-7555
1418 20th St
Miami Beach, FL 33139
www.pubbelly.com