I hadn't used my passport in a few years and I had been looking for just the right trip. Luckily, Chef Adrianne's monthly, Dining in the Dark, was coming up and I was able to dust off the passport, fill up my gas tank and head down to
casa el carajo
. This month's Dining in the Dark series featured Tuscan cuisine, so I was definitely in luck. Chef Adrianne's Vineyard Restaurant and Wine Bar is actually located down in the Pinecrest/ Hammocks/
BFE
area of town, right next to the Tamiami Airport. The restaurant and its chef has generated a lot of buzz lately with chef Adrianne's "Maximum Flavor" segment during NBC 6's Live Miami every Thursday morning. This was my first time at the restaurant and my first time ever dining in the dark, so I went in with an adventurous spirit not knowing what to expect. This post has no pictures, because.. well.. I was blindfolded, duh! So you'll have to just take my word for it on this one and do without the visual food porn.
We walked into the dimly lit restaurant and had our seat at our designated table. The table had a typical place setting with a lace accented blindfold, when I saw that thing my inner
sucia
went crazy. I looked at my boyfriend and said, "I'm taking these home! PREPARATE!" And hence the mood for the remainder of the night was officially set. The restaurant was adorned with sunflowers and candlelight, the staff was very attentive throughout the night. As we got closer to dinner time, we were instructed to put on our blindfolds so our other senses (hearing, touch, smell,
pervertedness
and taste) would all be heightened. Our gracious emcee, chef Adrianne, advised us that as each dish was placed in front of us, we would be given time to try it and guess on our own what exactly we were eating.
Our first dish of the night was handed to us in a shot glass and we were told to drink it. We smelled and I overheard someone say, "Ay! Pero this smells like Lemon Fabuloso." At first I thought a lemon drop shot, but that seemed out of place and then I figured out it had to be Limoncello. And sure enough it was authentic, refreshing Limoncello made with Tuscan lemons. Nothing like a shot of alcohol to get things going,
DALE!
Up next, we were handed a bowl and advised to use a spoon to consume the contents. It tasted like chicken broth with pieces of crispy meat. I guessed bacon perhaps? Who knows, it was delicious and light. After picking up the bowl with my hands and chugging the soup like it was the last bit of milk in the cereal bowl, we were told it was actually Zuppa di Carbonara. It was a homemade chicken stock made with a whole chicken and fresh veggies topped with fried pancetta, freshly grated parmesan cheese and drizzled with egg yolk right before serving. This soup was great, the crunchiness from the pancetta, the creaminess from the egg yolk and the slight saltiness from the parmesan cheese all worked cohesively to make this soup wonderful. The only negative point was that I wish it would've been a slightly larger portion since I liked it so much.
Up next we were handed another small plate and told to eat with our hands. I touched around, I smelled and I overheard a guy say, "Why do I have the feeling I'm eating something I would never touch?" I felt stiff bread and my boyfriend guessed a crostini. I bit into it and tasted a slight creamy and tartness that I guessed to be goat cheese. I also tasted sweet, cooked onions and my guess was caramelized onions. Come to find out we were basically right on this one. It was indeed crostini with goat cheese and sweet onions cooked in balsamic vinegar and Chianti The onions melted in your mouth like buttah and the creaminess of the goat cheese was the antithesis of the crunch on the crostini. It was a great appetizer and I was quick to write down the ingredients so I could attempt to make it for myself later.
The next dish that was placed in front of us was a doozy; we were advised to use our silverware for this one. I overheard someone say, "There's definitely a sausage in my mouth!" After I was done laughing I got a good whiff of my plate and told my boyfriend, "It smells fishy," but he insisted it was sausage. Sausage or not, I put it in my mouth and swirled it around a bit (
hey now!
). It definitely had the texture of a sausage, but I couldn't get rid of that seafood-like scent. You could hear the whole restaurant trying to figure out what it was, finally it was announced that it was actually braised octopus in a Chianti reduction with cremini mushrooms. The whole place was shocked and applauded Chef Adrianne on this one. The octopus was tender and fresh, the Chianti reduction with mushrooms went great with the octopus. My boyfriend (who does not like octopus at all) was surprised at just how much he enjoyed this dish. Since we were encouraged to touch our food and I knew that no one was looking, I ran my finger across the plate to slop up the last of that Chianti reduction,
don't judge me
.
Our next mystery dish smelled of balsamic vinegar. I overheard a guy in the table next to us shout, "There are definitely BALLS in my mouth!" And although I figured it was a bit early for that kind of thing, I thought to each his own. I used my fork and tried to stab my dish to see what I could catch. I tasted fresh and juicy tomatoes tossed in balsamic vinegar with a bit of garlic. On my second bite I got one of those balls our neighbor was shouting about, it was a mini fresh mozzarella ball. This mozzarella and tomato salad was another refreshing dish that everyone guessed correctly.
Before the next dish was even served we were given a full glass of Chianti, I liked this dish already! It was obvious that Chianti was the drink of the night. I don't know what kind of Chianti it was or what part of Tuscany it derived from, but I do know that it wasn't very acidic, medium bodied and had a bit of a nutty aroma. Luckily, our plate was served before I could finish my boyfriend's glass (yes, my boyfriend's glass, because I already drank mine
#crunk
). I smelled around and I got hints of meat and tomatoes. I used my fork and stabbed the plate a few times. I tasted a soft doughy ball, gnocchi perhaps? The tomato sauce had little bits of beef, bolognese maybe? Who knew, this dish was so good and it tasted even better when you accompanied it with the Chianti. In reality, this dish was indeed homemade gnocchi with homemade bolognese sauce made of Chianti, ground beef, Italian sausage and stewed with beef bones. This was another dish I wish came in a slightly larger portion, only because I enjoyed it so much and my boyfriend didn't have any leftovers I could steal.
I didn't think it could get better than the gnocchi and Chianti pairing, but I was wrong. We we given our sixth course of the night and advised to use our silverware once again. I smelled noodles and something I couldn't really pinpoint. Meat maybe? The tables around us couldn't figure it out either and one lady told a man, "Stop guessing and just put your face in it!" Something in her tone told me that it wasn't the first time she'd said that to him. I took to stabbing my plate again with my fork and fished around to see what I could catch. I tasted pasta, pappardelle maybe? But it had a large round shape, like manicotti but shorter. I tasted beef, but it seemed like shredded beef? I couldn't figure out what the sauce was but it was amazing. Chef Adrianne then explained it was braised short rib (that had been cooking for over 12 hours) with pasta di grano, also known as giant macaroni. The juice from the short rib acted as the pasta's sauce and the whole dish was topped with freshly grated parmesan. Hot hell, was this ridiculously delicious, I would've given anything to have a giant pot of this stuff all to myself.
By this time I was starting to get close to unbuttoning my jeans, remind me never to wear skinny jeans again. Luckily for my jeans, we had one course left to go. Our emcee advised us to feed our date dessert instead of feeding our selves,
ay

que cute.
Once the dishes were served I heard a lady shout, "Ay es natilla!" I didn't taste any natilla, I tasted crunchy chopped nuts, maybe hazelnuts? Then I tasted choclatey nutella and some sort of fruit, perhaps strawberries or cherries. Lastly I tasted a vanilla custard of some sort. This dessert tasted very homey and welcoming. Like the kind of dessert you crawl into your couch to eat while watching some sappy movie like The Notebook or Superbad. I heard a guy shout, "This is better than sex!" To which chef Adrianne replied, "No, it's better WITH sex!" Both are true and it looks like chef Adrianne has a little sucia side too. Come to find out it was vanilla panna cotta with nutella, pistachios and strawberries. So simple and just so good.

After dessert, the lights slowly came on and the blindfolds were collected. Unfortunately, I wasn't able to take my blindfold home, que pena. This monthly event was so much fun that I encourage any couple or group of friends to go. We spent the whole night giggling and eating delicious food. We also learned about Tuscan cuisine and how the most delicious food is usually made with great ingredients and not a whole lot of fuss. The only negative I saw was that I would've liked to have seen heartier portions of the entree dishes, especially since they were so delicious that you just wanted more of them. I've never been to this restaurant during it's regular dinner service, but I have heard the portions are huge. My boyfriend and I thought back to all the great meals we've had this year and we both agreed that our dining in the dark meal was the best we've had so far.
_______________________________________
Restaurant Details:
Chef Adrianne's Vineyard Restaurant and Wine Bar
(305) 408-8386
11510 SW 147th Ave
Miami, FL 33196
www.chefadriannes.com




Only until recently did I realize there was a good sushi restaurant in Pembroke Pines. All these years I was subjected to withstand RA Sushi whenever I wanted sushi in Pines. Let's be real, you only go to Ra sushi for their happy hour or to pick up pata sucias at the bar. Otherwise, the overpriced sushi sucks, the music is loud enough to burst an ear drum and the wait for a table is usually over an hour. Come to find out that there is a hole-in-the-wall restaurant named Blue Ginger located right by the Cinemark 24. To be exact, it's located right next to the Publix in the large shopping plaza directly west of the Cinemark 24.
You walk in and you're greeted by a friendly hostess and asked if you'd like a booth or sit at the bar. The booth offers a more intimate experience, but the plus side to sitting at the bar means you get to pick dishes from their ever moving river. At the bar dishes float along on little boats. In the middle of the bar stands the sushi chef readily making rolls and sashimi as plates get picked up by hungry guests. The restaurant itself is brightly lit and inviting. We decided to grab a booth since the bar was already slammed.
Their menu is pretty extensive with several specialty rolls to pick from, in addition to Pad Thai, fried rice, udon noodle bowls and a few other Asian dishes. My boyfriend started off with their house salad which consists of lettuce, carrots, cucumbers, tomatoes and a ton of ginger dressing. My boyfriend really enjoyed the salad and he seems to be a bit of a ginger dressing freak. Once he was done I caught him licking the bowl to get every last bit of the dressing.
My boyfriend also decided to try a few pieces of sashimi. Two salmon and two tuna, both were fresh and inhaled within seconds. However, he did say that the tuna slices weren't top notch quality, as you can see for yourself in the picture below. The salmon was really good, but all four pieces fall short of the quality you'd get at a place like Pubelly Sushi or Makoto.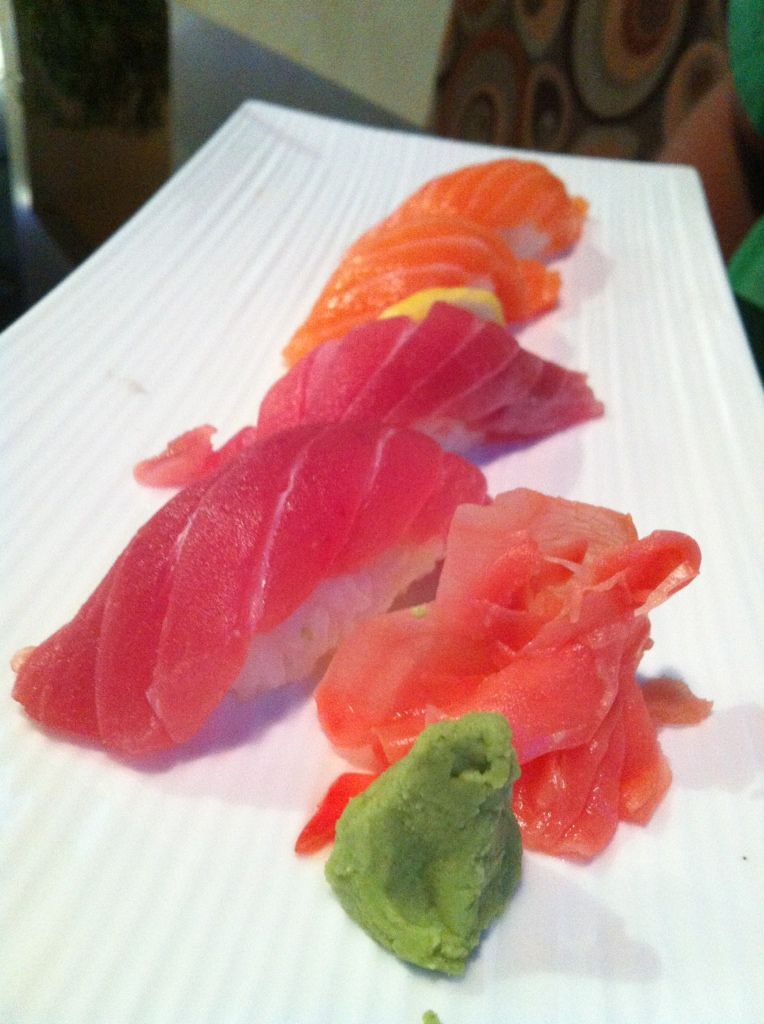 Our first plate of sushi came out and it was both my Mango Tango roll and my boyfriend's Angry Tuna roll. The Mango Tango roll comes with krab meat, avocado, cream cheese, mango, tempura flake and drizzled with a mysterious "yummy sauce." The roll itself comes wrapped in a bright yellow soy wrap. I was disappointed they didn't use real crab meat, but overall I really liked the roll. The mango was really fresh and ripe with flavor that just burst in your mouth. The tempura flake gave the roll a nice crunch. I still don't know what was in the "yummy sauce." Which scares me because the last time someone told me to try their yummy sauce was in the backseat of their car. Any who... the avocado was fresh and added to the rolls creamy texture. I am a fan of sweet and salty mixes so this was right up my alley. The Angry Tuna roll was the total antithesis of my refreshing mango roll; it was spicy and deep fried. It consisted of tuna, avocado, scallions, battered in panko bread crumbs and deep fries. Over the top it comes drizzled with kimchee sauce and creamy wasabi.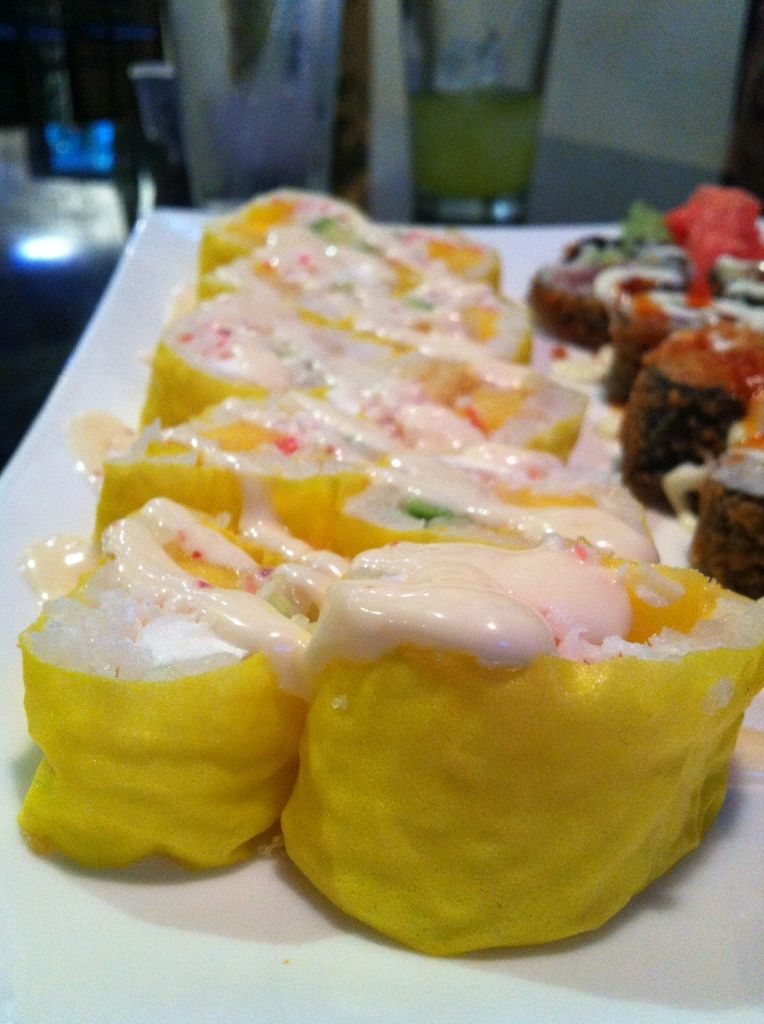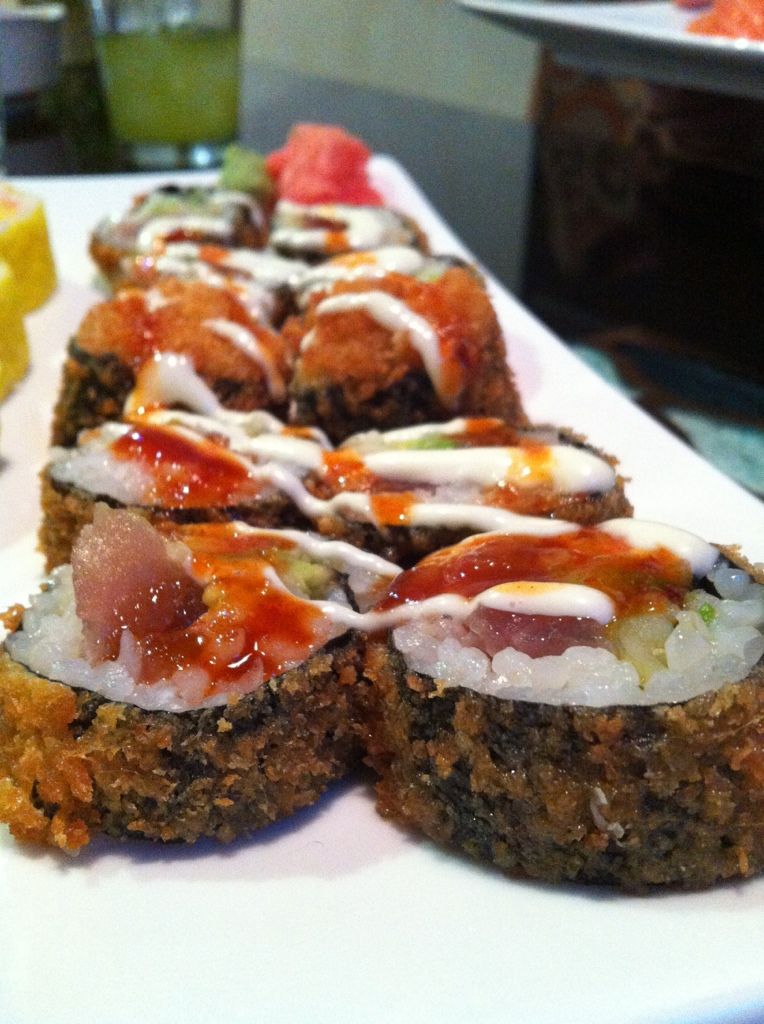 Soon after the first two rolls came out, the ocean drive roll was placed on our table. This roll consists of tuna, yellowtail, avocado, cilantro wrapped in bright green soy wrap and drizzled over the top with fresh line and chili oil. Unfortunately, this roll was swimming in chili oil, had it stuck to the menu description it would've been a lot more inviting. My boyfriend liked this roll the least, I didn't try this one because I was saving up for dessert. The fish was fresh as was the avocado, but the abundance of chili oil was a turn-off.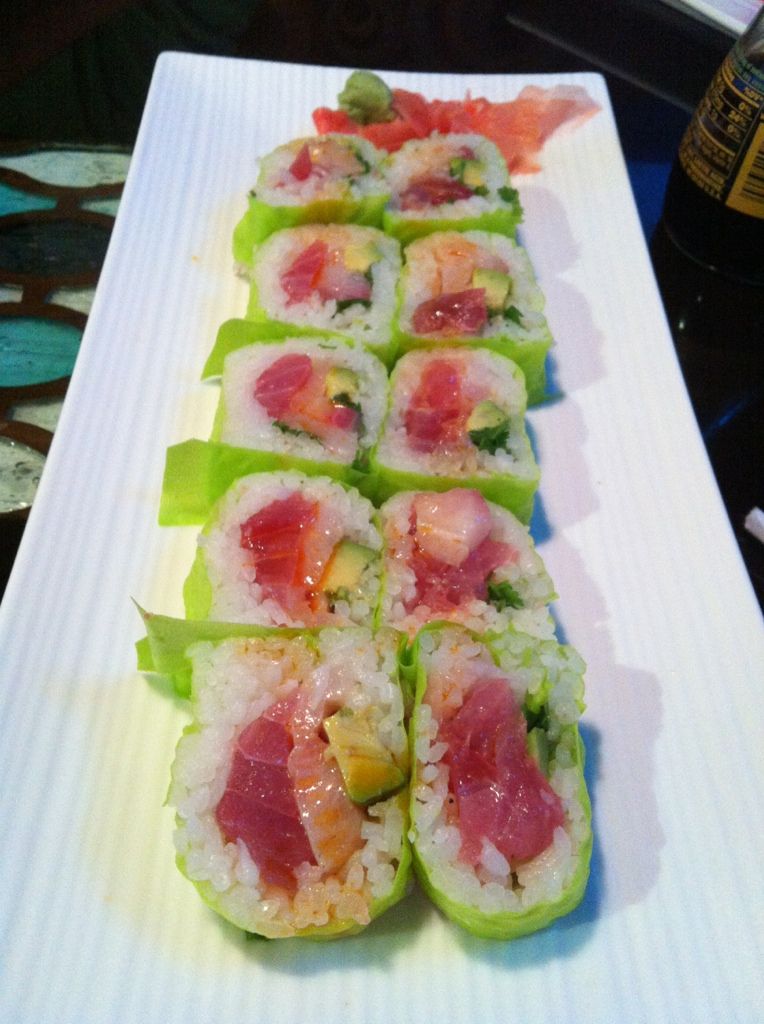 Lastly, we had their Miami Heat roll which comes with spicy tuna, fresh jalapeno, tempura flakes, served in pink soy wrap topped with spicy mayo and eel sauce. We asked for no eel sauce on this one, but we definitely noticed a trend: this place love to douce their rolls in a ton of sauce. None the less, this roll was good, the jalapeno and spicy tuna gave the roll a nice kick in the nads and the tempura flake gave it a nice crunch. Definitely one of our top picks.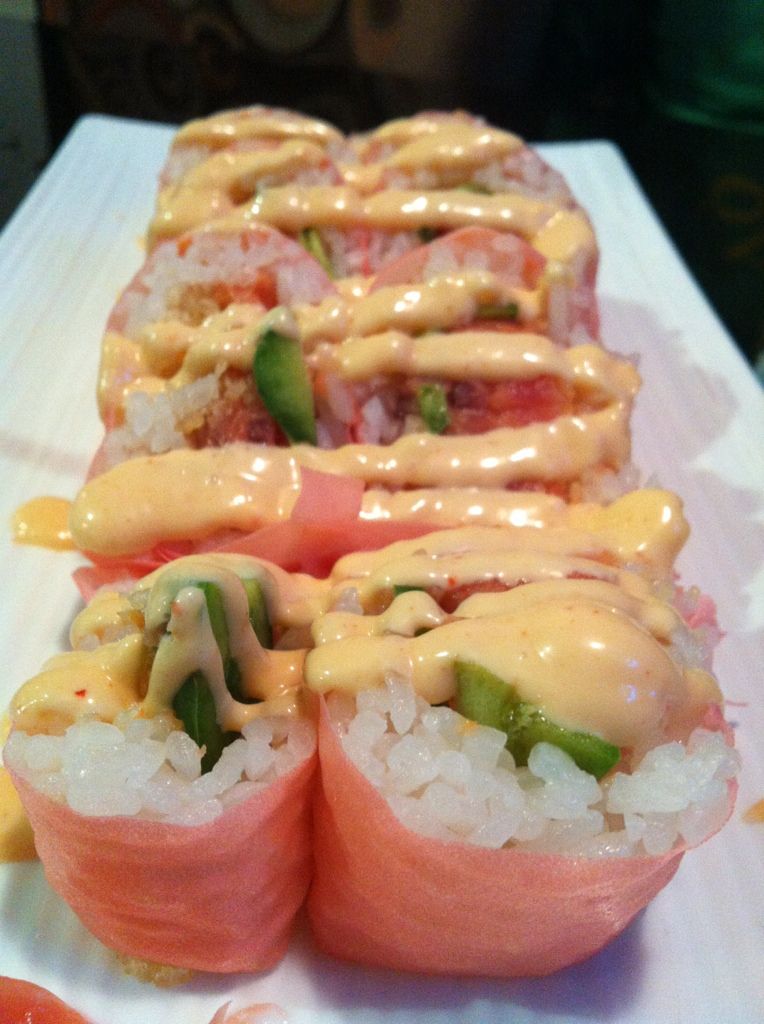 Lastly, we finished of the night with some Thai donuts. I'm used to simple donuts, fried dough, condensed milk and some crushed peanuts, plain yet amazing. Blue Ginger tries to dress up their Thai donuts with chopped strawberries, whipped cream and chocolate syrup, but all that stuff is fluff and unnecessary! The donuts were really good, piping hot and fresh. I would definitely have them again, but ask for no chocolate syrup or strawberries.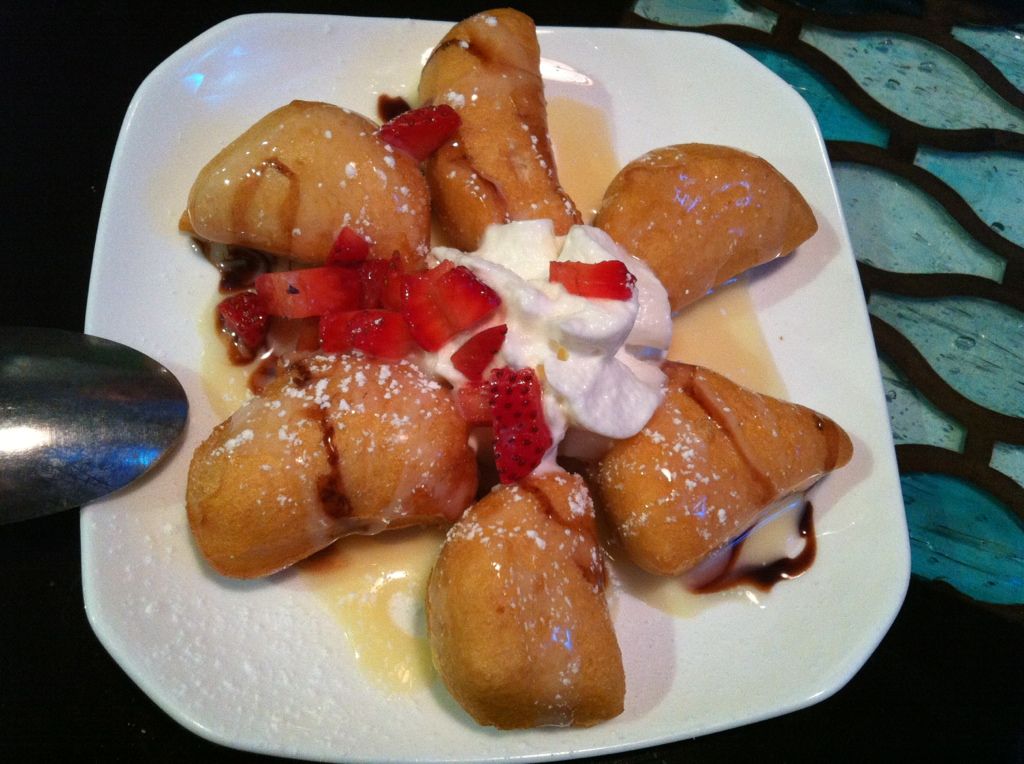 I liked this place, from the floating sushi river at the bar, eager to help staff to their extensive menu. If you want a sushi option other than RA sushi in Pembroke Pines, this is a place to definitely check out. It's not going to blow your mind, but it will get the job done. My boyfriend said he actually preferred RA sushi over this place when the music isn't blaring, but I think that has something to do with the fact that he's into pata sucias.
_____________________________________________
Restaurant Details:
Blue Ginger
15791 Sheridan St
Pembroke Pines, FL 33331
www.bluegingerfl.com