Who has the best pizza in the 305 is one of those touchy subjects in Miami, like who has the best Cuban food, which part of town has the shittiest drivers or what's the most over-hyped restaurant in town? As a lover of fine
peaksa
(the true Hialeah pronunciation of the word pizza), I've become very fond of Kings County Pizza in North Miami Beach. For many years, my go-to pizza stop in North Miami was Steve's Pizza and don't get me wrong, Steve's is still great at 3am when you're drunk off your ass and need to sober up (or so I've been told). I heard a lot of positive buzz in the twitterverse about Kings County so I decided to give it a shot or 3.
The place itself is in a small shopping plaza on West Dixie Highway. The dining room is actually on the opposite end of the mini strip mall, so logistically it's a little on the awkward side. Our waitress was the poster-child for child labor laws very sweet and accommodating. On our first visit we kept it simple and got half dozen garlic knots, some mozzarella sticks and an Old World pizza. The garlic knots were piping hot, freshly baked pieces of bread that were smothered in olive oil, dusted with black pepper, parsley and fresh garlic. They were delicious and by the time I was done savoring my first one, my boyfriend had inhaled the other five FML. The mozzarella sticks were great in my opinion; for once mozzarella sticks were actually packed with cheese and none of those tasteless breadcrumbs. They come paired with their homemade tomato sauce which is also great to dip the garlic knots in. Finally, our pizza came along; the Old World pizza is actually a traditional margherita with a thin and ridiculously crispy crust topped with fresh mozzarella, crushed tomatoes, basil, and olive oil. This pizza smelled as good as it tasted, but the best part by far was that crust. The crust is dusted with cornmeal on the bottom so every bite has some major crunch. I couldn't help it and the spanglish escaped me like it usually does and I said, "This peaksa esta super buena!" The combination of basil, tomatoes and cheese is a classic, but throw that over this amazing crust and drizzle some olive oil and you've got heaven in NMB.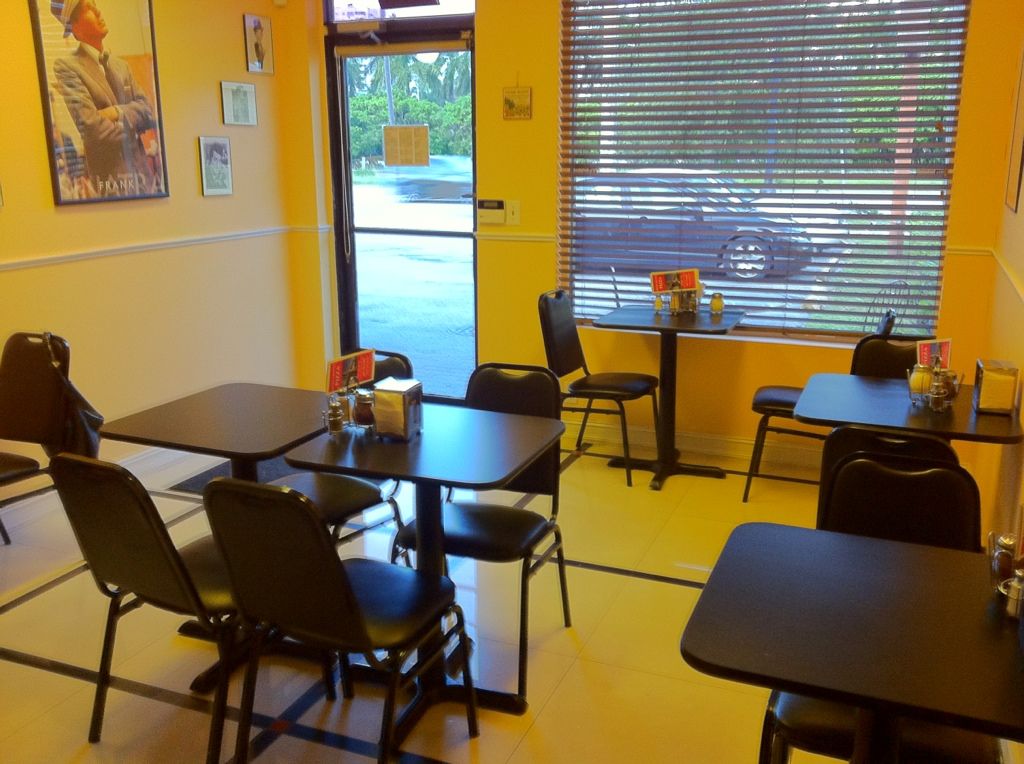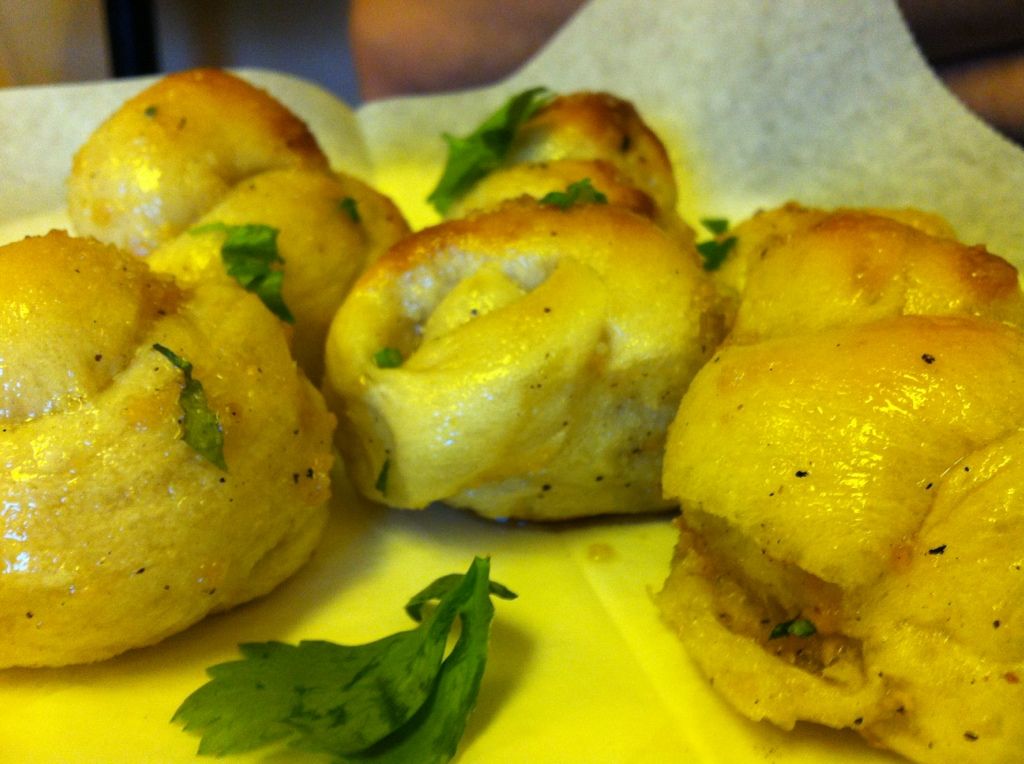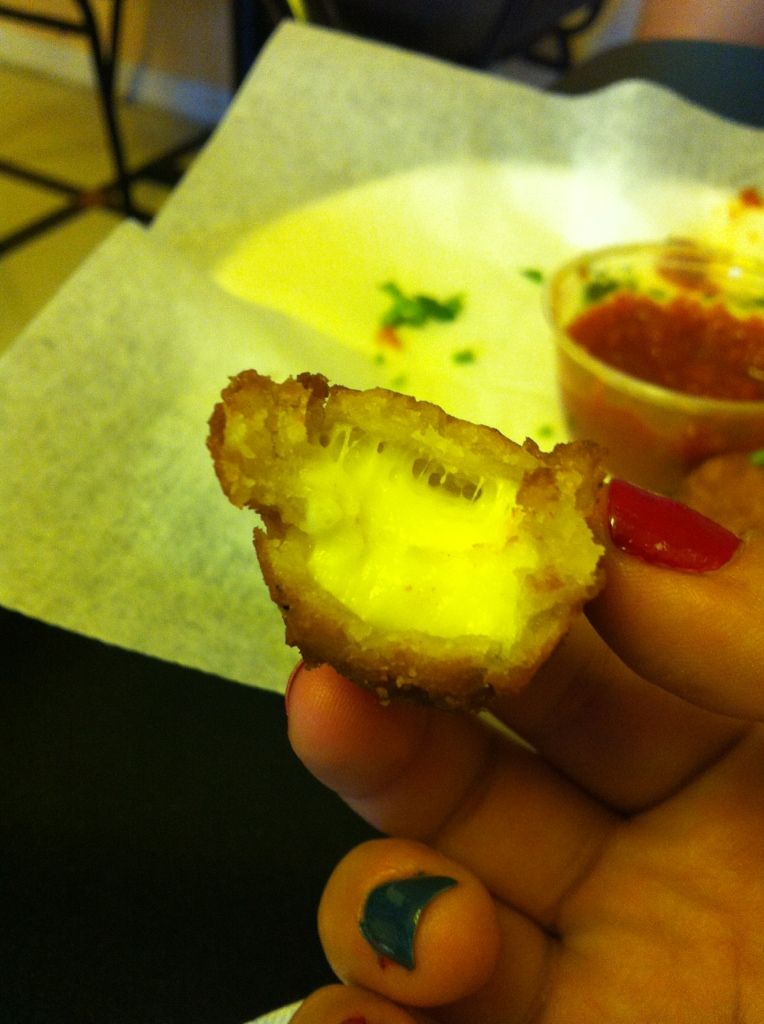 Naturally, I had to come back for a second visit, since the first was such a good one. I had to make sure it wasn't like a fluke or nothing, y'know? This time we simplified things and just got a dozen garlic knots and their Neapolitan pizza. I won't go over the garlic knots because they were just as good as the first time. The Neapolitan is their real-deal New York style classic. It's that same delicious and crunchy/crispy crust as their Old World peaksa with their homemade sauce and real mozzarella. The sauce and the crust are what really make this pizza great. Their sauce uses fresh ingredients that completely heighten the flavor of the whole pie. This one and the Old World were my two personal favorites.
On our last visit I decided to branch out a little. I decided to try their meatball sub while my boyfriend had their Grandma squared pizza. The meatball sub is pretty big and comes in regular hoagie bread. Four big ol' meatballs are stuffed into the bread and then it's all topped off with cheese. There's just enough sauce to keep everything nice and moist (hey now!) but not swimming in a mess. The cheese over the top is melted just right and luckily this sandwich does not fall apart on you while eating it. The meatballs were delicious, soft and melted in your mouth like buttah. I'd definitely get this bad boy again in a heartbeat. Although I only tried a small bite of the Grandma squared pizza, I can say the crust on this one is much softer, doughier, slightly thicker and unfortunately no big crunch. It's got a spicier Sicilianesque sauce and it's topped with mozzarella. Although flavor-wise this pizza is great, especially that nice kick of red pepper heat from the sauce, and I wasn't crazy about the crust. The crunchy crust is really what draws me back to this place, so there's no sense in getting a pizza that lacks what I'm looking for.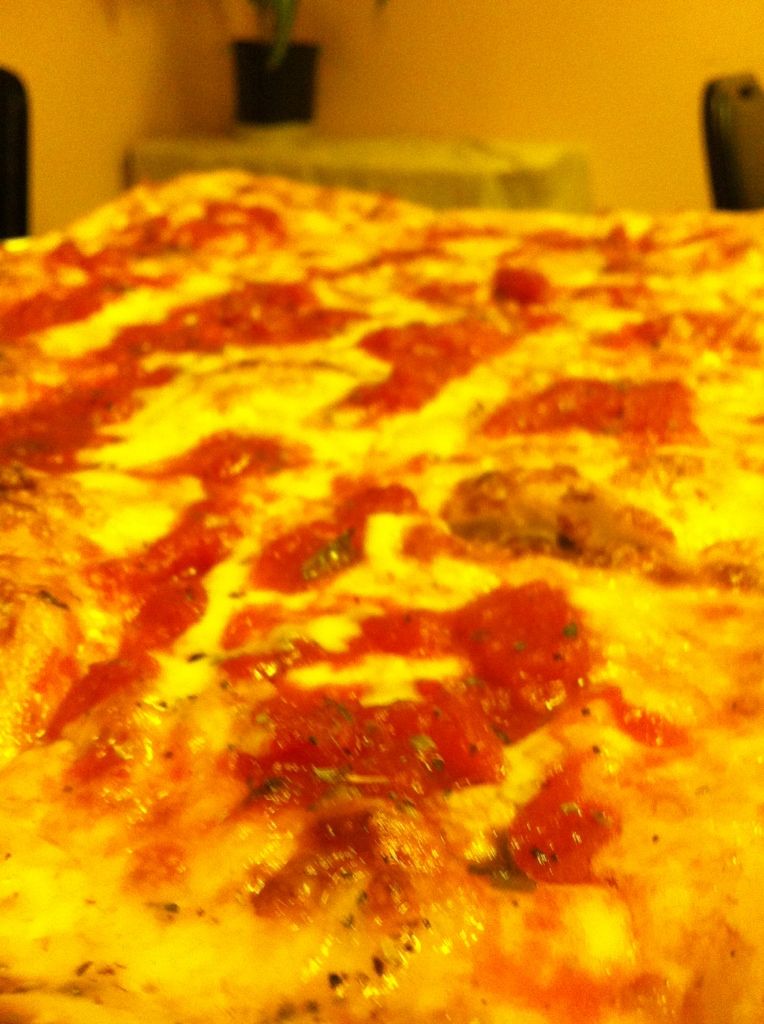 Lastly, I'll talk about the only dessert item I've had at Kings County, their homemade tiramisu. This is the only disappointment I've experienced here. Their tiramisu is served in a small round plastic container that's about an inch or two deep. Half of that container is filled with what seemed like cool whip topped with chocolate shavings and the other half is a very thin layer of rum soaked lady fingers and a thin layer of mascarpone cheese. The lady fingers were so heavy on the rum that I couldn't really taste anything else. I guess they can't do everything right. It's a shame because I was hoping they'd have a great dessert to go with their great peaksas.
So to sum things up, head over to NMB and check out Kings County Pizza. Be sure to get the garlic knots, pizzas, mozzarella sticks, meatball subs and don't bother with dessert. I should mention this place doesn't do fountain drinks, so each refill (a can of soda) will cost you. Don't mind the awkward dining room at the end of the strip mall that's completely separate from the restaurant. If you have leftovers, don't worry and just take it home because cold Kings County pizza for breakfast is almost as good as fresh Kings County pizza. If you live in the area they deliver!
__________________________________________________________________