I had been to 660 at the Angler's about a year ago when the restaurant was under a different chef. A shitty parking situation and not-so-great food led to me never returning, until now. I try to stay away from South Beach as much as humanly possible. Between the pata sucias making their early morning walks of shame to the myriad of tourists that drive worse than Hialeah residents, South Beach tends to be tremendo shit show.
I decided to give it another shot and luckily my friend was willing to check it out with me. We made our way to South Beach early and were able to find parking at a cheap $1.75 an hour. I mumbled to myself, "Mira que le ronca el mango a esta gente," and paid $4.00 for a little over 2 hours, de pinga. We made our way into the Angler's hotel. The restaurant itself offers a lot of outdoor/lounge seating for the tourists that want to be seen, pero con el calor que hay my ass went indoors. The indoor decoration looks plush and fancy, yet comfortable. Our waiter, John, was very accommodating and took the time to explain the entire menu including their bottomless mimosas. I will admit that the mere mention of 'bottomless mimosas' made me want to shout, 'DASSIT!" but I had to regain control of myself. I settled on some bottomless house coffee and decided the mimosas would be better enjoyed when I have a designated driver.
We started off with some freshly baked cheese bread, Pan de Bono for my fellow Colombianos. It was served with house-made Guava Butter. Now the cheese bread was probably the best cheese bread I've had outside of Medellin. It was piping hot and fresh out of the oven. It was was firm and slightly crisp on the outside then doughy and cheesy on the inside. Slather on that delicious guava butter and you officially had a morning O-face. Once we were done with the pan de bono, we held that guava butter hostage on our table and made sure it didn't go anywhere.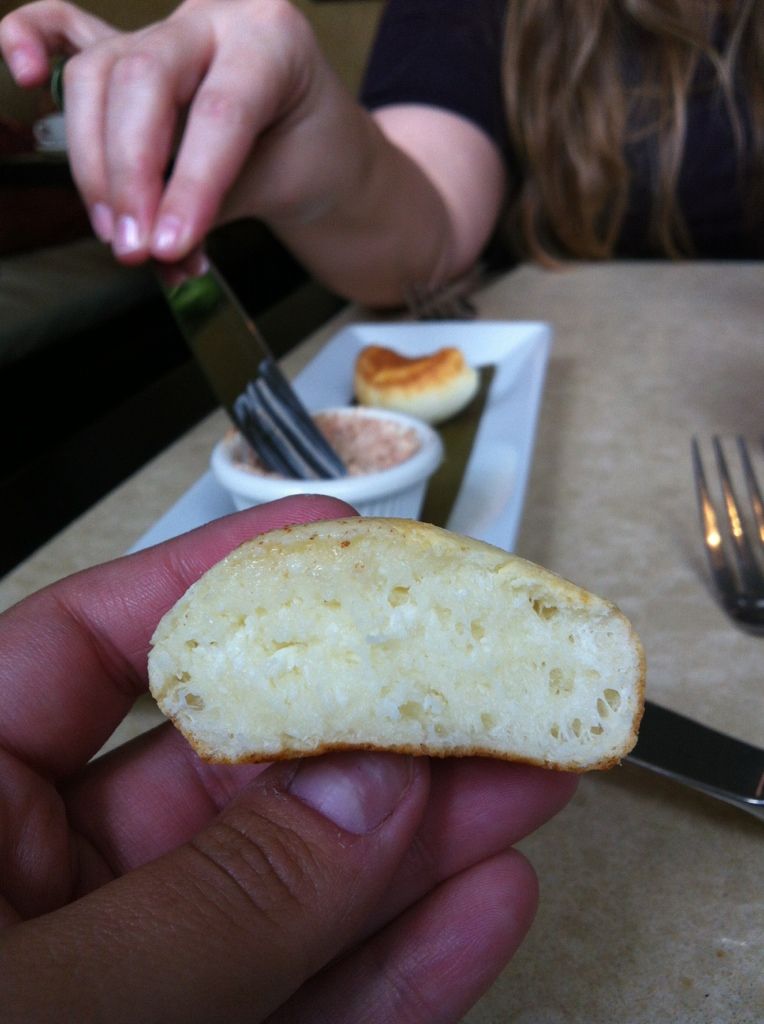 After having a complete breakdown of our menu, I decided to go with their Torreja Sandwich. Now I should mention, their menu has definitely changed quite a bit. The menu now offers several items with a lot of Spanish/Latin flare. We were also warned that the dishes were large portions, so to be sure and order accordingly. Back to my torrejas, the menu specifies that the Torreja Sandwich comes with dulce de leche, condensed milk, fresh berries and queso fresco... wait, what? The queso fresco through me off completely, but I was intrigued so I decided to give it a shot. The torrejas came assembled as a sandwich with dulce de leche generously slathered all over the insides and dusted with confectioner's sugar, queso fresco and fresh berries over the top. On the side there were small tubs filled with condensed milk and maple syrup to add at your leisure. The torreja itself was slightly crisp on the outside, then soft and warm on the inside. The queso fresco gave the whole dish a little bit of saltiness that played well with the dulce de leche (almost like a salted caramel flavor). All in all, this dish was a diabetic's worst nightmare, but in the best way imaginable. Since I had the hostage guava butter, I made sure to add some of that to each bite. All I can say is wow! The Guava butter sky rocketed the entire dish to brunch nirvana. This was some of the best french toast I've had in a very long time and there was so much going on that I didn't even bother with the maple syrup. I know I'll be back for this, soon.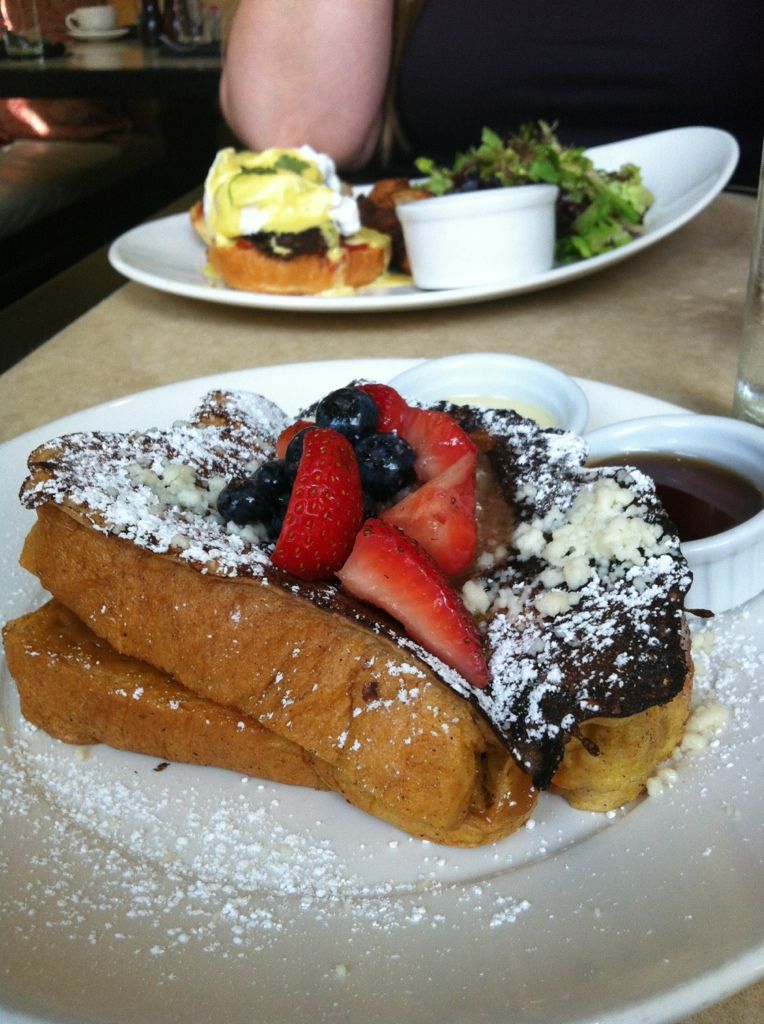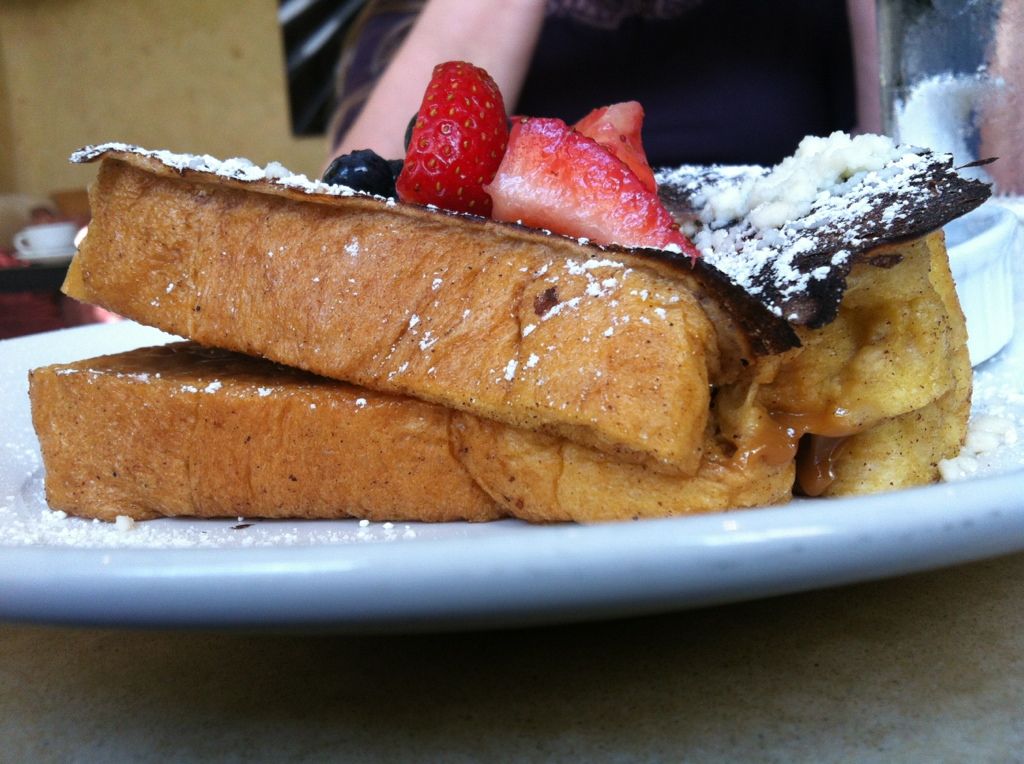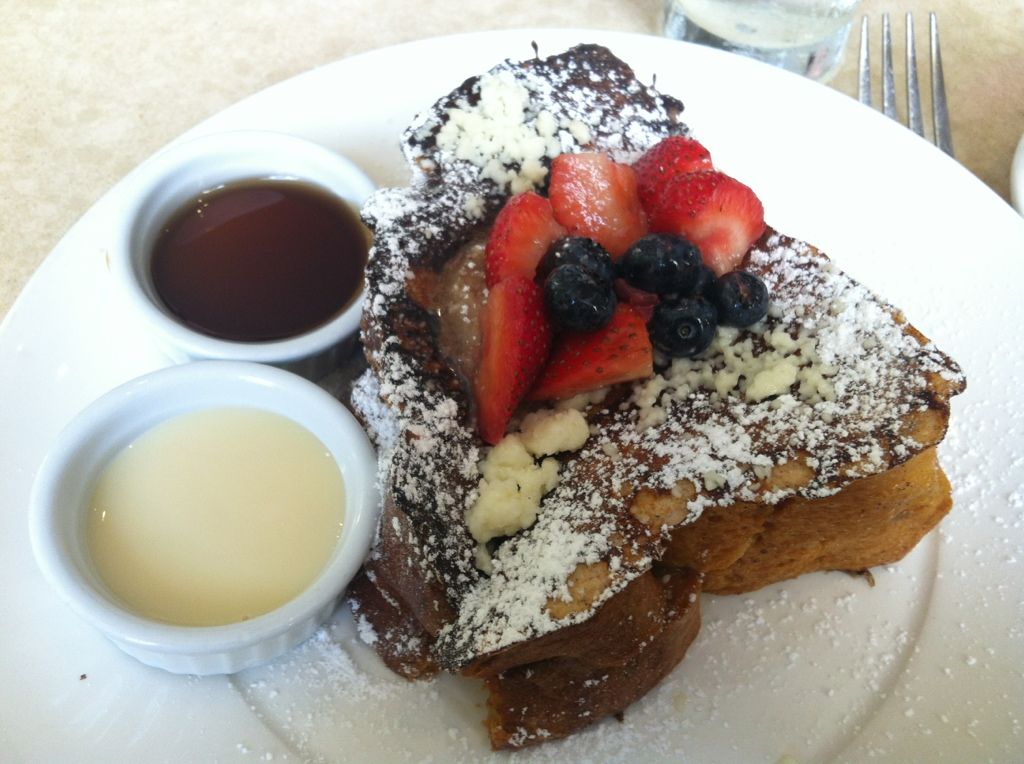 My friend went with their Benedicto; their take on eggs benedict with short rib, tomato salsa and scallion hollandaise on a Cuban roll. The eggs benedict also come with a side of papitas and mixed green salad. The eggs were perfectly poached, the short rib was well seasoned and ridiculously tender. The Cuban roll was fresh and soft, so soft that it fell victim to the tomato salsa, making the bread a little soggy in some parts. The tomato salsa had a bit of heat that gave you a nice wake up call. The papitas were 660's take on home fries and they were yummy. Not only were they perfectly seasoned, piping hot and slightly spicy they went perfectly with the Benedicto. Now I will mention, with all this deliciousness on one plate, my friend didn't even glance at the mixed green salad.
We left 660 happy and full. Not only was the food and service great, the prices were reasonable (even for South Beach standards). If you're looking for a fun place for Brunch in South Beach, or want to feel posh without breaking the bank, be sure to check out 660 at the Angler's and the creations Chef Torres has to offer.
______________________________
Restaurant Details:
660 at The Angler's
(786) 594-5811
660 Washington Ave
Miami Beach, FL 33139