Last night my best friend and I decided to check out one of the many restaurants on my list. We decided to try out South Street in the old Sra. Martinez space. South Street comes from the same peeps that brought us Gigi and Cooper Ave, so expectations were relatively high. We walked into what felt like a 70's lounge. Hip-hop and jazz played on the stereo and we were greeted by our very friendly waitress, Rosely. One quick glance at the menu and I couldn't help but be reminded of Yardbird. However, South Street promises southern soul food, which we all know is totally different from just regular southern food, right? One thing that Rosely did mention was that there is no pork on the menu… QUE QUE?! I damn near had an aneurism when she said that... I mean how can you call yourself a soul food restaurant without pulled pork? Ham hocks? chitterlings? What is in your collard greens if it ain't BACON?! I took a few deep breaths and got a hold of myself.
We kept things moving and Rosely explained the menu is set up family style with some appetizers plates, a hand full of large entrees and sides. Everything is sent out to the table as its ready so my BFFL and I decided to play nice and share. We got an appetizer, a large entrée and a few sides.
We started with their Basket of Biscuits, which comes with four different biscuits, their house-made cinnamon pecan spread and a small bowl of honey. First was their regular corn muffin, it was delicious and buttery Throw some of that spread and honey on the corn muffin and I would've been happy just eating fifteen of those for dinner. I moved on to their regular home-made biscuit, it was light, piping hot and flaky. I then tried another mystery biscuit which I'm going to guess was made from either pumpkin or sweet potato (I forgot to ask and there was no description on the menu
#whoopsies
), also amazing with their cinnamon spread and honey. Lastly was their jalape
ñ
o corn muffin, I took a bite and said, "
ñ
oo!" This thing was so freaking spicy, I couldn't handle more than a small bite.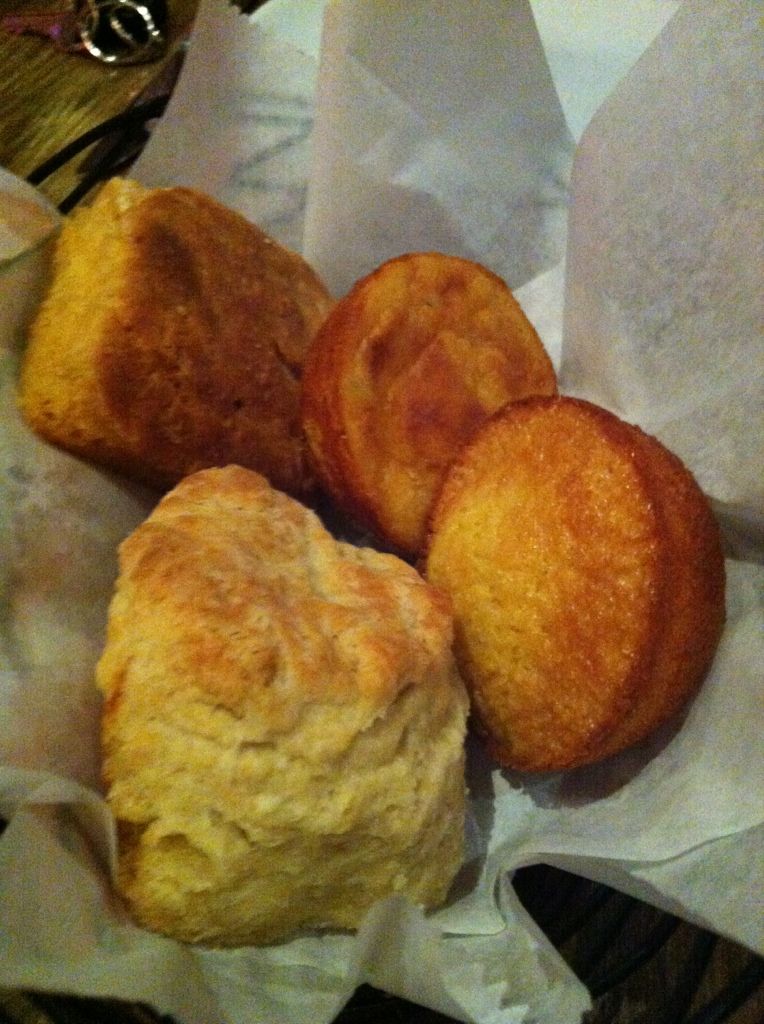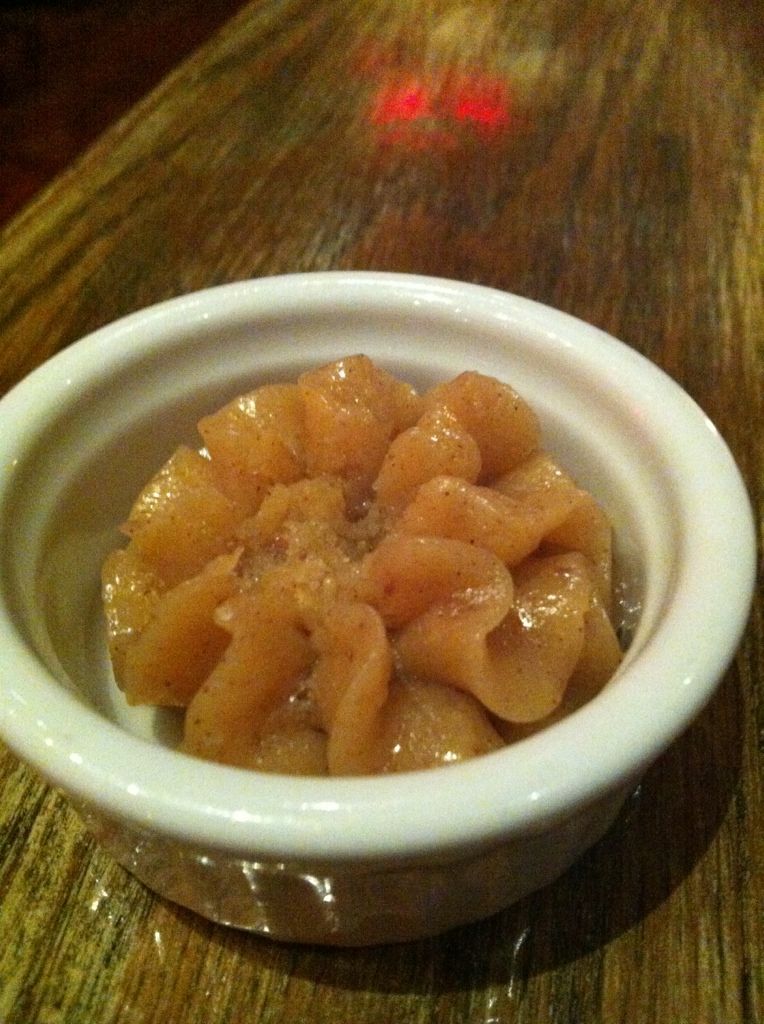 Cinnamon Pecan Spread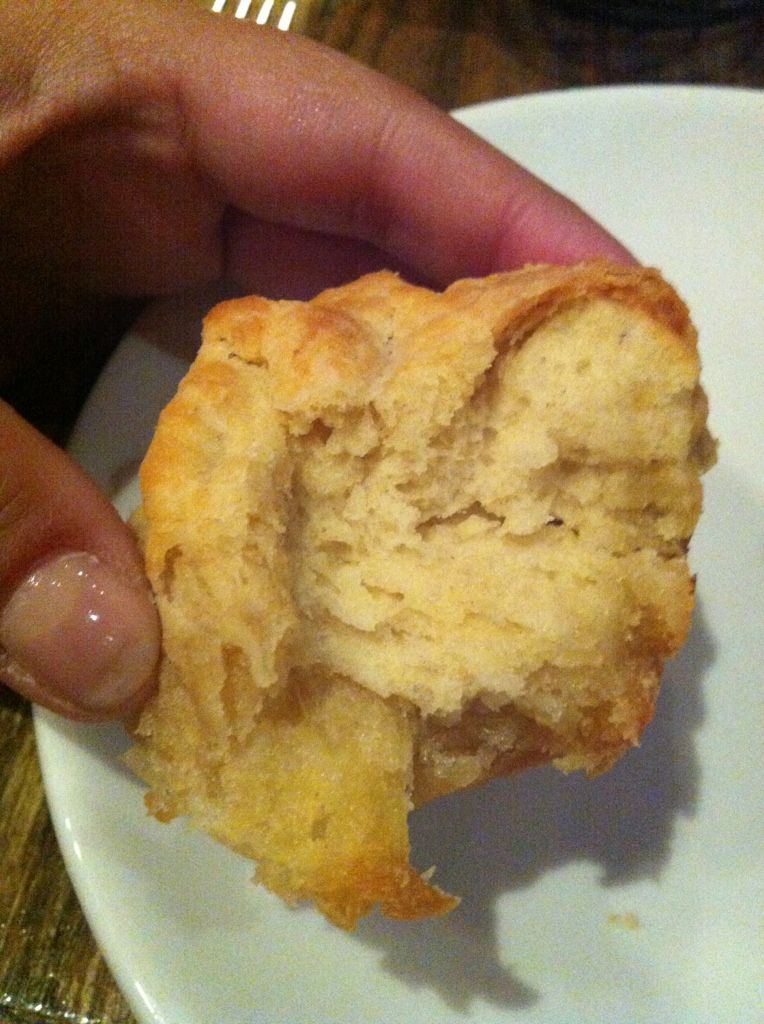 Buttery, Flaky Biscuit Goodness
We then got all of our side dishes and entree at once. First up, I'll cover their buttery mashed potatoes. Nothing particularly memorable about them; they were creamy and tasted the way you'd expect homemade mashed potatoes to taste. Which isn't a bad thing in any way, you'd think it would be easier to find old-school, real deal mashed potatoes, but it really isn't. Nowadays people throw in wasabi, truffle, duck fat all sorts of shit into mashed potatoes to jazz them up, but the truth is there's a nostalgic deliciousness in simple mashed potatoes that not enough restaurants embrace.
Their candied yams popped with flavor all over yo mouf. They were slightly sweet and chopped in perfect bite size pieces. Perfect balance of the yams' natural flavor with cinnamon and what seemed like a hint of maple and vanilla. FLIPPING DELICIOUS.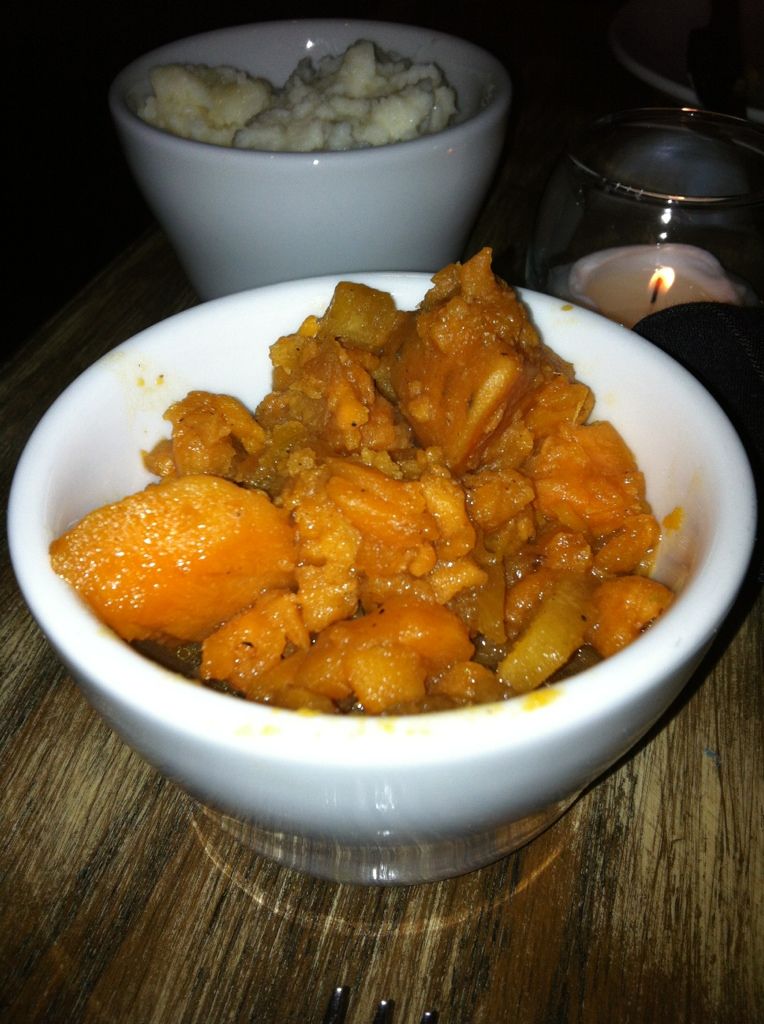 We also got their traditional mac and cheese. It was just like the homemade mac and cheese my mom would make for special occasions as a kid (not that boxed up powder crap). The flavor of sharp cheddar jumped out and slapped you in the face on the first bite. It was old school mac and cheese done right and if I could've gotten a pot full of it, I would've.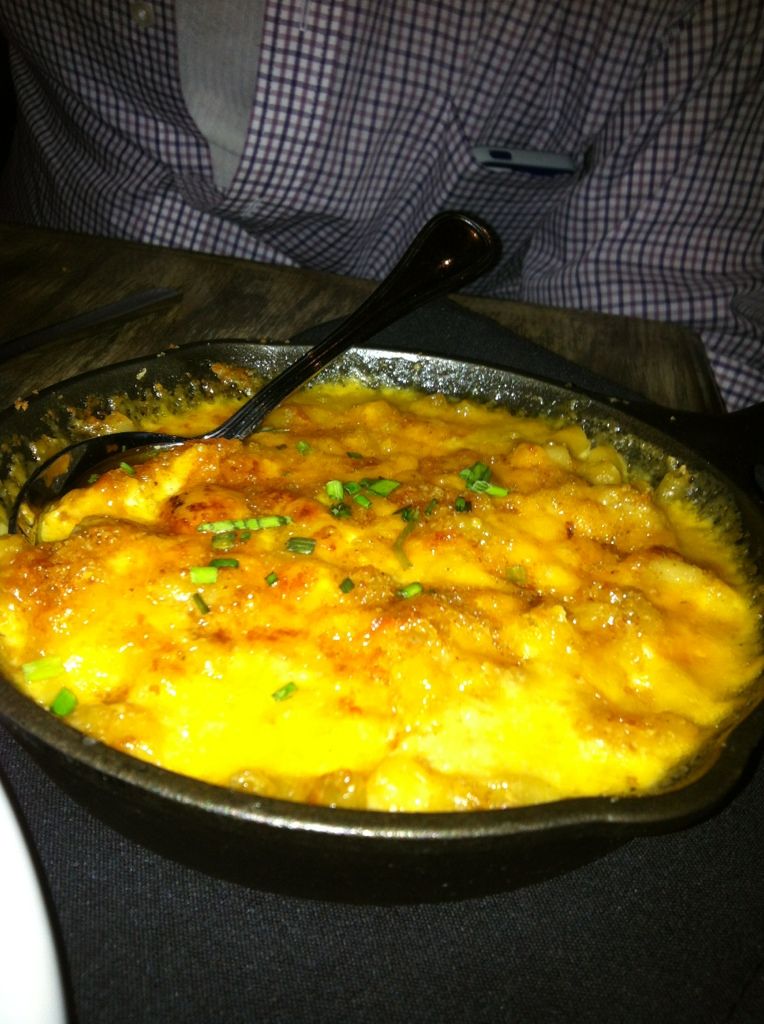 Lastly, we got their fried chicken. Now, I personally have a hard time paying more than $20 for a plate of fried chicken, especially when Church's and Publix are just down the street. So I was hesitant to say the least, but we decided to give it a shot. What we got was half a chicken of smoking hot, made to order, scrumptious fried chicken. This sure as hell wasn't the colonel's recipe. It was served with a honey based chili sauce, but I personally didn't really like it. I love the chicken by itself, perfectly seasoned and crispy skin. Makes my mouth water just thinking about it.
My best friend and I were too stuffed to try their desserts, but I definitely plan on coming back to check them out. There were lots of things on the menu that I still want to try, including their spiked ice teas. I loved the old-school jazz vibe the place has and would recommend it for group outings given their family style menu. My only gripe is that they need to get some pork on that damn menu; cuz ain't nobody got time for that!
___________________________________________
Restaurant Details:
Southstreet Restaurant & Bar
(305) 573-5474
4000 NE 2nd Ave
Miami, FL 33137
www.southstreetmiami.com