So I had been hearing lots of mixed reviews about Pride & Joy BBQ. Everything from, "It's AMAZING!" to "That place was gross." So I had to see what all the fuss was about for myself. I dragged my best friend with me Friday night and what ensued was a hilarious yet mediocre dining experience.
We started off taste-testing all of the BBQ sauces on our table. The Tangy Sweet sauce tasted like the sweet and sour sauce I used to get with my chicken mcnuggets at McDonald's. I didn't like the Vinegar sauce and the Hickory BBQ was actually really great. However, the star was their Sweet & Heat Mustard Sauce. It was so good we ended up putting the Sweet & Heat on every single dish we had. Partly because that dishes needed some flavor and also because it was that good.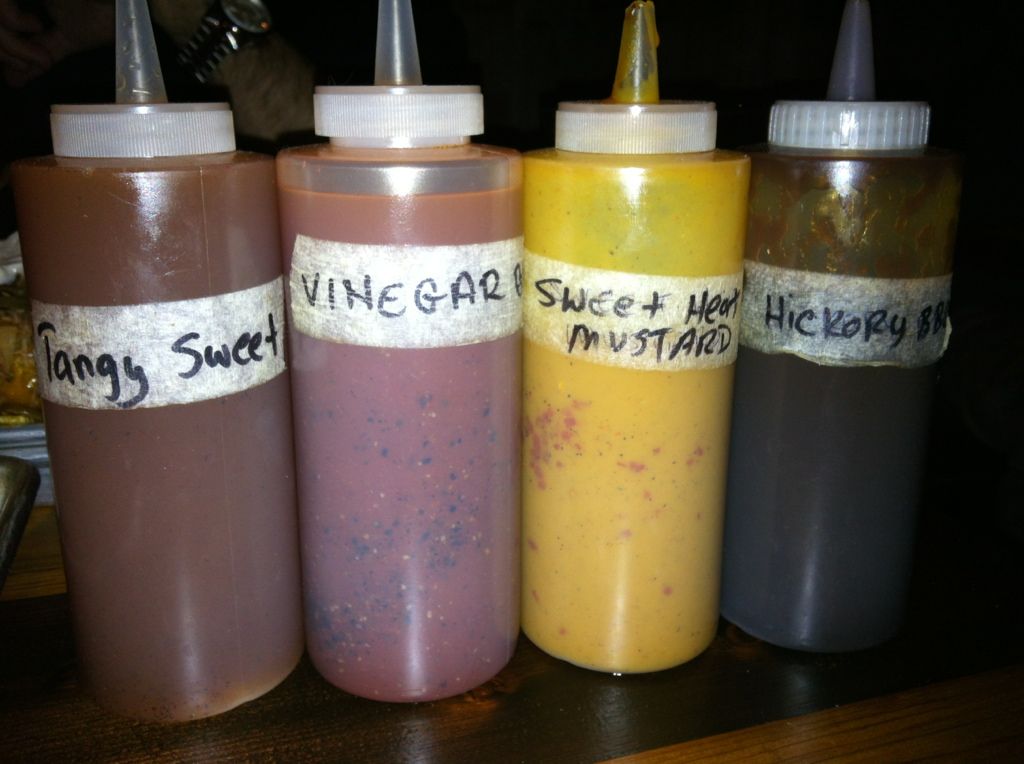 To start off, our waiter seemed aloof throughout dinner. Several of the beers I asked about on the menu he stated, "I don't know if we have that one, I'd have to find out." Finally I got my beer and we started ordering. The entire menu on paper sounds delicious and appetizing. We told our waiter we were going to start out with BBQ Nachos, instead of warning us that the nachos is a behemoth mountain that easily feeds 6-8 people he simply said, "That's a good sized portion." When the Everest o' nachos hit our table, I simply looked at my best friend with a "WTF?!" face. Clearly there had been some sort of mistake, but no... that was the "Good sized portion" our waiter was referring to. But I digress, the flavor of the nachos was another issue because well... it wasn't there. We got the Nachos with pork topped with a red beans, jalapenos, cheese and what appeared to be an entire quart of sour cream. I took a few bites and gave up. My best friend had a brilliant idea and put the Sweet & Heat sauce on the nachos to give it some much needed flavor.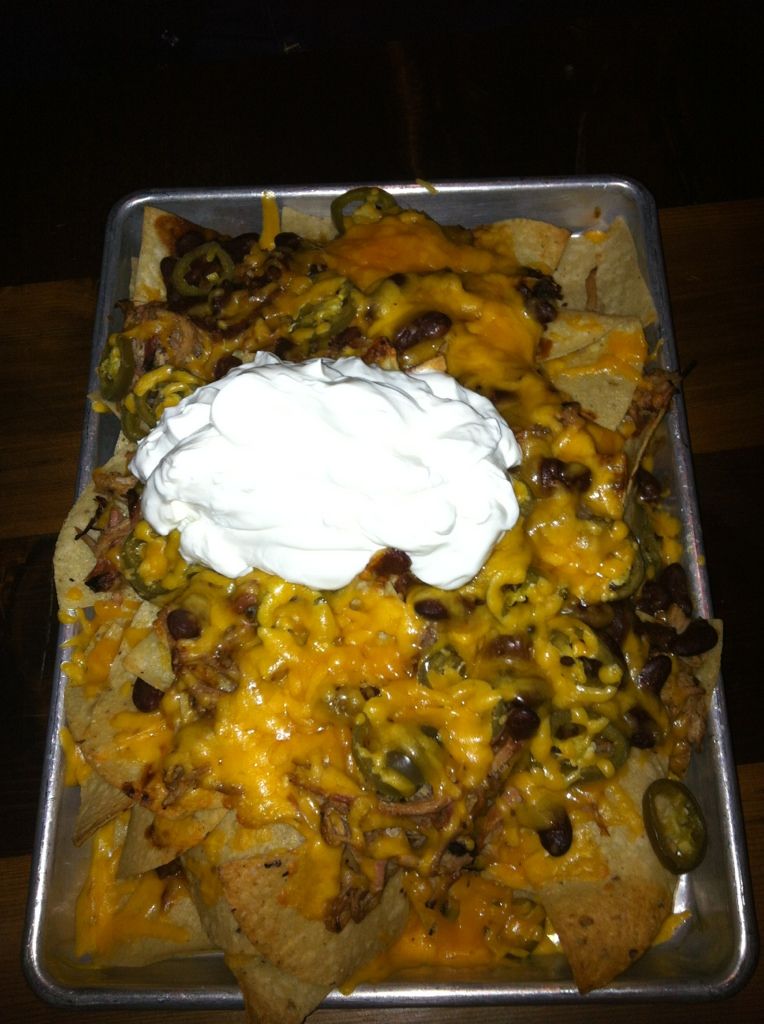 Up next I went with their Baby Back Mac. The pork in the mac and cheese tasted disgusting and at the first bite of meat I ended up spitting out into my napkin. It tasted like boiled and flavorless pork. The mac by itself tasted ok, however I felt like it was missing something like cheese, salt, I don't know... something. My best friend was able to salvage this dish by throwing on some of that Sweet & Heat sauce and mixing the whole thing around. Once he did that, the mac tasted pretty good.
We waited around for our waiter (who was MIA for close to half an hour) and decided to get some actual entrees much to his surprise. I went with a half rack of their St Louis ribs. Their ribs are all dry rubbed and then it's up to you what kind of sauce you want to throw on 'em. I got my ribs and started going to town. Two out of my six ribs had hardly no meat on them, my pig must've been the
Kate Moss
of the heard. The other four ribs were chewy and definitely not that "fall off the bone" texture that everyone always looks for. I must've looked like my dog gnawing the meat off these ribs. Once again, Sweet & Heat sauce saved the day on these lack luster ribs.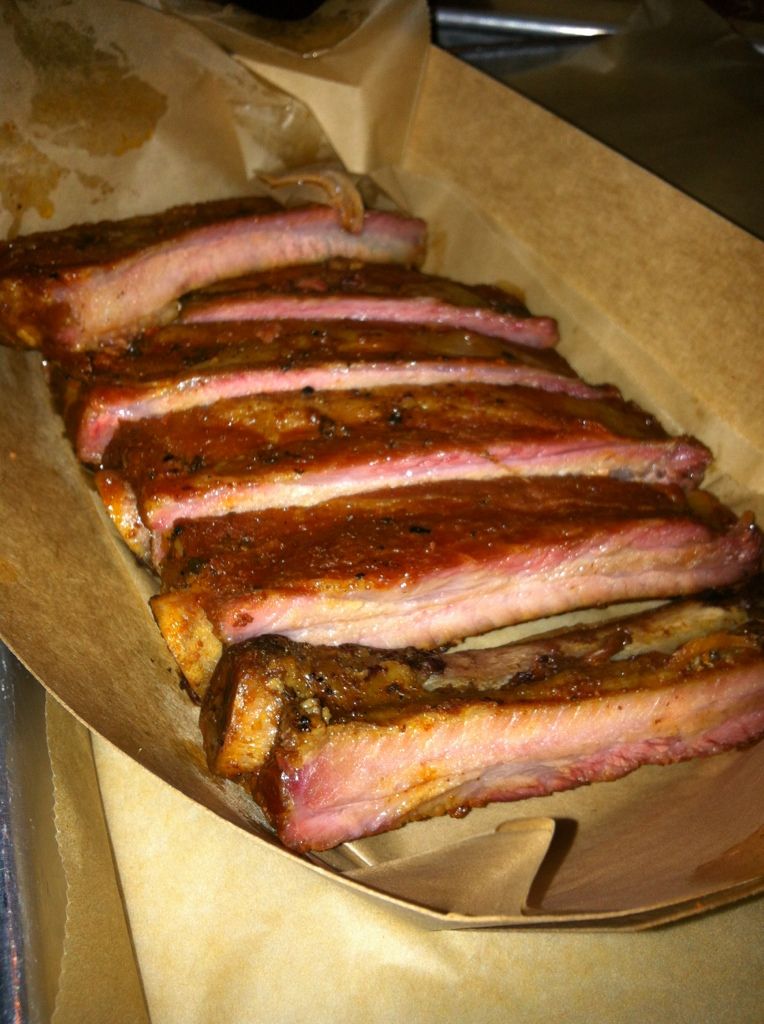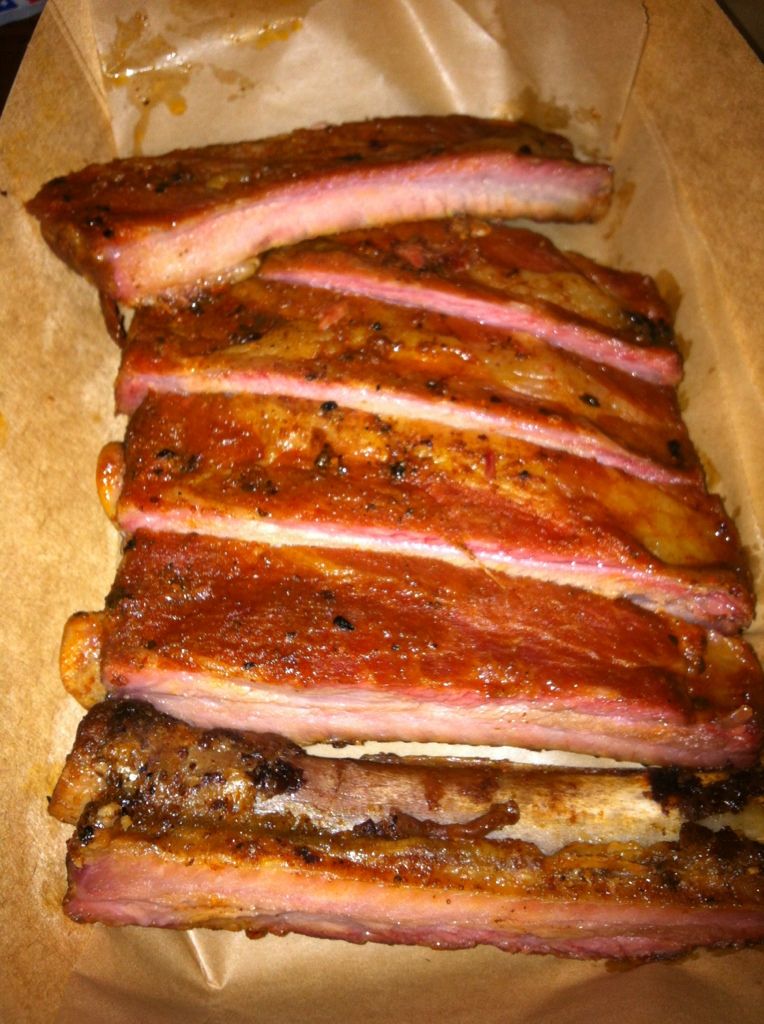 My best friend had their Brisket Cheesesteak sandwich. It looked ooey-gooey and actually smelled better than my ribs. The sandwich came with a side of hand-cut french fries and to be honest, the fries were probably the best dish of the night. I didn't get to try his sandwich because I was too busy with my ribs, but he didn't really enjoy it and eloquently put it as, "It ain't good booboo." He stated there was too much fat and hardly no meat on the brisket.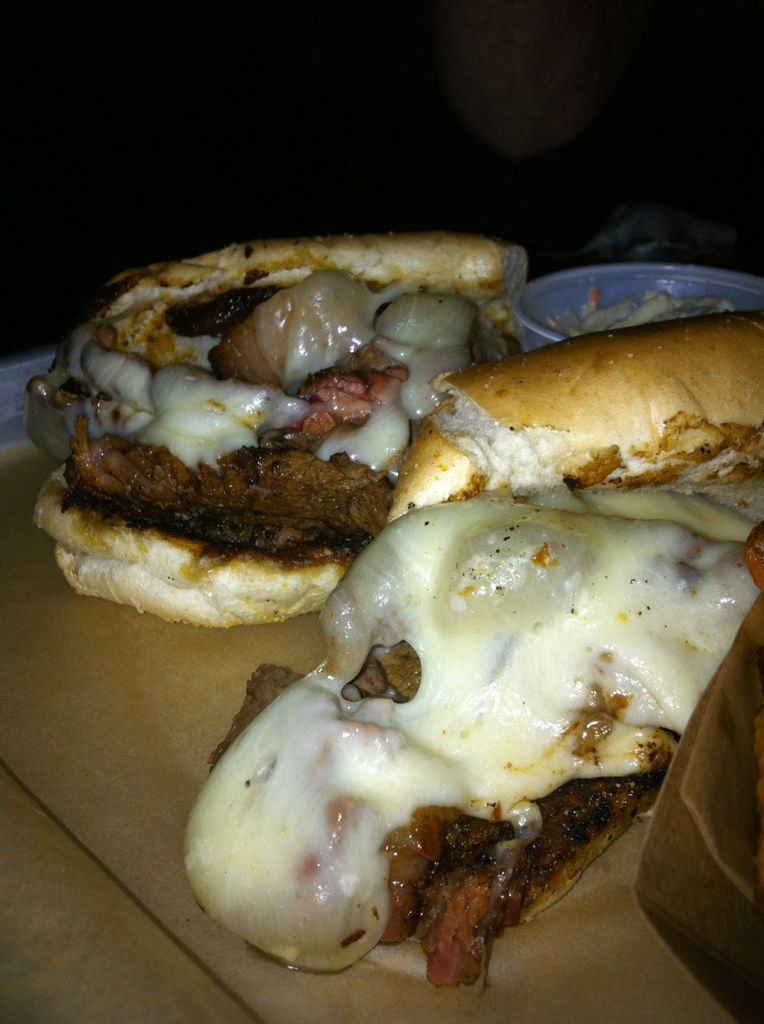 We decided to call it quits and get our check. Meanwhile, the elderly couple next to us (that were clearly on a date) were going through a similar experience. The husband looked pissed as hell and told his wife, "This is the last time you choose a restaurant! I'm still hungry and I want a steak!" We actually felt the same way and after our meal we went straight to Shake Shack, where we probably should've gone in the first place.
The saving grace of our entire meal was their Sweet & Heat sauce. Seriously, they should just bottle that sauce and call it a day. I will most likely not be returning to Pride & Joy BBQ, I would've preferred risk getting shot and going to
People's Bar-B-Que
in Overtown where the BBQ is actually delicious.
_______________________________
Restaurant Details:
Pride & Joy BBQ
(305) 456-9548
2800 N Miami Ave
Miami, FL 33127