So I finally made my way over to Haven Gastro Lounge. It's tucked away in a little corner of South Beach hell, right off Lincoln Road. As some of you may already know, I hate South Beach. Between the European
pata
s
ucias
, congested traffic and tourists that can't drive for shit, I always leave sobe wanting to stab myself in the eye. So I finally decided to just suck it up and make the trek; God knows I'm glad I did.
The restaurant's interior has a very club/loungey look but without any of that horrific
tiki-tiki music
that Miami has become so disgustingly enamored with. In line with the club feel, the lighting is kept dim, so I'll warn you that my pictures for this post are not my best. The menu itself is a little bit all over the place with dishes including sliders, sushi rolls, sashimi and a few different tapas from all over the world thrown in. However, I can honestly say that this is one of the few (if not the only one) restaurants that has a very diverse menu and does all of their dishes perfectly. I think the reason for this is the fact that they don't have 200 dishes to offer. Instead they have a short menu, but are able to offer a great deal of diversity within that compact menu.
So on my visit, I got there just in time for their awesome happy hour. Their HH specials include several dishes for either $5 or $7 and 2 for 1 drink specials. I went with one of their V signature cocktails, The RecoVer. It comes with Absolut Mandarin, Mandarine Napolean, Mercy and Passion Fruit juice. It was ridiculously refreshing, especially with the increase in humidity lately. If you're feeling adventurous, you can also check out some of their smoking (
literally
) cocktails that have been infused with some liquid nitrogen.
RecoVer
After my delicious drank, I moved onto their food. First up was their Forbidden. Sounds exotic, no? Well it is, kind of. It's arancini made with forbidden rice (also known as black rice). These balls were piping hot (hey now!). They're made with gruyere cheese and served with a delicious mushroom-leek fondue for your ball dipping pleasure. They were amazeballs.
I noticed there were tater tots on the menu and I couldn't resist myself. Executive Chef Todd Erickson makes his tater tots with some blue cheese, a house-made balsamic ketchup and minced chives. My best friend and I ended up ordering a second plate of these, because they were THAT good. I kept telling myself that these were probably the best hangover cure carbs ever invented. The blue cheese and balsamic ketchup gave the tots a great, slightly sharp and tangy flavor.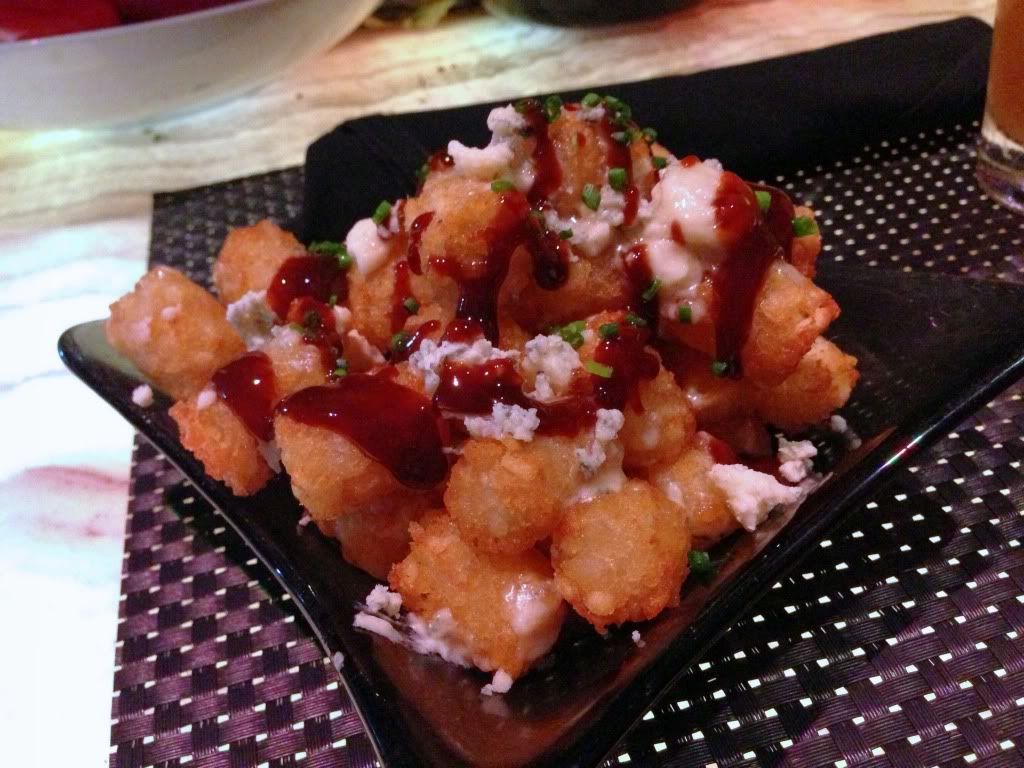 We then moved onto some sliders. My friend got their prime beef slider that comes piled high with bacon, guacamole, tomato and a slice of Vermont cheddar. the seasoning on the beef was great. I tried their lamburger with lavender-coriander honey, apple & fennel slaw and ouzo mustard. This little slider was messy, but that slaw was worth it. The meat was well seasoned, but just a little bit on they dry side. Other than that, a great slider and that mustard was delicious.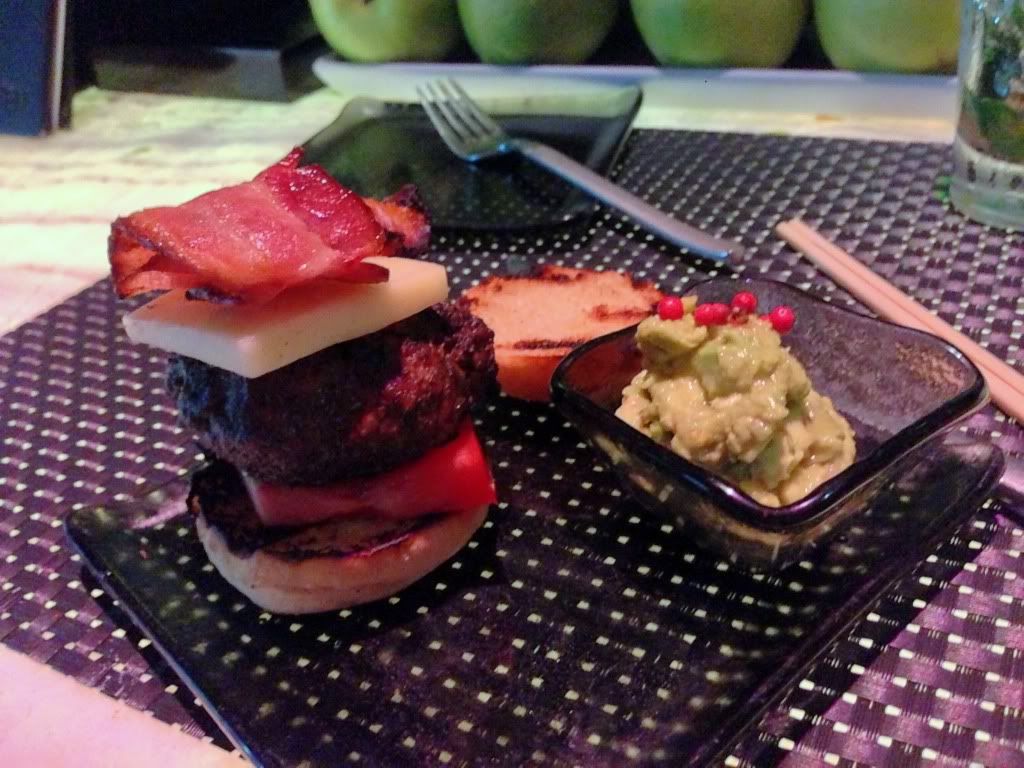 Beef Slider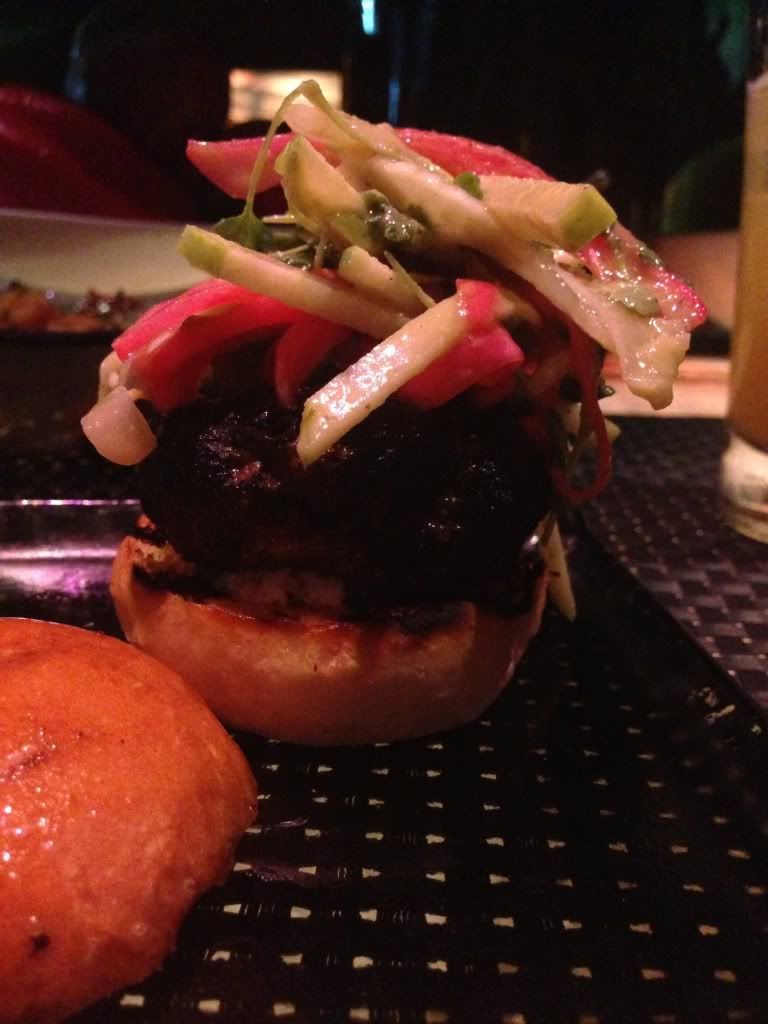 Lamburger
Up next we got Haven's interpretation of a grilled cheese sandwich. It was a giant slab of Haloumi cheese on buttery brioche and covered in tomato bisque. This one got messy, but mostly because I forget I have
opposable thumbs
when I'm hungry. That slightly salty and firm cheese was the perfect compliment to the brioche. The bisque went wonderfully with the rest of the dish.. I could've had five of these and been a happy camper.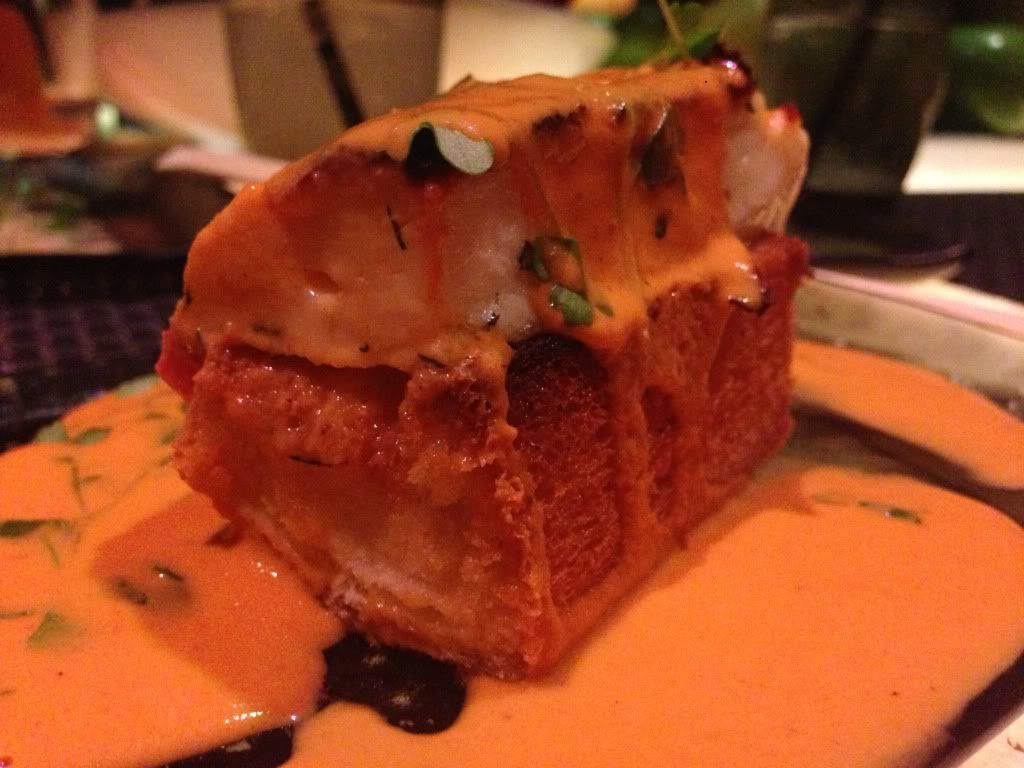 We also checked out the fried green tomatoes served with crawfish, frisee sliced tomatoes and a really tasty roumelade sauce. I could only get a tiny bite of this dish because I'm allergic to shell fish. The roumelade on the crisp yet juicy fried tomatoes was
thebomb.com
. The sauce was slightly spicy and creamy all at the same time. Next time, I'll see if I can get this with out the deadly crawfish.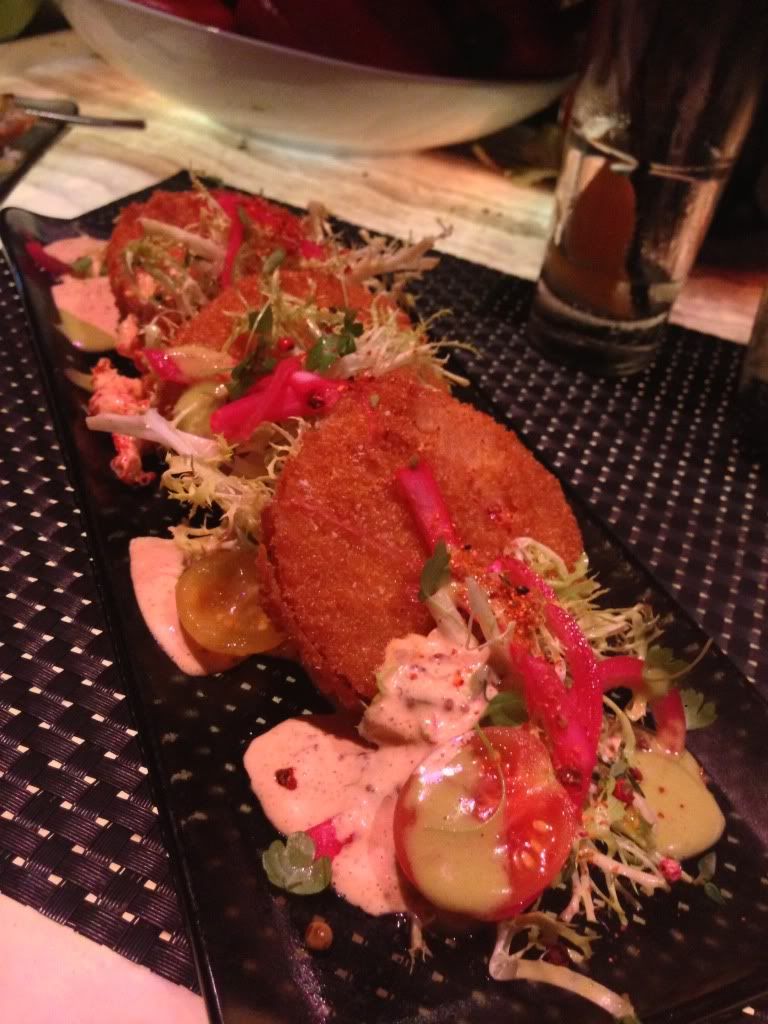 Last but most definitely not least was dessert. We got the Ascension, which is devils food cake and flan all in one with fresh berries and some toasted marshmallow fluff. Not the flan I'm accustomed to, but yummy either way. The key to this was to get a little bit of everything in each bite. If you can squeeze all that in your mouth at once... the ingredients dance on your tongue like
sucias at L'Boulevard Café
.
This little gem is so much more than meets the eye. At first look, you think it's a club like any other in South Beach, but upon further inspection you've got a chef driven restaurant with a diverse menu. I didn't even get a chance to check out the sushi offerings, but I know I'll be back to this restaurant very soon. Also keep an eye out for this restaurant's Mexican sister,
Huahua's Taqueria
opening within the next month or so. This place easily has one of the best happy hour's on the beach, so check it out!
________________________________
Restaurant Details:
HavenGastro-Lounge
(305) 987-8885
1237 Lincoln Rd
Miami Beach, FL 33139
http://www.havenlounge.com/