Someone recently asked me, "I can't find your review of Mojo Donuts, where is it?" It was then that it suddenly dawned on me, I've never written about it. How the
fuck
did that even happen? I guess I was too busy
deep-throating
bacon logs to notice. Since it opened a few months back, I've been there several dozen times. I've smuggled these donuts all the way to Jacksonville to share with friends and I've brought one of my friends to the brink of gestational
diabeetus
because of this place.
The Donut Selection

And these little donuts went to Jacksonville
So it's a mild understatement to say that I like this place. Yea the donuts are great and inventive, but there's more to it than just that. It's a family owned and operated business. The people are very nice and ridiculously patient. They take the time to explain each and every donut and they'll sit by and wait while you do your
happy dance
and decide what you want. They go above and beyond for their customers. For example: If you had your eye on a specific donut and the
schmuck
in front of you in line snagged the last one, chances are they'll run to the back and make you a fresh one.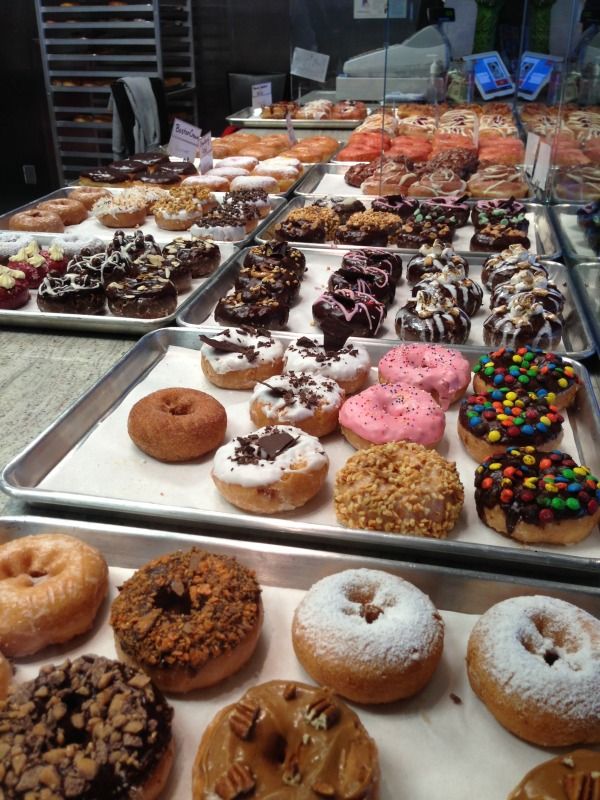 MOAAR DONUTS
At this point, I've pretty much had 99% of the donuts they offer here. They offer cake donuts (rich and dense) and yeast donuts (light and fluffy), I tend to prefer the yeast donuts. There are some donuts I love more than others. My absolute favorites include the original glazed, guava and cheese, bacon log, crème brulee, peanut butter and jelly, Tahitian vanilla with peanuts, fruity pebbles donut, peanut butter cup and a recent no-name creation that consisted of dulce de leche, peanuts and chocolate drizzle. Their red velvet is on the fence, the cake itself tastes great, but it's in desperate need of more cream cheese frosting.
Original Glazed
Guava & Cheese
Crème Brulee, yes that is crunchy caramelized sugar all over the top.
Maple Bacon log
Chocolate Peanut Butter cup
Peanut Butter and Jelly
No-name clusterfuck of delicious. Dulce De Leche, peanuts and chocolate drizzle.
Red Velvet
They also make a couple non-donut pastries, including an apple fritter and a cinnamon bun. Both are great, but my personal favorite is the cinnamon bun.
Cinnamon Bun
Donuts I'm not crazy about include the 420 donut (snickers, potato sticks and chocolate
#TremendoArrozConMango
), Key Lime Pie donut, Almond Joy and their Tiramisu donut. Surprisingly, I don't like the nutella and bacon donut either. Which is very uncharacteristic for me since I normally
meringue my pants
at the mere sight of bacon and/or nutella separately. Something about the combination of the two just doesn't do it for me. Now don't get me wrong, the donuts mentioned here aren't bad and are a million times better than anything DD or Krispy Kreme has to offer. They're just not as good as the ones listed above, in my opinion.
420 Donut
Key Lime Pie Donut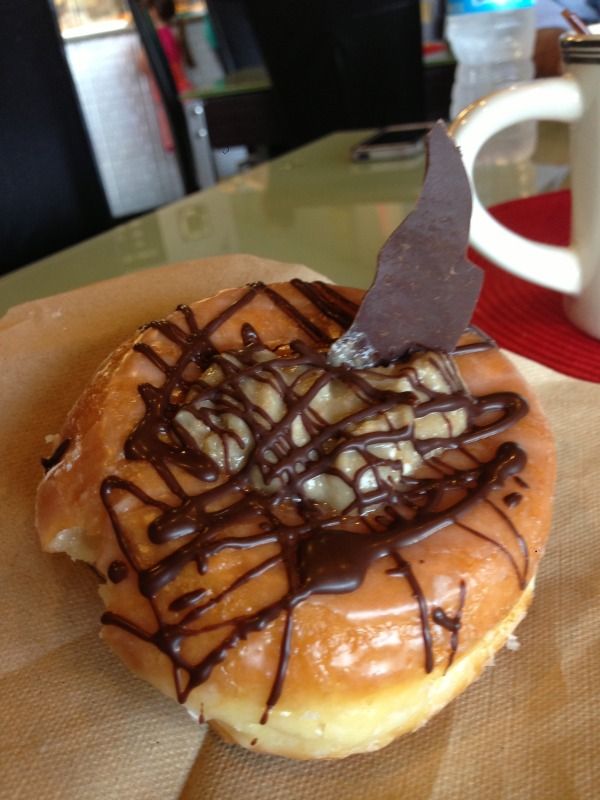 Tiramisu Donut
Almond Joy Donut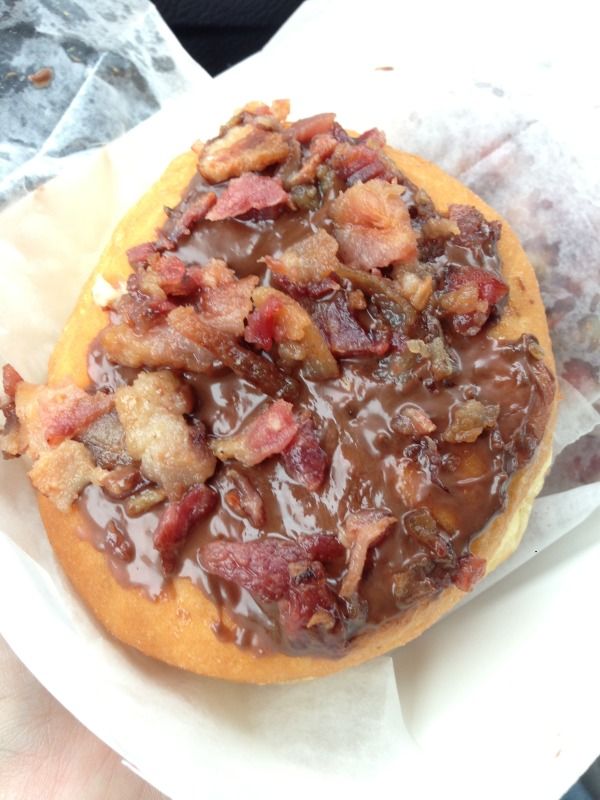 Nutella and Bacon
They make a delicious hot chocolate and offer a few different coffee options (cappuccino, latte, frozen coffee
dranks
etc..) I usually go with a regular self serve cup of plain coffee
Hot Chocolate
Now here are some pro-tips: get here early as fuck! This place opens at 6am and closes when they sell out. On the weekends that typically means 12pm-1pm. Mondays and Fridays are usually busier in the morning than Tuesday - Thursday.
___________________________
Restaurant Details:
Mojo Donuts
(954) 983-6631
7906 Pines Blvd
Pembroke Pines
,
FL
33324