Umami came into town from California with lots of hopes of being the burger equivalent of the second coming of Jesus Christ. The restaurant chain is the brain child of former journalist, Adam Fleischman and was even ranked best burger in the country by
GQ
. So lots of high hopes for this place from the jump. The restaurant took over the previous 8oz burger bar location on Alton Rd, which is considered by some as a hamburger graveyard. So rather hesitantly, I checked this place out. Mostly because the last burger transplant I eagerly went to that was supposed to be, "The Shit," turned out to be just
shit
.
The Menu Warning: Their website shows an outdated menu

Umami Burger's Dining Room
On my first visit, I walked in after having spent a few hours working on my tan on SoBe. The restaurant was empty and most of the wait staff was sitting at the bar, hanging out. The hostess sat me down and I watched the inattentive wait staff
comer mierda
for a few minutes. Finally, my waiter decided to come over, give me the Umami spiel and take my drink order. I ordered the Truffle Burger which comes topped with garlic aioli, house-made truffle cheese and a truffle glaze. I also ordered their smothered fries topped with short rib and cheese sauce. I should mention that their burgers are cooked medium rare, unless otherwise requested. I sat around for about 30 minutes waiting for my food, all while my waiter lounged with the rest of the staff. When I finally got my burger, it was a messy, delicious mess. The unfortunate side to my burger was that it was... cold. The same goes for my smothered fries. The short rib and fries were room temperature and the cheese sauce had hardened up into a coagulated blob. Signs that my food had been sitting around for way too long waiting to be served.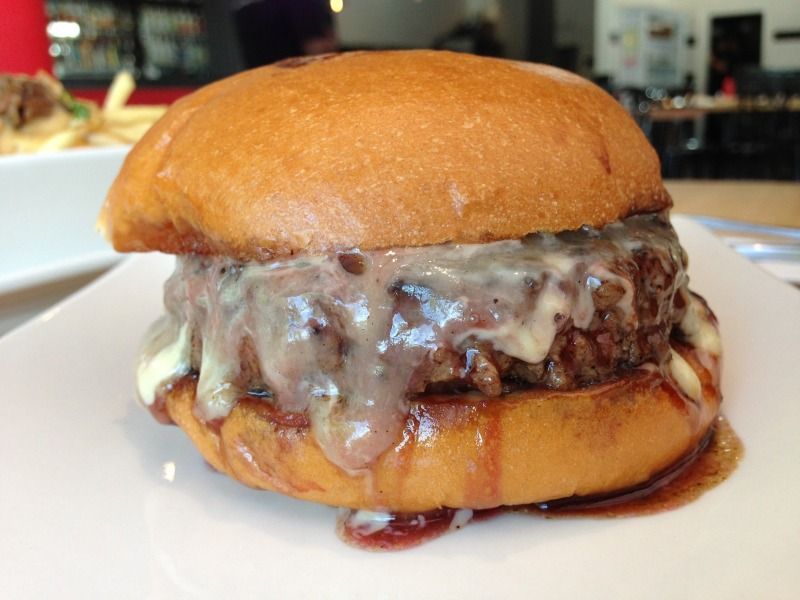 Truffle Burger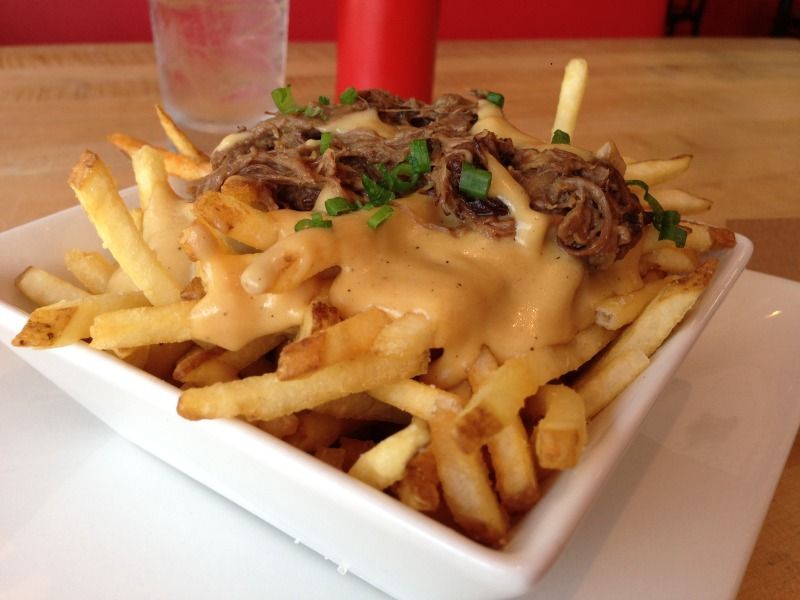 Smothered Fries
On my second visit, me and half the gay men from Palace sashayed our way over to stuff our mouths with some meat. Our table was loud, boisterous and
fuckin fabulous
. I ordered the Manly Burger which comes topped with house made beer-cheddar cheese, bacon lardons, onion strings, mustard and ketchup. Another deliciously
cold
mess. Now I realize that it was a large group of people, but with the exception of a couple sitting at the other end of the restaurant, we were the only patrons they had. We ended up waiting over 45 minutes for our burgers. I began to wonder if this was normal practice for this restaurant or maybe that's how Californians eat their burgers... Maybe you're supposed to wait forever and eat your burger cold.
Irregardles
, we were stumped.
Manly Burger
I also ordered some Smushed Potatoes. They're twice fried creamer spuds (like
tostones
made out of taters) that are served with a generous serving of garlic aioli. Really tasty.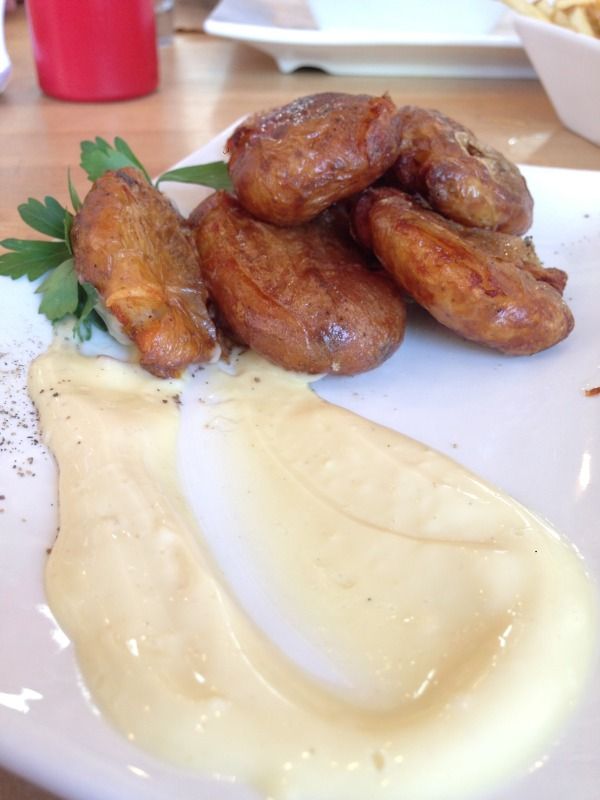 Smushed Potatoes
My friends got a few different burgers including the Cali Burger and the Royale burger. The Cali burger is a take on a regular old school burger: lettuce, tomato, house spread, caramelized onions and American cheese. The Royale features roasted garlic aioli, truffle cheese and a heaping mound of braised shortrib piled on top of the beef patty. Along with this, my friends also go sweet potato fries, regular fries and truffle fries. From the mumbles and grumbles, I could tell they enjoyed their burgers and fries. However, we all shared the same complaints: Our food was served between cold and room temperature and the service was ridiculously slow.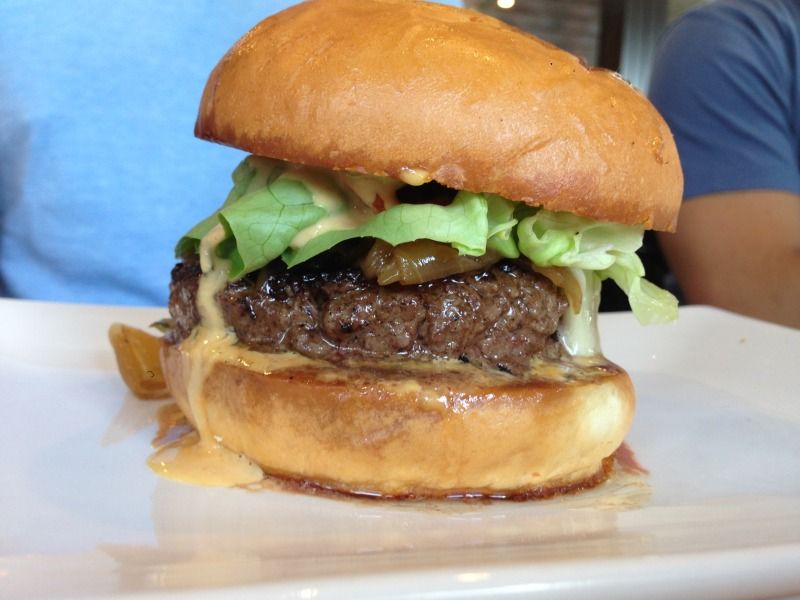 Cali Burger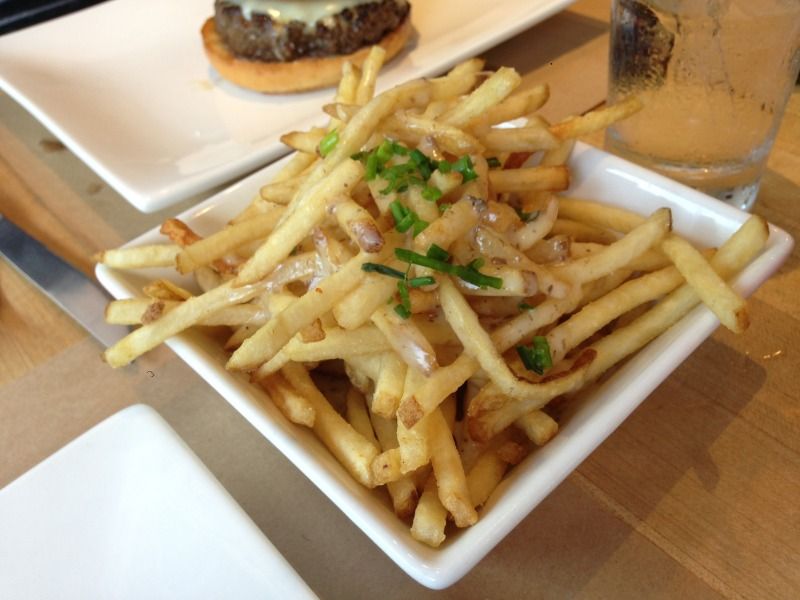 Truffle Fries
Royale Burger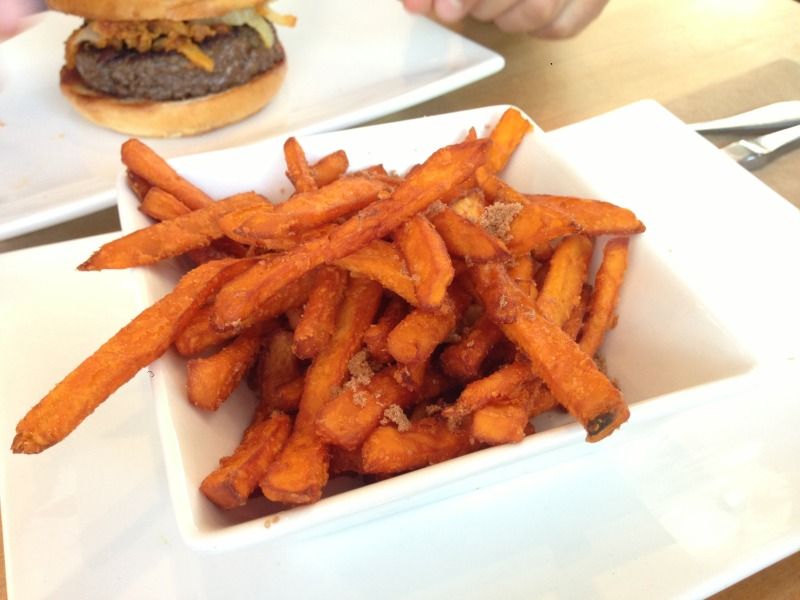 Sweet Potato Fries
I gave this place a third chance and went back. I want to love this place, the food is good and I believe that if their service straightened up, this place would be great. On my third visit, I went back for a midweek lunch. This time around service had improved slightly. I ordered the Original burger and some Make Em' Manly fries. Both were served luke warm, which is honestly a marked improvement from my previous two visits. The Original Burger comes with a parmesan crisp, shitake mushrooms, roasted tomatoes caramelized onions and their ketchup. The Manly fries are their regular fries topped with beer cheddar cheese, house-made bacon, onion strings and mustard. The manly fries were the
fuckin tits
, by far my favorite from all the other ones I've had here. The Original burger was also really tasty, no major highlights or lowlights about it.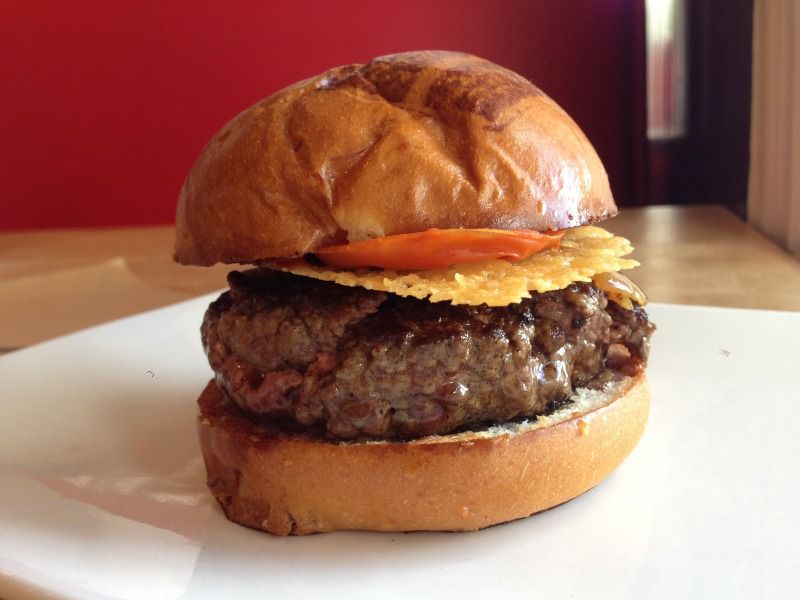 The Original
Make Em' Manly Fries
All in all, I'd say check this place out, but be weary of poor and inattentive service. Even though my last visit was a slight improvement, my waitress disappeared for a good 25 minutes while I was feverishly in need of a refill. When she finally showed up, she was taking selfies at the damn bar with some other staff
#depinga
. I hope that with some more time
and new servers
this place will reach its full potential of a great burger joint.
_____________________________
Restaurant Details:
Umami Burger
(305) 397-8246
1080 Alton Rd
Miami Beach, FL 33139
http://www.umami.com/umami-burger/