The Food Blogger Cookie Swap is a fundraiser with all of the proceeds going to Cookies For Kids' Cancer. I try to take part in as much charity work as I can, so this cookie swap allows me the opportunity to tie in two of my other passions: my blog and baking.
For my second year in the cookie swap, I decided to keep things slightly old school with a mild twist.
I've been in a bit of a creative funk as of late, so I asked for some help on this recipe. The Hungry Mother was kind enough to share with me her amazing s
ea salt, pistachio and dark chocolate chip
cookie recipe. She makes kick-ass cakes, pastries and all sorts of delicious shit. So, I'm ridiculously lucky to have her helping me with this.
Sea Salt, Pistachio and Dark Chocolate Chip Cookies
Makes about 40 cookies (depending on how much raw cookie dough you eat #RealTalk)
1/2 cup (1 stick) unsalted cold butter
1/2 cup granulated sugar
1/2 cup packed brown sugar
1 large egg
1 teaspoon vanilla extract
1 1/4 cups all-purpose flour
1/2 teaspoon baking soda
1/4 teaspoon salt
1 1/2 cups dark chocolate chips (I used Ghirardelli's 60% cocoa dark chocolate chips)
1 heaping cup of freshly shelled pistachios (Say goodbye to your manicures ladies! #FML)
Sea Salt for topping (Preferably Maldon. Splurge on the fancy stuff, you deserve it!)
-*-*-*
-*-*-*-
-Place rack in the upper third of the oven and preheat oven to 300 degrees F. Line two baking sheets with parchment paper and set aside.
-In the bowl of an electric stand mixer fitted with a paddle attachment, beat butter and sugars together until pale and fluffy. Add the egg and beat in for about a minute. Lastly, add vanilla extract and beat til blended.
-In a medium bowl, whisk together flour, baking soda, and salt. Add the mixture all at once to the butter mixture. Beat on low speed until just incorporated. Finally mix in the chocolate chips and nuts.
-For this recipe, I scooped cookies 1 tablespoonful onto prepared baking sheets. Leave about an inch and a half of room between each cookie. Sprinkle with sea salt.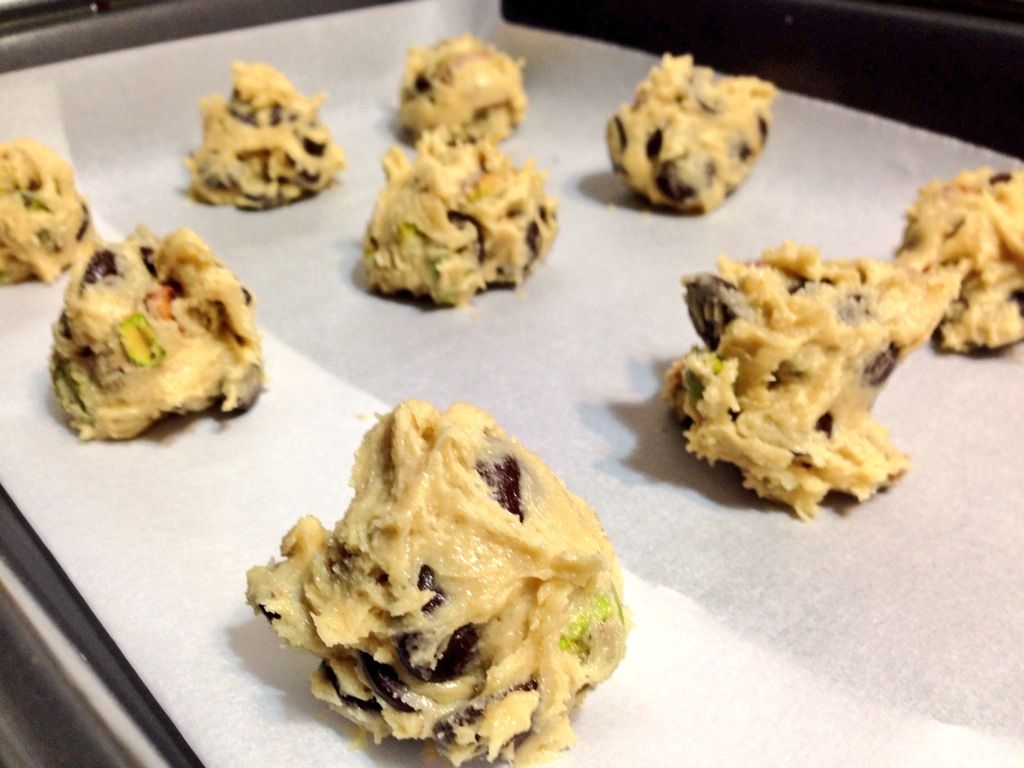 -I like my cookies chewy and soft, so I baked them for 12 minutes, you can bake them for a bit longer until golden brown if you prefer. Remove from the oven and allow to cool on the pan for 5 minutes before removing to a wire rack to cool completely.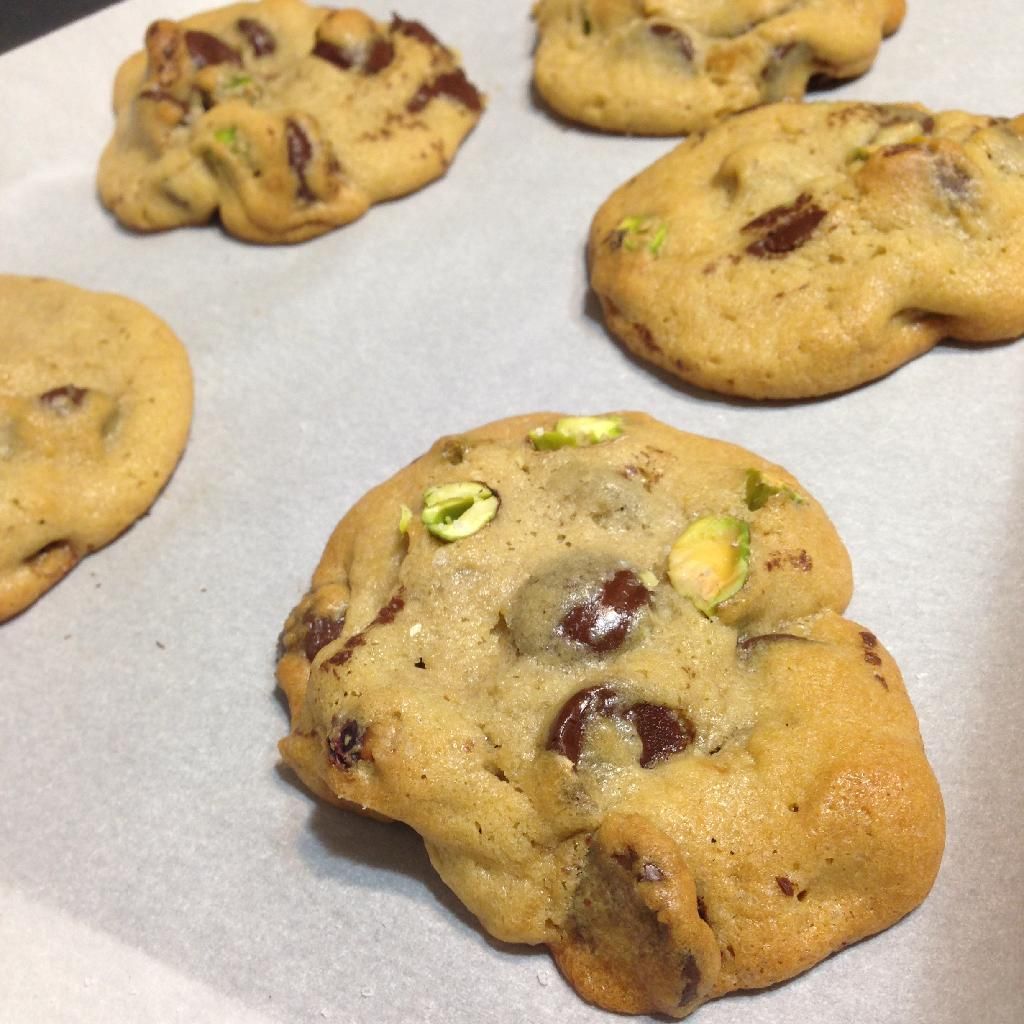 - EAT AND ENJOY!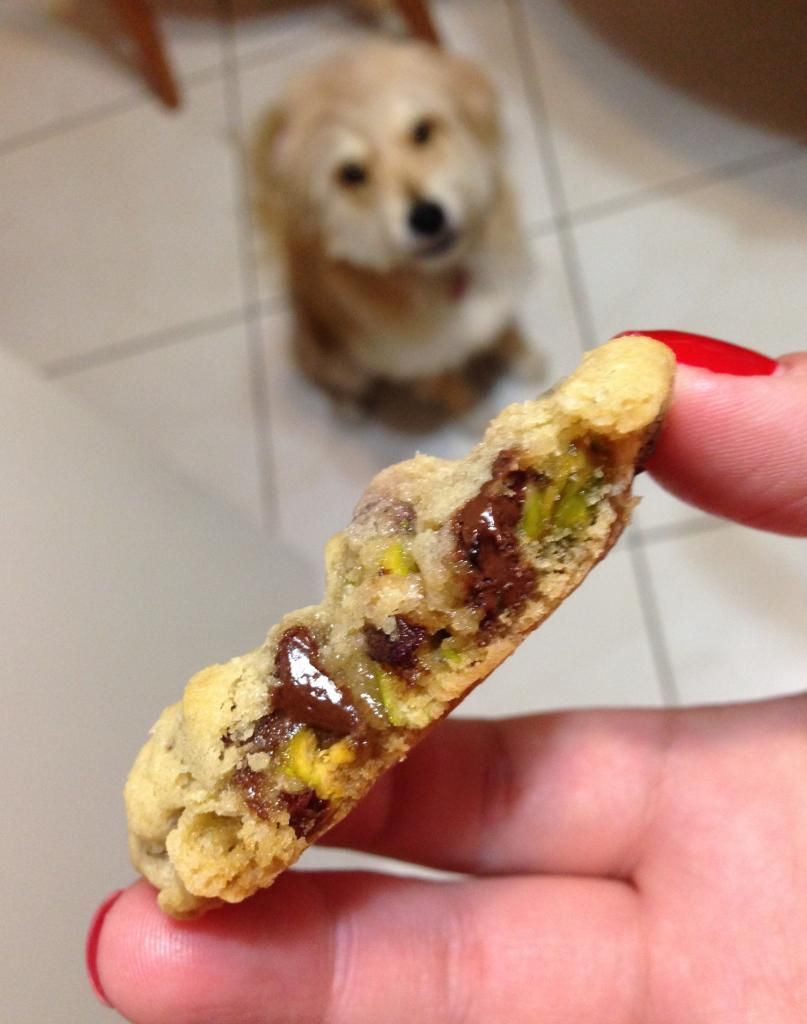 Even my dog, Bailey, wants some!