Recently, I talked about
La Latina
and just three doors down from this restaurant is a Greek bistro that you may have had no idea even existed. Hiding in broad daylight, Kouzina Greek Bistro is completely covered by a thick wall of ficus hedge on one of Midtown's busiest intersections. I've visited this restaurant about 4-5 times now and I still can't make up my mind on whether or not I like it. The reason for this is the food is mostly really good with only a couple of misses, but excruciatingly slow and dismissive service is what puts me on the fence.
I have learned to reserve my visits to Kouzina for the days when I am not in a big hurry to get back to the office. Prices are slightly more expensive, with the average lunch costing between $25-$35. This definitely isn't the place to go to when you're looking for a cheap lunch on the run. No matter the server, thus far my experience has been consistently, frustratingly slow service.
The lunch menu offers several Greek appetizers that are mostly hits. My favorites so far include the keftedes, zucchini fries and their pita pizza. This restaurant's take on keftedes (greek meatballs) resemble small grilled burger patties. They're very nicely seasoned and delicious,
pero
the trick here is to sandwich a meatball between two slices of pita bread and slather on some tzatziki sauce. The lamb pita pizza is served as an appetizer, but for me it works as a good option if you're looking for something relatively light. Toasted pita is topped with pesto, cheese, seasoned lamb meat, red onions and roasted tomatoes. When I can't make up my mind, I end up with the mixed dip platter. It comes with a really addictive tzatziki, hummus, eggplant spread and plenty of pita bread. All three of which are made in-house and taste great. The zucchini fries at this place are actually
fucking
magical, they resemble shoestring French fries and are absolutely delicious. Seriously, these zucchini fries are a genius way to get any veggie-phobe to eat their vegetables.
Toasted Pita Bread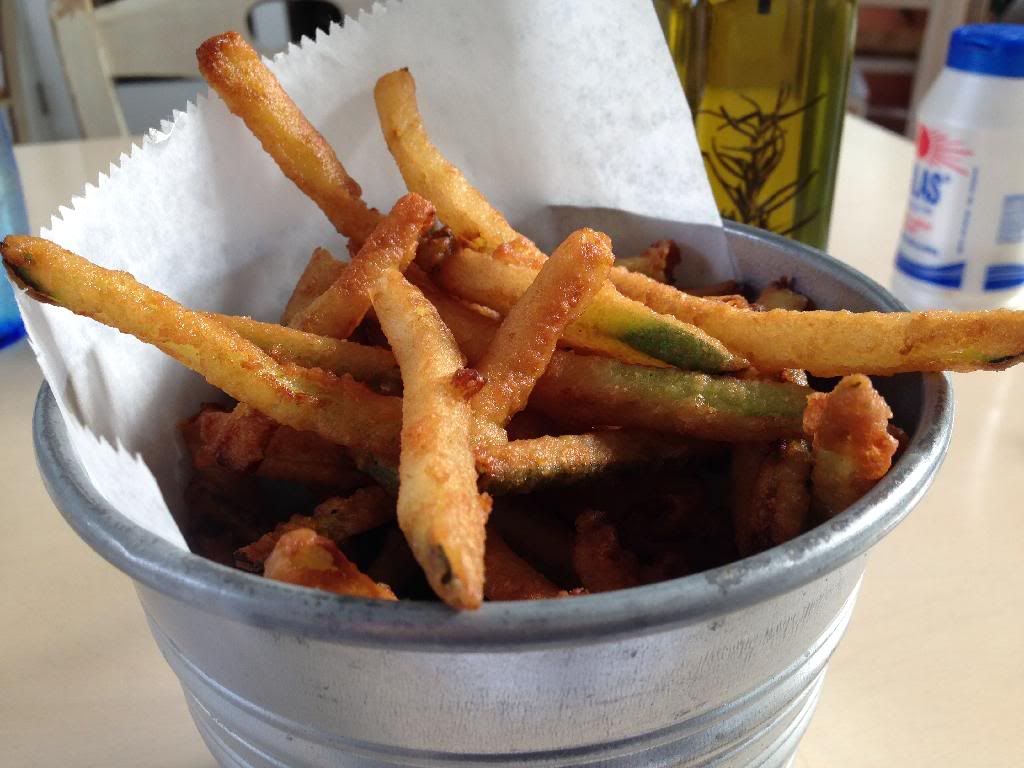 Zucchini Fries
Zucchini Fries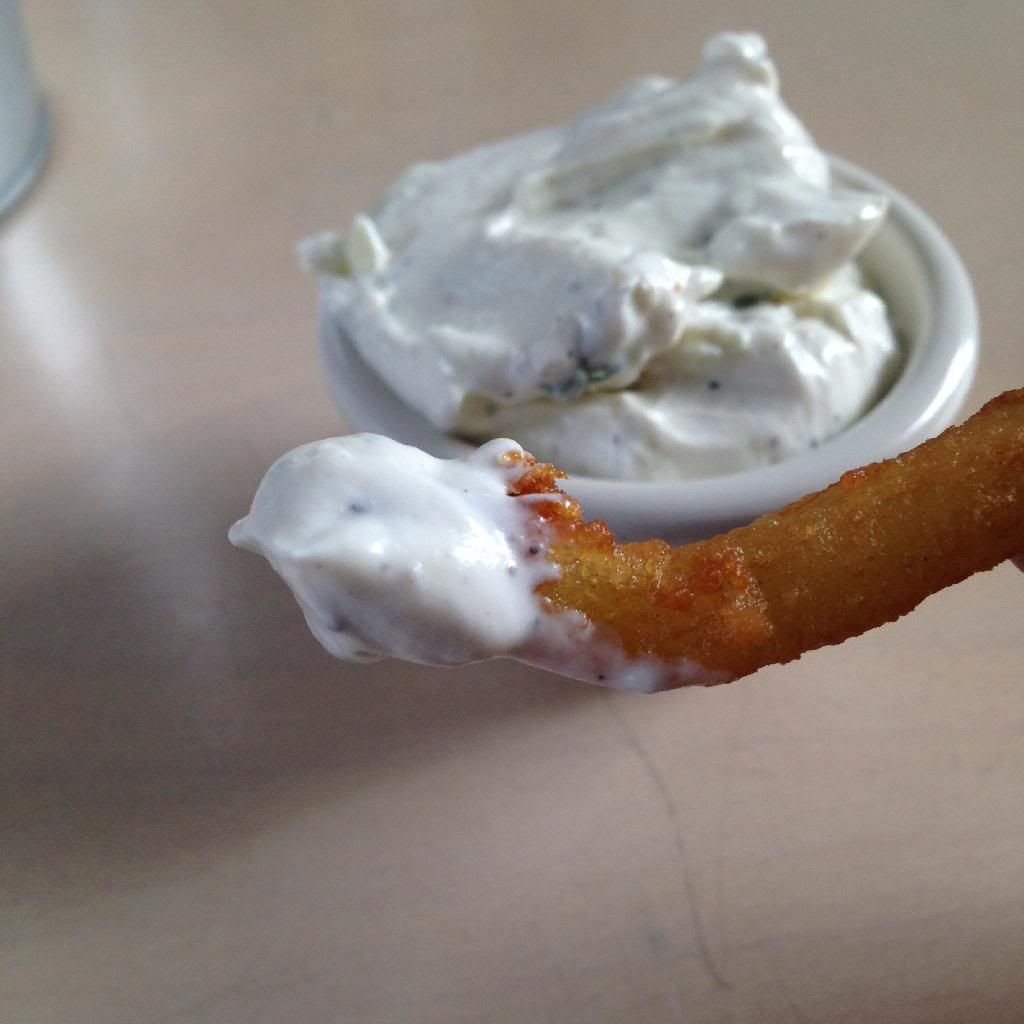 Zucchini Fry with Tzatziki
Keftedes
A couple of my least favorite appetizers include the Spanakopita (spinach and cheese pie) and the Cheese Saganaki. The Cheese Saganaki is deep fried vlahotiri cheese that's been enflamed with greek brandy and I know what you're thinking, "It's fried, it's got booze AND it's cheese, what's not to like?" Well, it's too damn salty; I might as well be licking the sweat off a La Bare's stripper. Not that I've ever done anything like that... Moving along on the wheel of disappointment, we've got the Spanakopita, a cheese and spinach pie baked in phyllo dough. Unlike the Cheese Saganaki, I found this to have zero of this little thing I like to call, "flavor." Both appetizers were underwhelming, but that has not stopped me from returning to further investigate.
Cheese Saganaki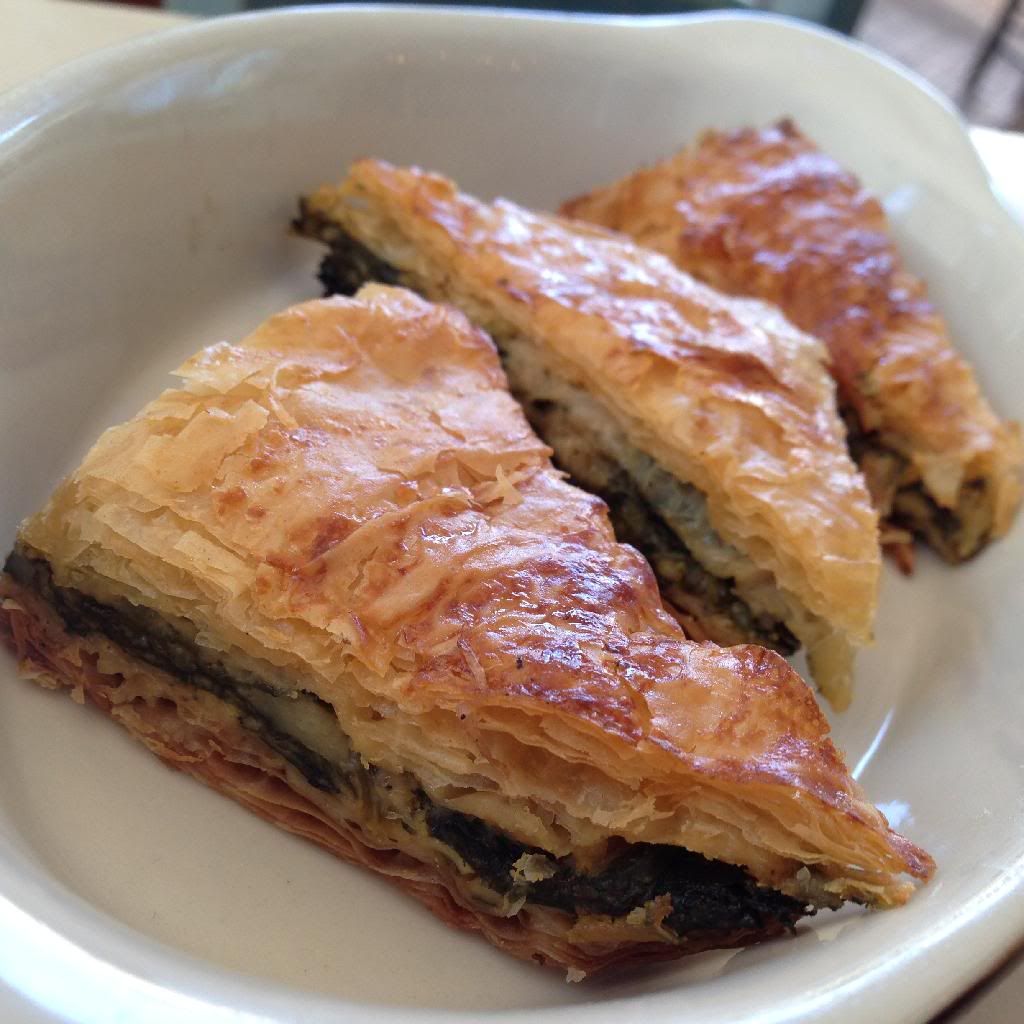 Spanakopita
Their lunch time entrees are few and consists mostly of skewers, wraps and salads with a couple daily specials. So far I've tried the pita lamb wrap, the chicken souvlaki and the moussaka. The lamb wrap is actually really good, only possible complaint is that they use frozen french fries instead of fresh cut spuds. The chicken souvlaki is slightly under-seasoned, but nothing a small touch of salt can't fix. The Moussaka, a frequent daily special, was by far my favorite. This Grecian lasagna of sorts comes with a layer of eggplant, topped by a layer of ground beef and then finished off with a huge layer of thick, cheesy bechamel.
Chicken Souvlaki
Chicken Souvlaki
Moussaka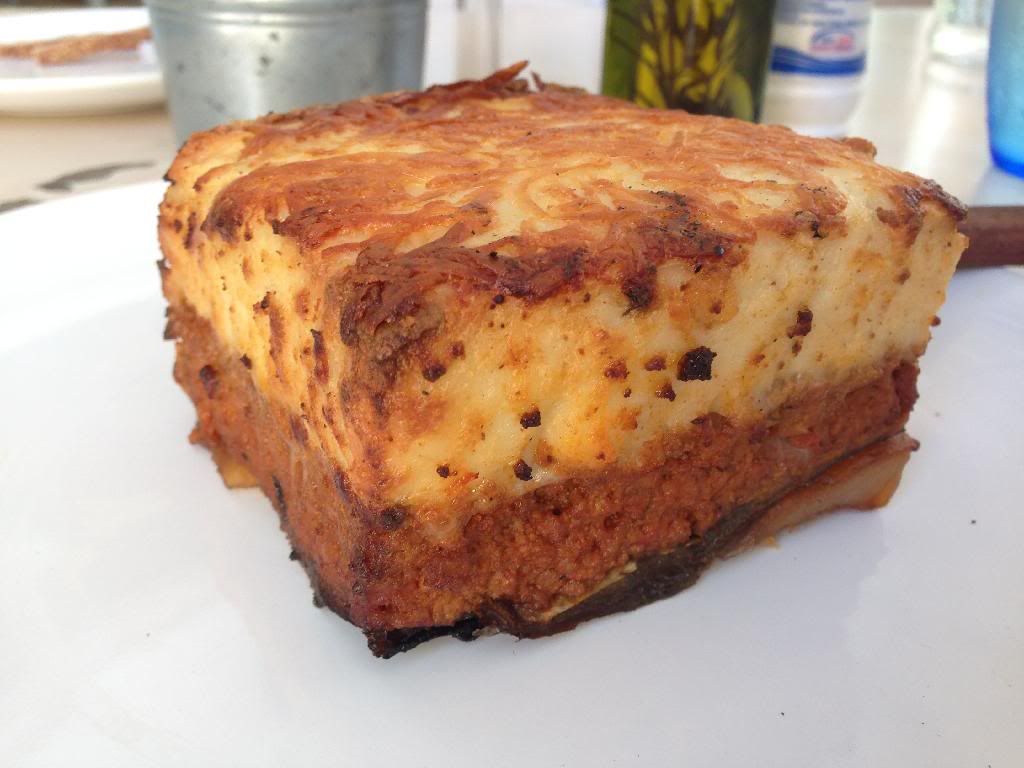 Moussaka
For dessert, I've been able to try a couple of their offerings. The greek yogurt with apricots, walnuts and honey is simple and really delicious. The classic baklava also doesn't disappoint.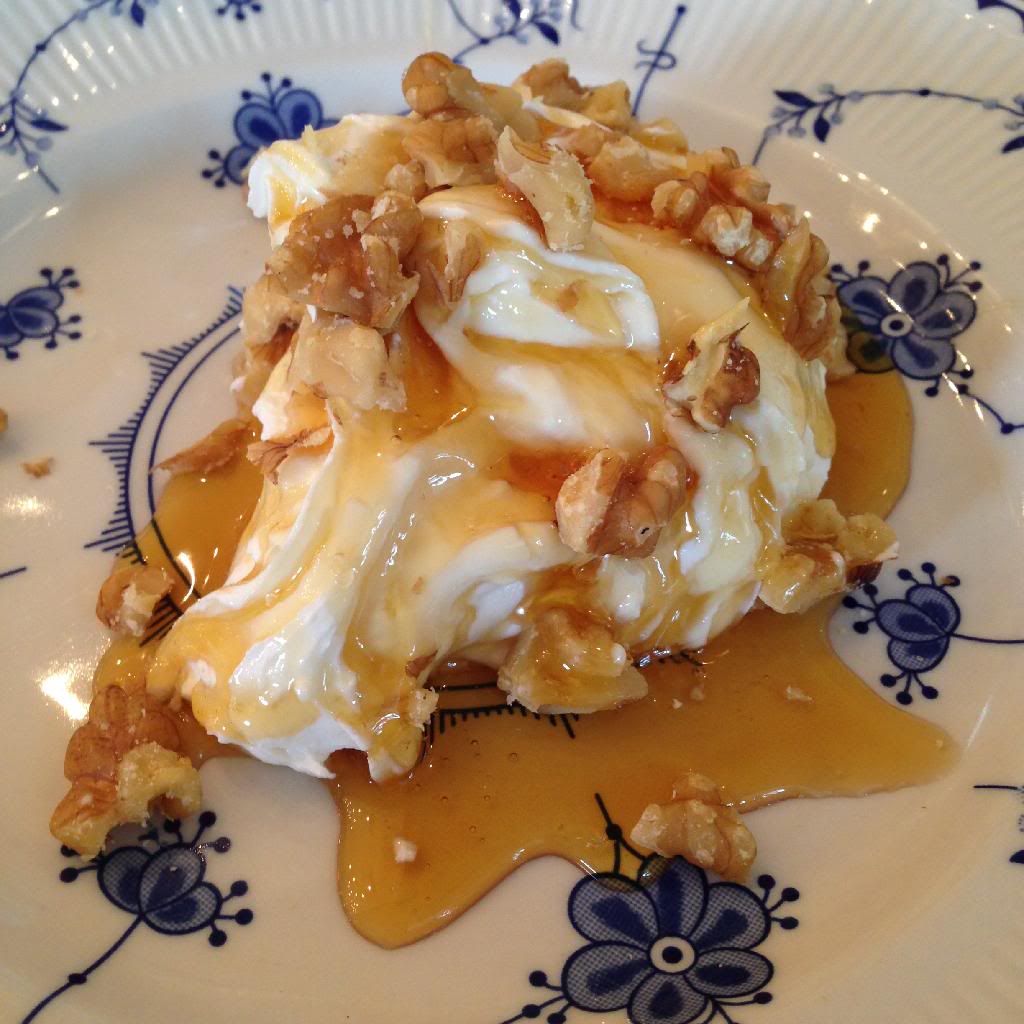 Greek Yogurt With Honey, Apricots and Walnuts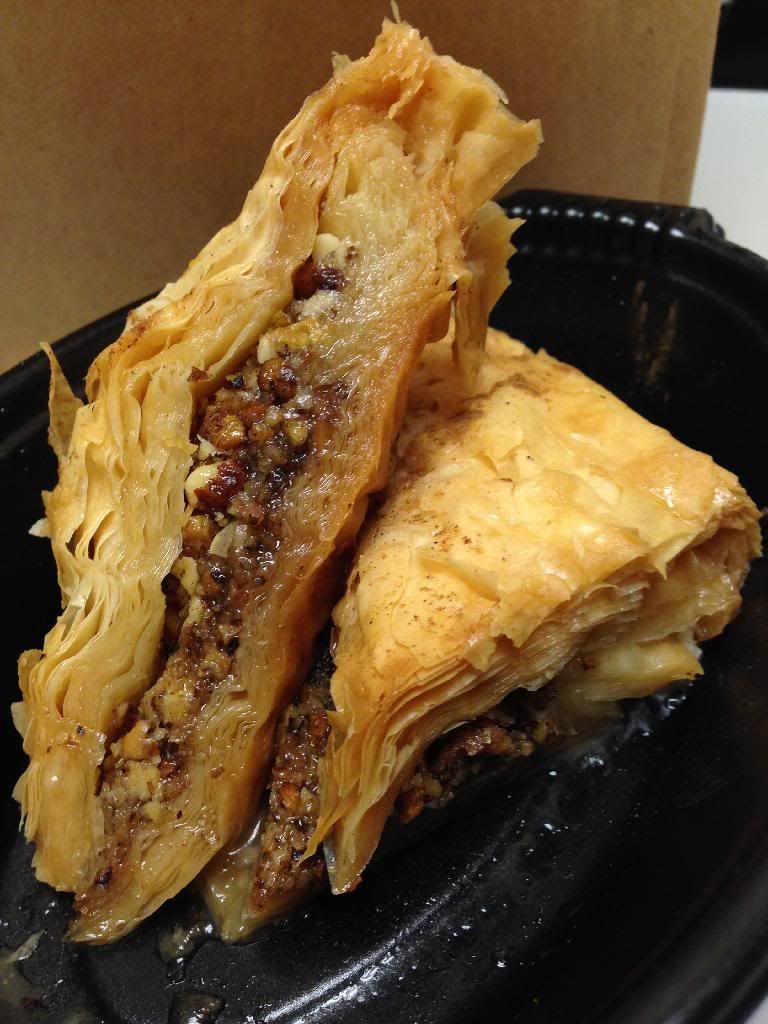 Baklava
Thus far, the food at this restaurant has been mostly really good. A couple of disappointments, but nothing overtly horrifying. However, with an average lunch for one person running well over an hour and the average wait for my my first dish being 25-30 minutes it's not a surprise why I'm on the fence. Diners also are forced to play Hide-And-Go-Seek with their waiters when it's time to pay. I've consistently experienced disappearing waiters when it's time the bill. I realize that finding good servers in Miami is not only difficult, but the source of frustration for many restaurants across town. So when checking out this place for good and tasty Greek cuisine, be weary of avoidant and slow service.
______________________
Restaurant Details:
Kouzina Greek Bistro
(305) 392-1825
3535 NE 2nd Ave
Miami, FL 33137
www.kouzinabistro.com