Bocce Bar is the sister restaurant (and neighbor) to Sugarcane Raw Bar Grill. I fell in love with Sugarcane soon after it opened, so it was absolutely necessary that I check out Bocce Bar. The restaurant is rustic yet modern and all around
suuuper
cute. I've been there a total of three times for lunch thus far and every time I am left happy and full. There's a lot of food to cover on this post, so I'll let the pictures do the majority of the talking.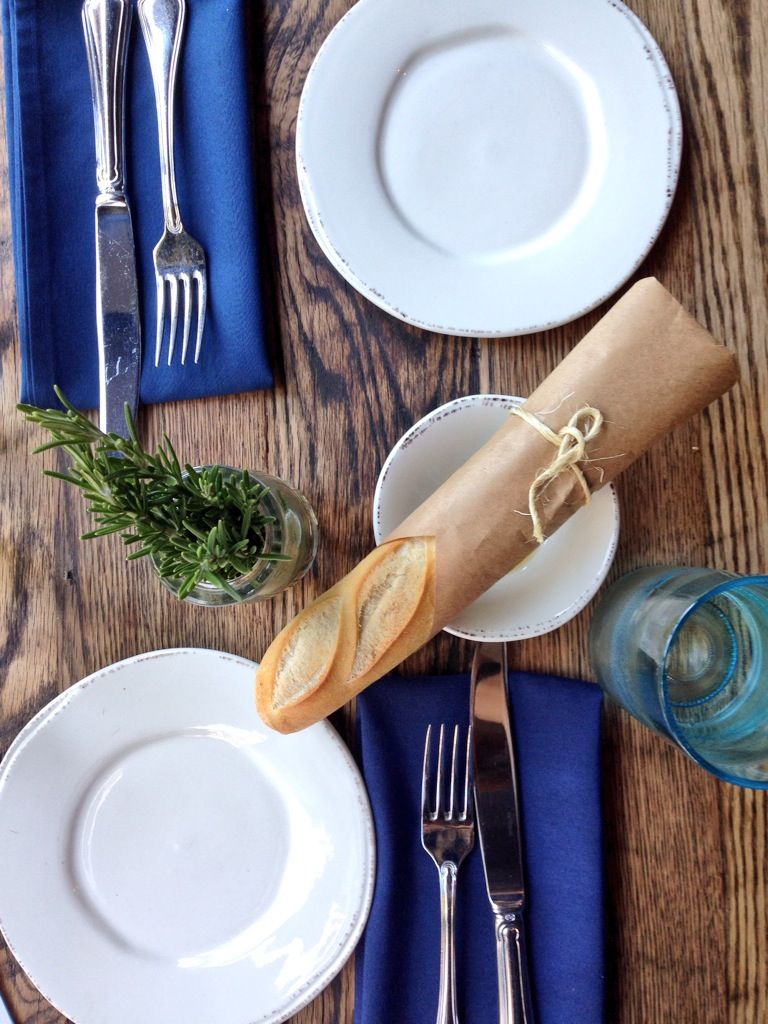 Pero like, how cute are these place settings?!
My first visit was actually on my birthday with my
picky as fuck
best friend. Immediately we were greeted by two very gracious hostesses. Our waitress was kind, informative and patient with us as we took our time looking through the menu. We were given some freshly made warm baguette to munch on and that bread was
fan-fucking-tastic
. We picked a few dishes and what we were served were some tasty and beautifully plated food. Now, I've heard a lot of people complain about the smaller sized portions at Bocce and I think the portions are fair. I very rarely eat everything on my plate at any restaurant, so the idea that I can conquer an entire plate of food without feeling riddled with guilt or having to unbutton my jeans is great, on a personal level. That being said, if you come into this place expecting Cheesecake Factory sized dishes, you
will
be disappointed.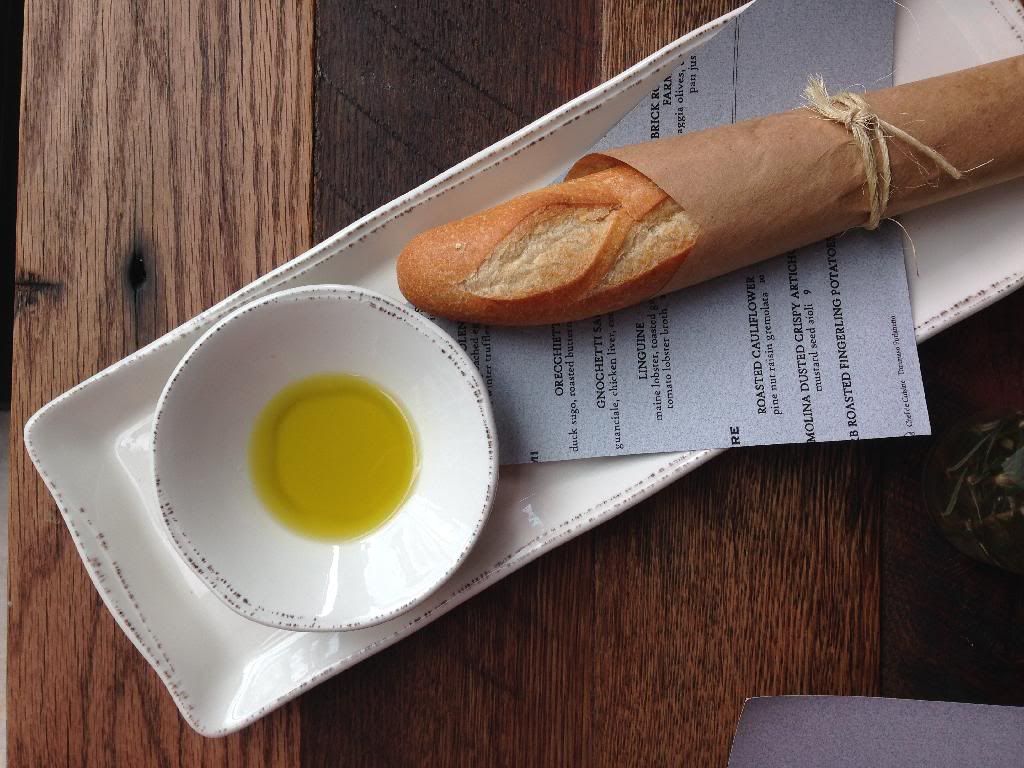 Fresh baguette with olive oil
For starters we had the creamy polenta with rapini and poached egg. Words can't describe how flavorful that polenta was. So good that my vegetable hating best friend even ate the rapini.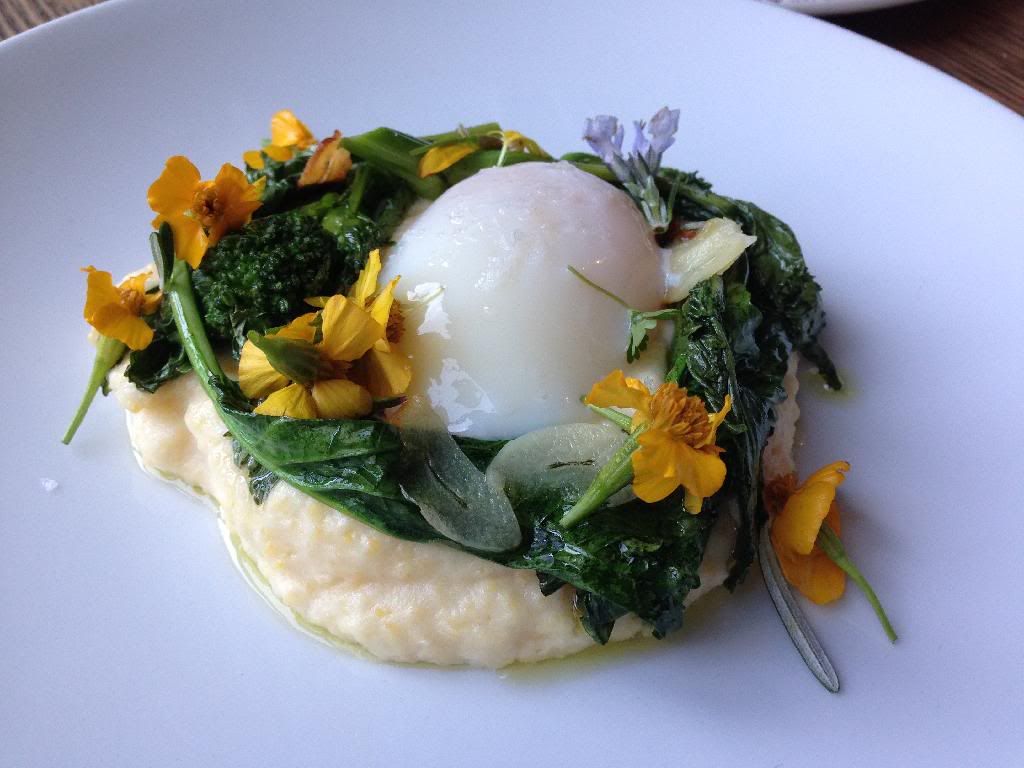 Creamy Polenta with poached egg and rapini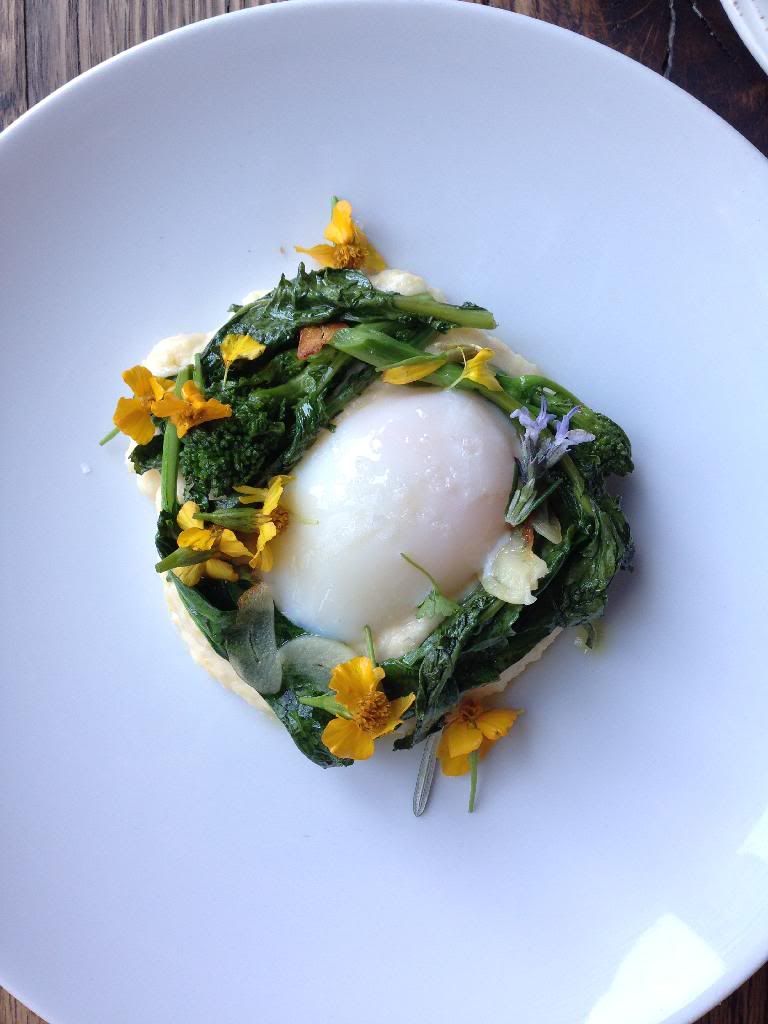 Creamy Polenta with poached egg and rapini
We also had some of their Ricotta Di Bufala with pumpkin and shaved truffle #OMFG. I never would've thought to combine these three things, but they work so perfectly together. The crackers the ricotta is served with are phenomenal. Crisp, flavorful and all around amazeballs. They really should be boxed and sold separately.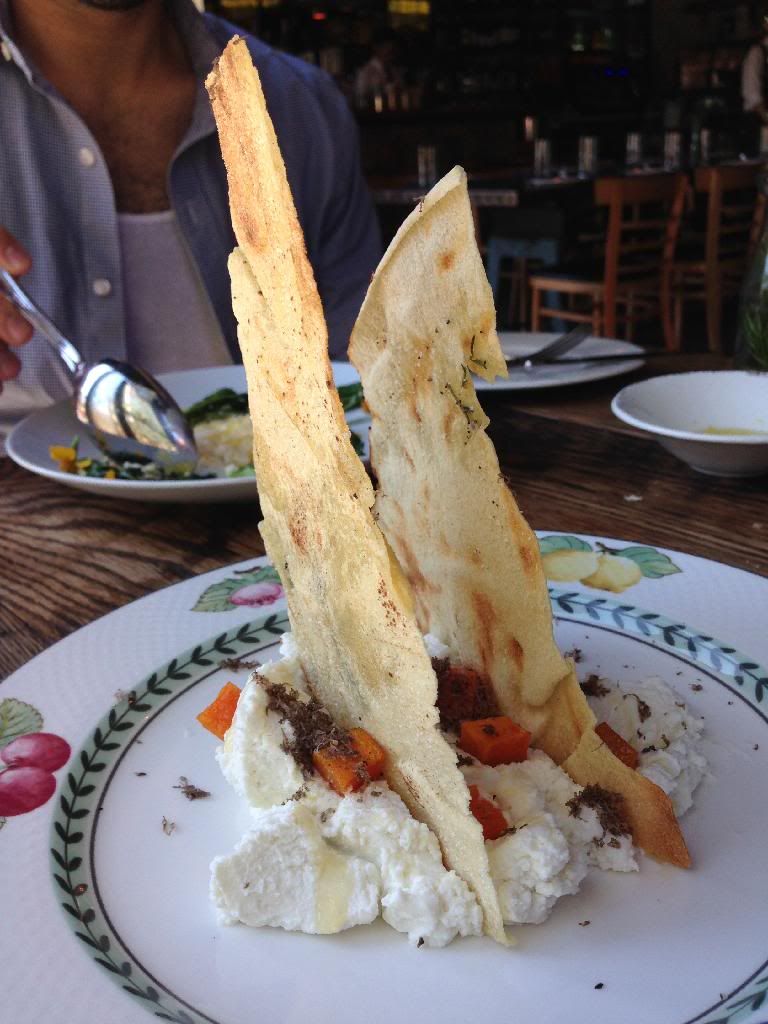 Ricotta Di Bufala
For my entree, I went with their Orecchiette with duck sugo and roasted butternut squash. The duck sugo was really rich and the slight sweetness from the butternut squash was fuhmazing. I remember taking my first bite, having my eyes roll slightly to the back of my head and looking at my friend saying, "Pero OMG, esto esta like suuuper delicioso."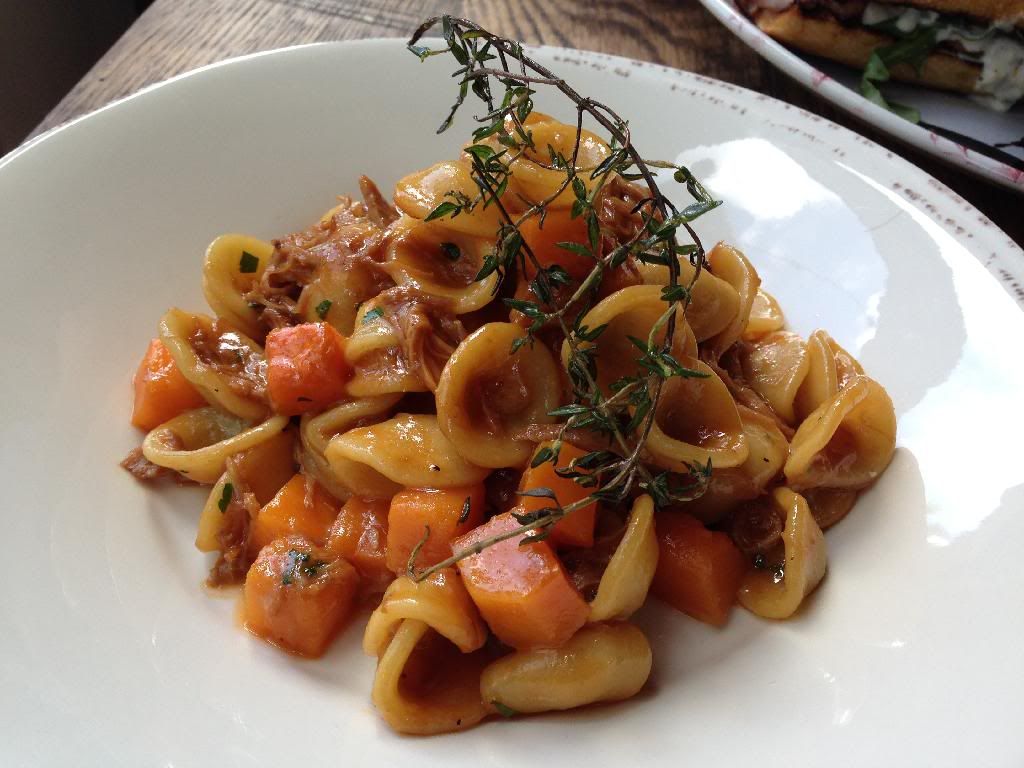 Orecchiette
Orecchiette
My best friend had their Panino Del Giorno AKA their panini special for the day. That day's panini came wth thinly sliced rib eye, horseradish cream, arugula and roasted red peppers on baguette. The panini comes served with freshly made potato chips and salad. For $11 this special is seriously filling, but I wouldn't know because my
fat ass
friend didn't let me try it.
Panino Del Giorno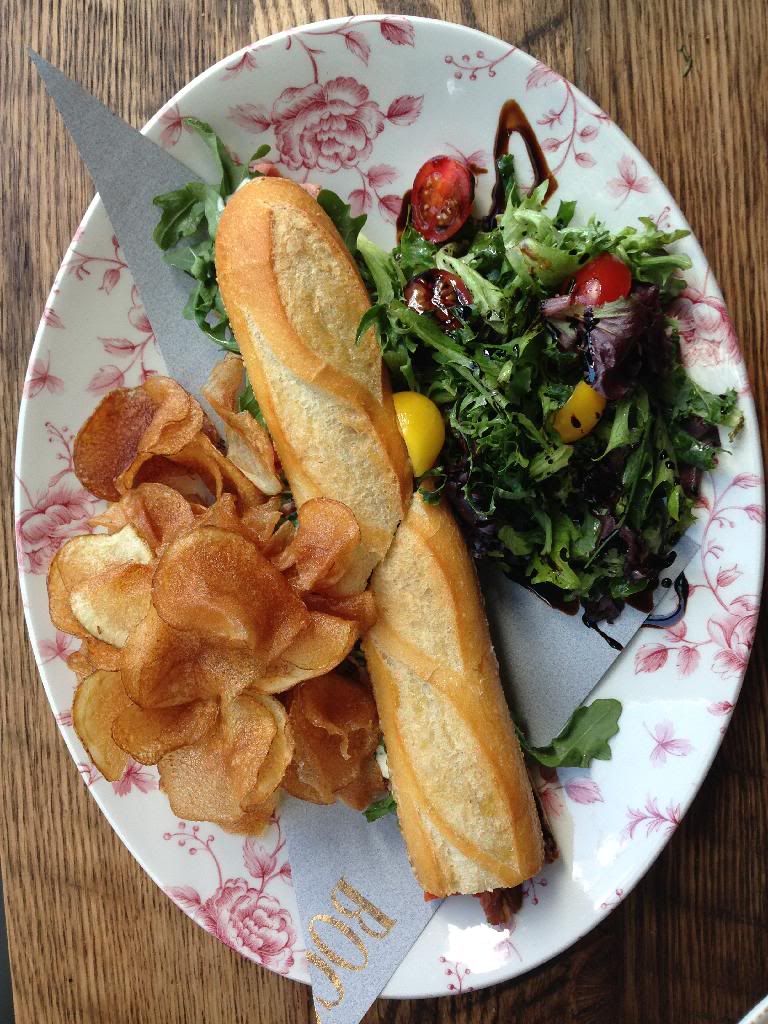 Panino Del Giorno with chips and salad
My second visit I went a little overboard and ordered too much food
#YOLO.
I started off with their Citrus Salad. The salad comes with frisee, fresh pomegranate, slices of fresh varying citrus tossed in a hazelnut vinaigrette. Light and ridiculously refreshing. I don't usually do salads, but this one was a great way to cleanse the palate and get ready to stuff my face.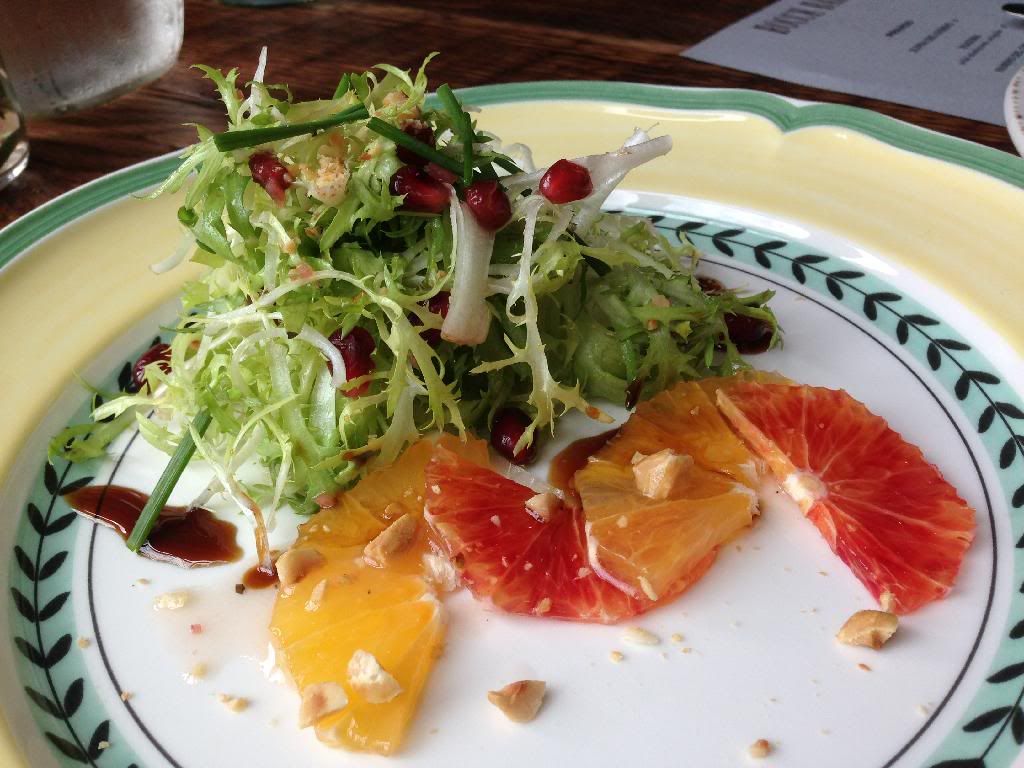 Citrus Salad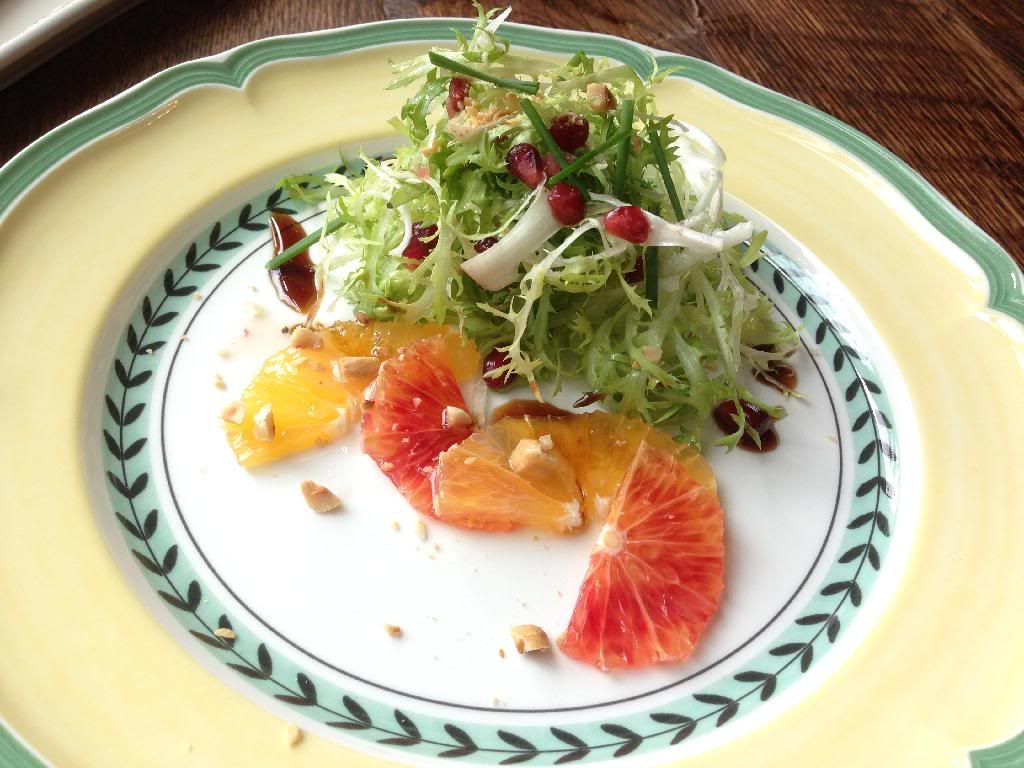 Citrus Salad
Up next I went with their Tagliatelle Bolognese (Proper Miami pronunciation is
Bow-Log-Knees
). Their freshly made pasta was cooked al dente, the meat sauce was well seasoned and meaty. I say meaty because some places (that will remain unnamed) serve "meat sauce" with their pasta and there's no
damn
meat in the sauce. There was also two slices of cheese atop the pasta, Parmesan? maybe? I'm not sure and I didn't ask because I was starving.
Irregardless
, it was delicious.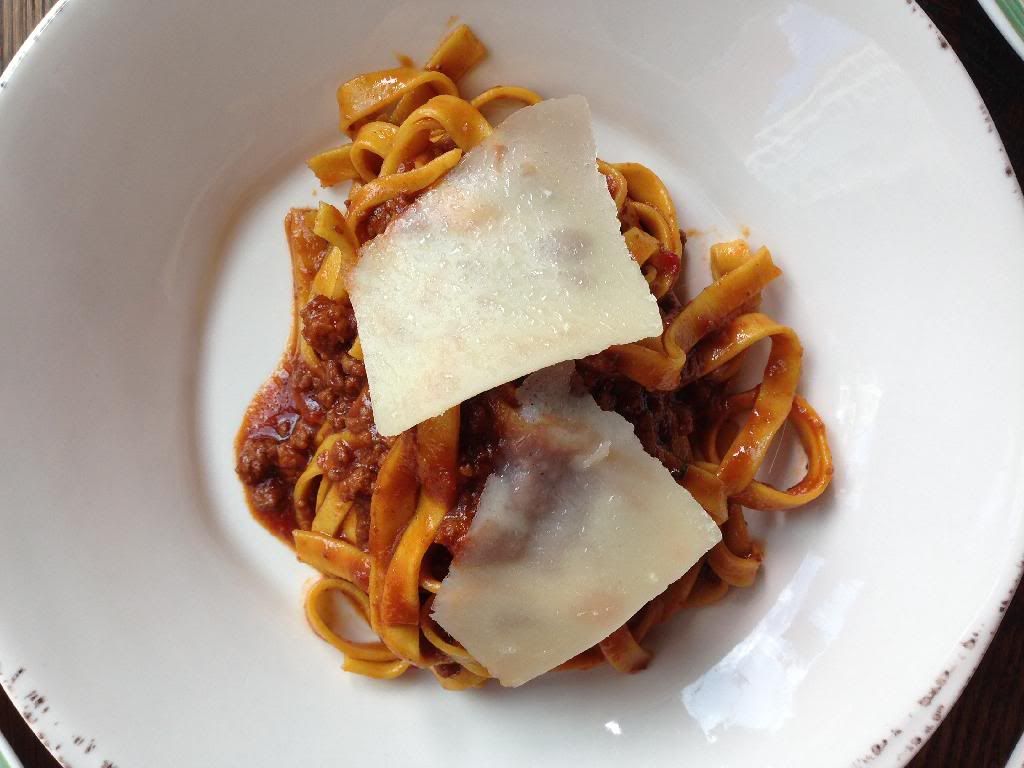 Tagliatelle Bolognese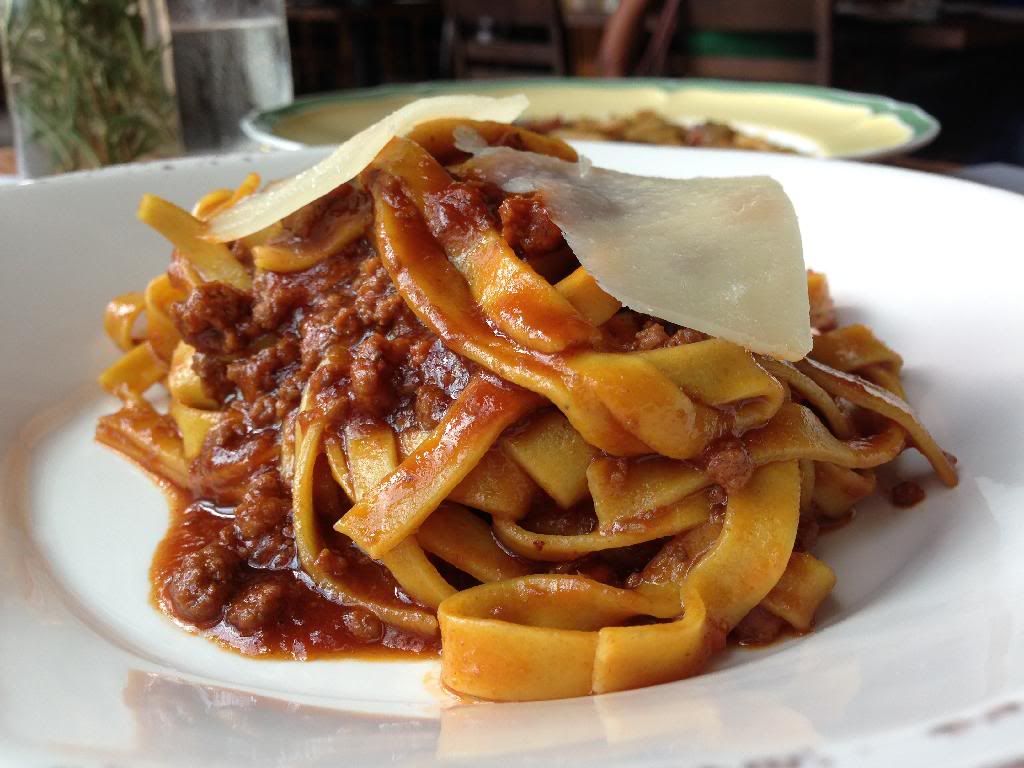 Tagliatelle Bolognese
Up Close And Personal With Tagliatelle Bolognese
I got a little adventurous with my next dish and tried their Gnochetti Sardi served with chicken livers, cockscomb and guanciale. The minute the dish was served the first thing that popped into my head was, "
OH MA GAWD
, it looks like worms!" After I got over the initial visual shock, I decided to give it a try. The pasta surprisingly delicious. The sauce was so flavorful that I kept swirling the pasta around in it to soak it all up. Now the chicken livers and cockscomb had an interesting texture as they usually do, but were great.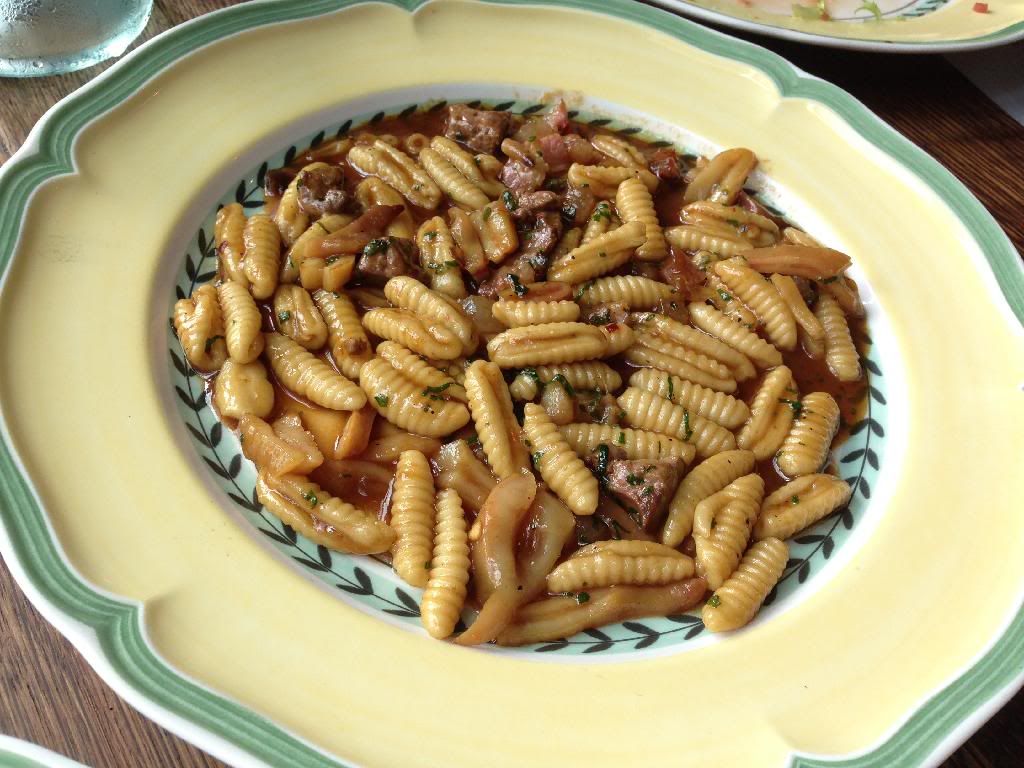 Gnochetti Sardi
On my last visit, I decided to booze things up a little and I tried their Bocce Ball cocktail. It consists of Amaretto, mandarin vodka, orange juice, almond and soda. It tastes just like an old-school Orangina soda and it's PERFECT for day drinking. It doesn't taste a bit like alcohol, making this cocktail very dangerous.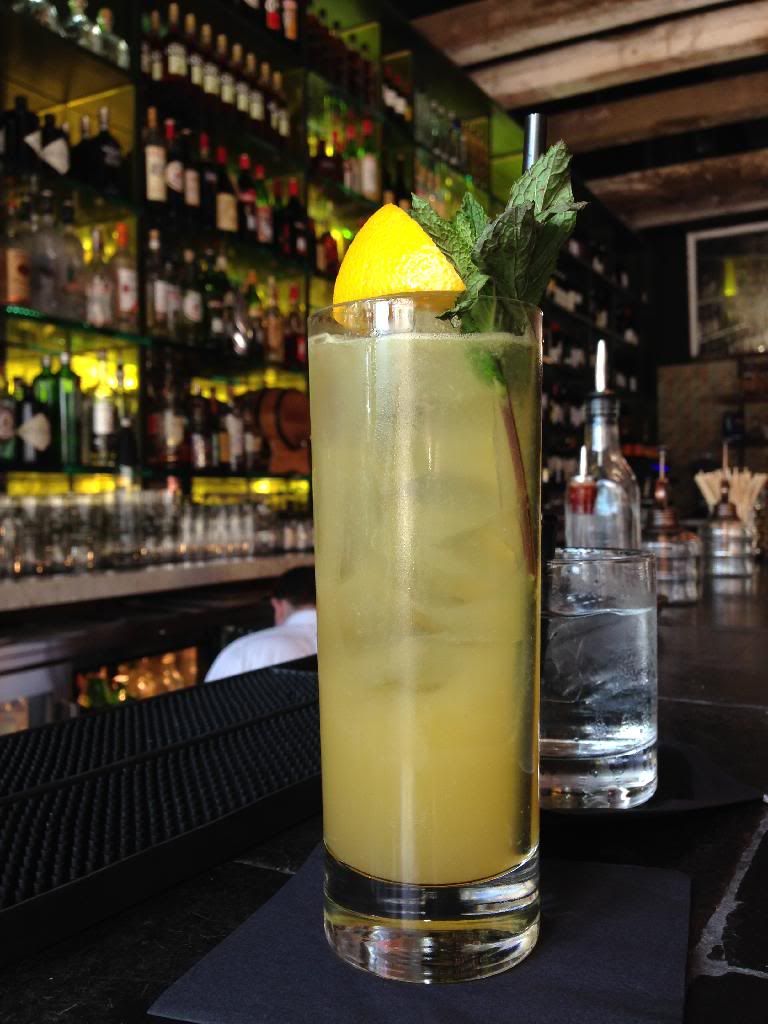 Bocce Ball
I decided to try their Polpette D'Angello AKA their lamb meatballs with goat cheese and crostini. These were easily some of the tastiest balls Ive had in my mouth in a long time (and that's saying
a
lot
.) The meatballs were tender and
scrumdiddlyumptious
. The sauce was just perfect. The crostini was curl your toes fabulous, grilled and drizzled with olive oil. I could've easily had two orders of this and been perfectly content with my lunch.
For my entree, I had their lunch special, the Bistecca Grigliata. The grilled steak came with salad and fingerling potatoes. The sirloin steak was over-cooked (I asked for medium rare and got medium well), but still delicious. The salad was simple, nothing to write home about and the potatoes were good.
Bistecca Grigliata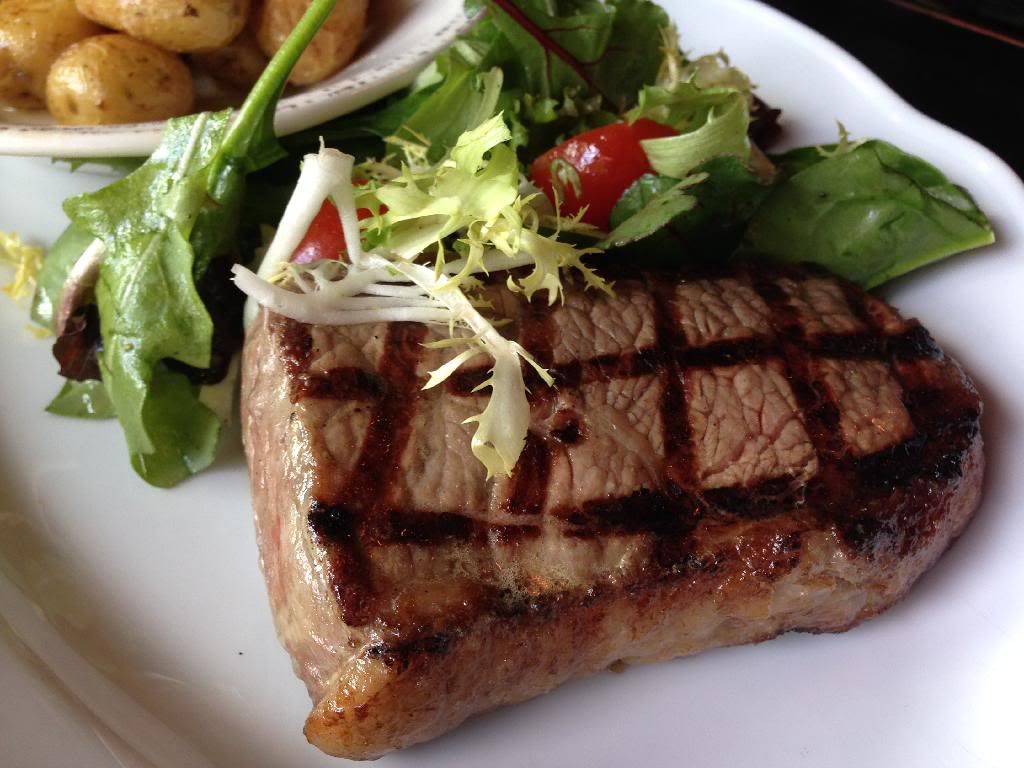 Bistecca Grigliata
Now, lets talk dessert. I implore you that if you go to Bocce Bar you must have dessert. It's a necessity, a lot like dunking your oreos in your milk or wearing
chancletas
to the beach. I've had three desserts at Bocce Bar and all have been wonderful. The first one I'll share with you is their warm panettone doughnut with cappuccino gelato parfait. Not only was it very pretty to look at, it was amazing. I then tried the Dark Chocolate Nutella Mousse Tart. The tart is filled with amaretto soaked cherries then topped with chantilly cream and chocolate crisps. Crossing your eyes while trying this is kind of an involuntary and uncontrollable gesture. Lastly, I bring to you the Bocce's Honey Crisp Cannoli. The cannoli is easily my favorite dessert at Bocce Bar. The crispy thin cannoli are dipped in pistachios and set atop warm stewed strawberries with balsamic vinegar gelato. The words "Wow, wow, wow!" was the only thing I can utter after taking my first bite of this.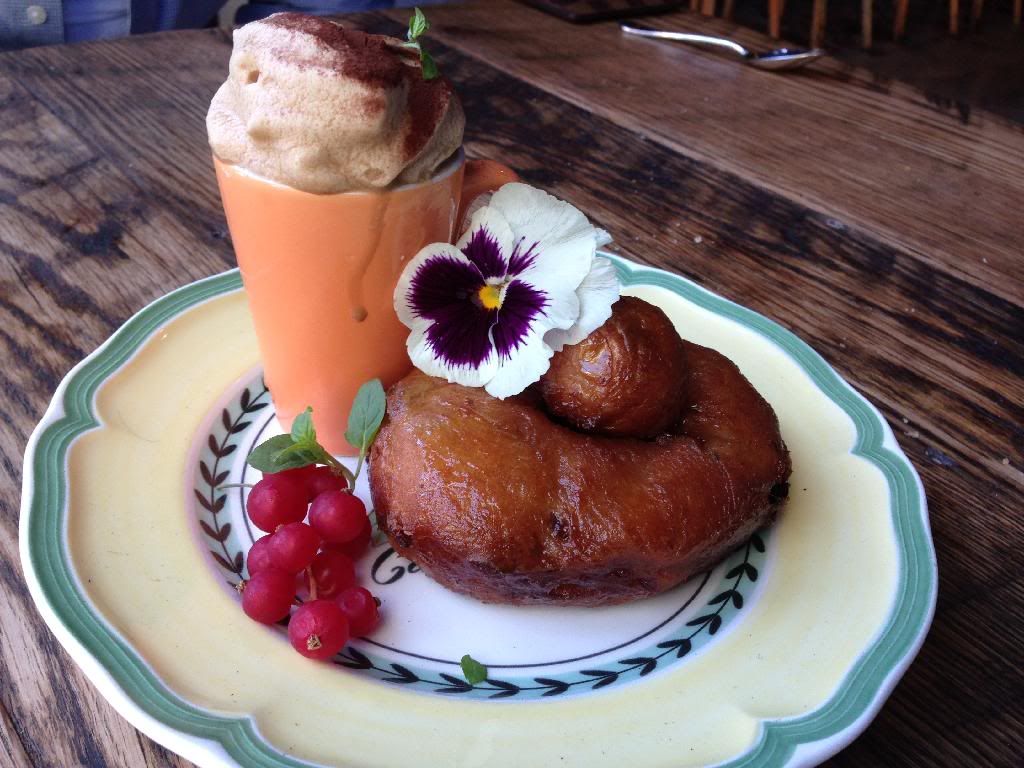 Warm Panettone Doughnut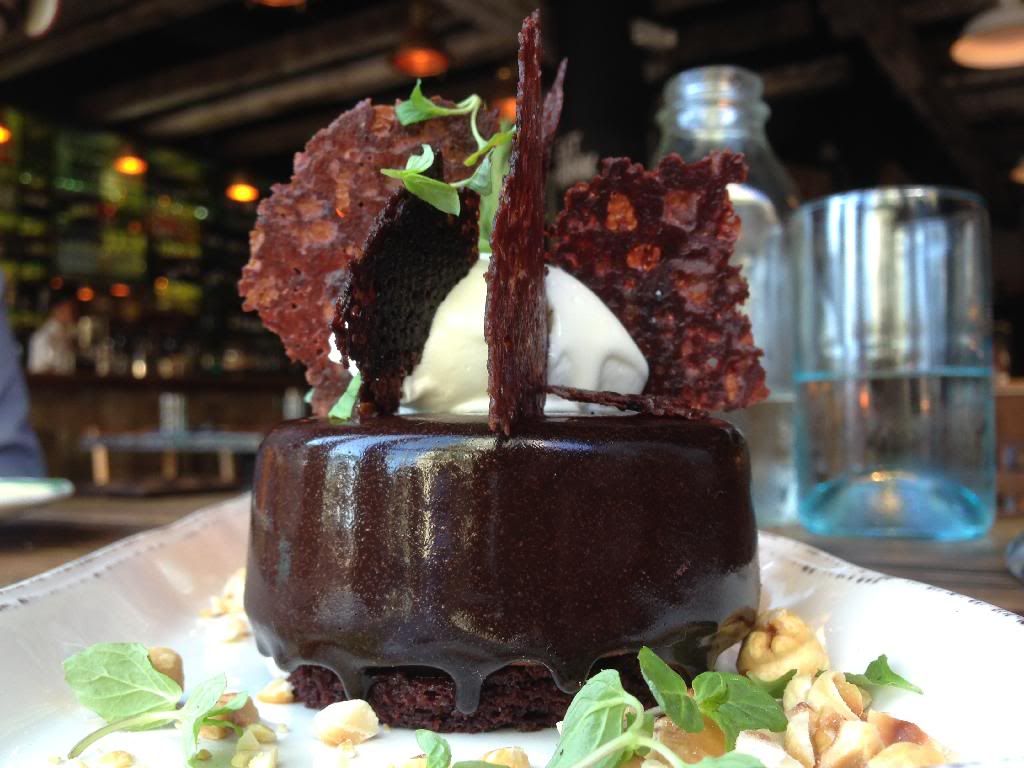 Dark Chocolate Nutella Mousse Tart
Honey Crisp Cannoli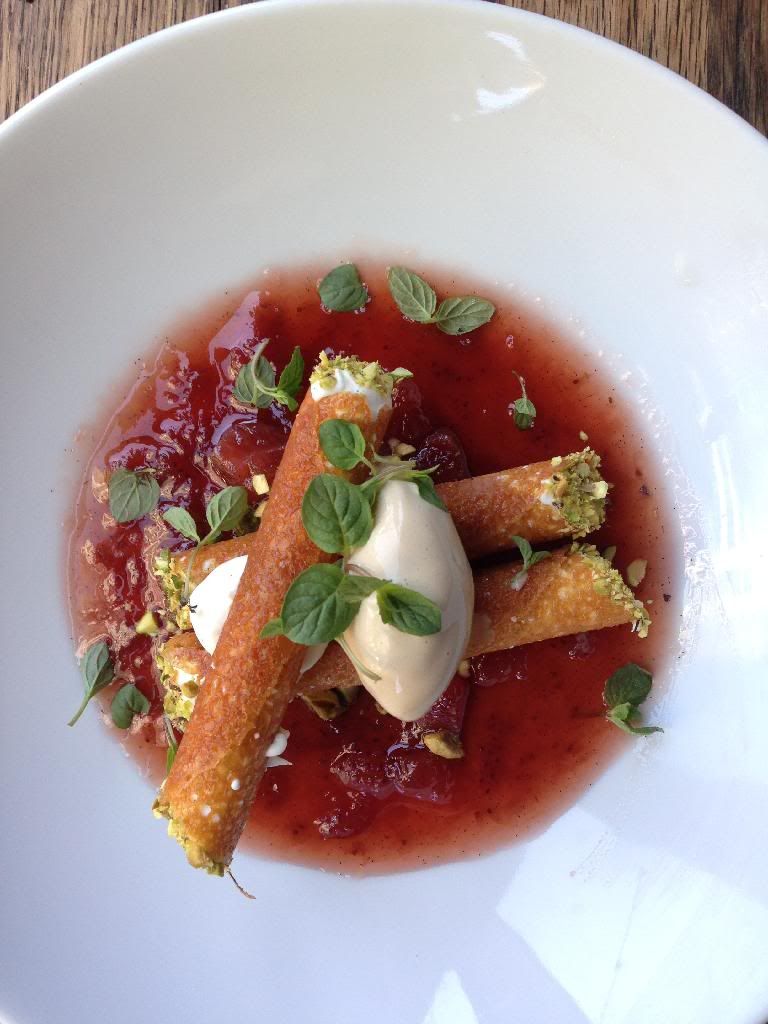 Honey Crisp Cannoli
Bocce Bar is a great addition to Midtown's growing culinary landscape. Prices are all very reasonable and the dishes are all beautifully presented. After three visits, I can say that I really enjoy Bocce Bar's lunch offerings. There hasn't been a single dish that I didn't really enjoy and I recommend it to anyone looking for a fun place to eat at. However, Bocce Bar changes their menu regularly so there's a good chance that some of the dishes I covered on this post are no longer available. If that's the case,
te jodiste
.
_____________________________
Restaurant Details:
Bocce Bar
3252 Northeast 1st Ave
Miami, FL 33137
(786) 245-6211
www.bocce-bar.com