Disclaimer: This is part of a sponsored collaboration with DiMe Media and National Pork
Board. All opinions are 100% mine.
"Friendsgiving" is a great time to get together with friends and enjoy delicious food during the holiday season. This year, I'm taking my Friendsgiving one step further and celebrating Porksgiving – a time to give (with pork) to those who give back, to show them that we appreciate everything they do.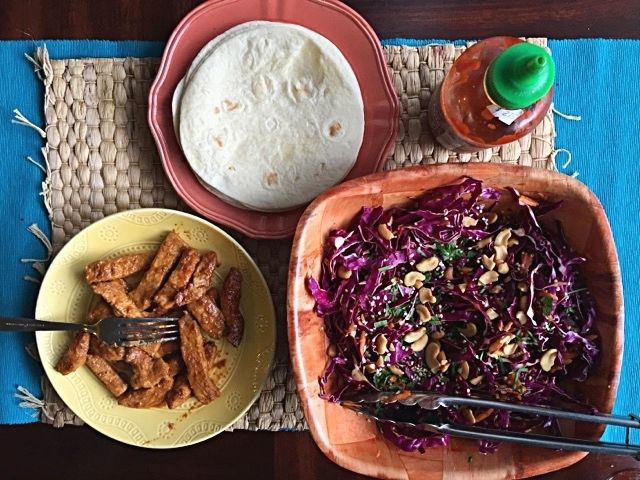 I love pork any which way, but for the holidays I like to think outside of the box and give pork a spicy Korean twist. I love Korean food and I also love tacos, so as a result I've decided to combine the two for a delicious marriage with Spicy Korean Pork Tacos. This dish is perfect for friendly gatherings or a spicy, oriental twist on taco night. The spicy bbq pork is typically referred to as Daeji Bulgogi and it's popular in Korean cuisine. We'll be topping the pork with an Asian slaw over a flour tortilla.
1 Package of small flour tortillas
4 Boneless pork chops, thinly sliced
Daeji Bulgogi Marinade (recipe below)
Asian Slaw (recipe below)
1 bottle of sriracha (optional)
½ Cup of crushed pear
¼ Cup minced onion
4 Cloves of minced garlic
½ Teaspoon of minced ginger
1 Chopped green onion
1 Tablespoon soy sauce
1 Tablespoon of sugar
2 Tablespoon brown sugar
A pinch of ground black pepper
2 Teaspoon of toasted sesame oil
3 Tablespoon hot pepper paste (easily available at any oriental market)
1 Small head of purple cabbage, thinly sliced
1 Large orange carrot, shredded
6 Scallions, shredded
1/2 Cup rice wine vinegar
2 Tbsp. soy sauce
2 Tbsp. toasted sesame oil (or another oil)
2 Cloves of garlic, minced
1/4 Cup of cilantro chopped
¼ Cup of parsley, chopped
¼ Cup of mint, chopped
2 Tbsp. sesame seeds
½ cup of whole cashews
Combine all of the ingredients for the marinade in your blender and puree. Once completely blended, pour 1 cup of marinade in a large storage size Ziplock bag along with the 4 boneless pork chops that have been thinly sliced. The remaining marinade will keep in your refrigerator for up to 1 week and works great with other proteins. Place the bag filled with marinade and pork chops in the fridge for 2-3 hours.
While the pork chops are marinating, you can make the slaw. In a large bowl, place the cabbage, carrot, scallions and garlic. In a small bowl whisk together the rice wine vinegar, soy sauce, toasted sesame oil, parsley, cilantro and mint. Pour the liquid mixture over the large bowl containing vegetables and toss until well combined. Top with sesame seeds and cashews. Cover and set aside in the refrigerator until ready to eat.
Remove the pork chops from the refrigerator and set your stovetop to medium high. Lightly spray a cast iron skilled with ridges with non-stick cooking spray. Feel free to use a regular non-stick skillet if you don't have a cast iron one. Place the sliced pork chops onto the skillet, leaving a little bit of room between each piece of meat. Cook the meat for about 1-2 minutes on each side until the pork is completely cooked through. Place cooked pieces of meat on a serving platter.
Now that the meat is cooked, it's time to set up your tacos! Grab a flour tortilla and top with a few slices of pork, Asian slaw and if you're looking for extra spice, feel free to add a drizzle of sriracha.
I like to set my table, buffet style with the tortillas, slaw and pork laid out so everyone can dig in and make their own tacos however they like. I feel it makes for a more fun and interactive experience. Want to share your pork loving holiday cheer with others on social media? Head to PorkTeInspira.com/inspirateadar to create your own #InspirateADar #Porksgiving holiday greeting card.
The National Pork Board will donate one pound of pork to charity for every pork-inspired greeting card shared.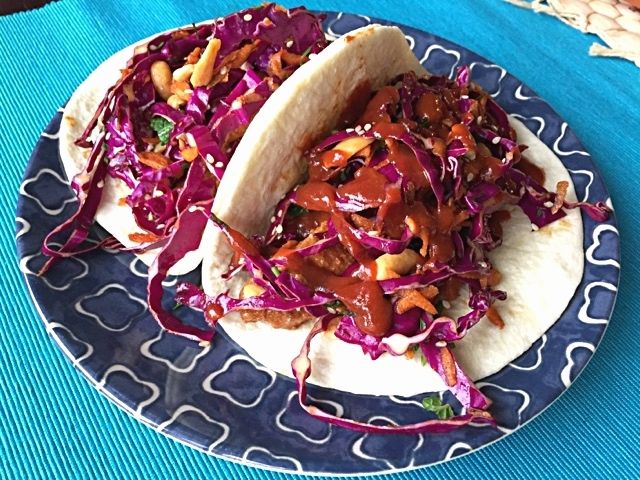 _____________________________________________________________
Inspirate a dar y celebra su Friendsgiving, el almuerzo del día de Navidad o Fin de Año en estas fiestas con carne de cerdo! Me encanta la carne de cerdo de cualquier manera, pero para las festividades me gusta pensar fuera de la caja y darle un toque coreano picante a la carne de cerdo. Friendsgiving es un momento de diversión para reunirse con las amistades y qué mejor que disfrutar con una comida para celebrar. Convierta su Friendsgiving a un #Porksgiving: un tiempo para dar de vuelta con carne de cerdo, a los que amamos y estámos agradecidos por. Me encanta la comida coreana y también me encantan los tacos, así que como resultado he decidido combinar los dos para un delicioso matrimonio con picantes tacos de cerdo coreano. Este plato es perfecto para reuniones de amigos o un toque picante, oriental para la noche de tacos. El cerdo a la barbacoa picante se refiere típicamente como Daeji Bulgogi y es muy popular en la cocina coreana. Vamos acompañar la carne de cerdo con una ensalada asiática sobre una tortilla de harina.
1 paquete de pequeñas tortillas de harina

4 chuletas de cerdo sin hueso , cortada en rodajas finas

Daeji Bulgogi Escabeche ( receta a continuación )

Repollo Asiático ( receta a continuación )

1 botella de Sriracha ( opcional)
½ taza de pera triturado

¼ de taza de cebolla picada

4 dientes de ajo picado

½ cucharadita de jengibre picado

1 cebolla verde picada

1 cucharada de salsa de soja

1 cucharada de azúcar

2 cucharadas de azúcar morena

Una pizca de pimienta negro

2 cucharadita de aceite de sésamo tostado

3 cucharadas de pasta de ají picante (fácilmente disponibles en cualquier mercado oriental )
1 Pequeña cabeza de repollo morado, en rodajas finas

1 Zanahoria naranja grande, rallado

6 Scallions, triturados

Media taza de vinagre de arroz

2 cucharadas. salsa de soja

2 cucharadas. aceite de sésamo tostado (o otro aceite)

2 dientes de ajo, picados

1/4 taza de cilantro picado

¼ taza de perejil picado

¼ taza de menta picada

2 cucharadas. semillas de sésamo

½ taza de nueces de la India entera
Combine todos los ingredientes de la marinada en su licuadora . Una vez completamente mezclado, ponga 1 taza de marinada en una bolsa Ziplock tamaño de almacenamiento grande junto con las chuletas de cerdo sin hueso . El adobo restante se mantendrá en el refrigerador durante 1 semana y funciona muy bien con otras proteínas. Coloque la bolsa llena de la marinada y chuletas de cerdo en la nevera durante 2-3 horas.
Mientras
las chuletas de cerdo son marinada , puede hacer el repollo asiático. En un tazón grande, coloque el repollo, zanahoria, cebollín y el ajo . En un pequeño tazón bate el vinagre de vino de arroz, salsa de soja, aceite de sésamo tostado, perejil , cilantro y menta . Vierta la mezcla líquida sobre la taza grande que contiene las verduras y revuelva hasta que esté bien combinado . Cubra con las semillas de sésamo y nueces de la India. Cubra y deje en el refrigerador hasta que esté listo para comer.
Retire las chuletas de cerdo de la nevera y establecer su estufa a medio-alto. Rocíe ligeramente una fundición especializada con los cantos con antiadherente para cocinar. Siéntase libre de utilizar un sartén antiadherente regulares si usted no tiene un ser de hierro fundido. Coloque las chuletas de cerdo en rodajas al sartén, dejando un poco de espacio entre cada pieza de carne . Cocine la carne durante 1-2 minutos por cada lado hasta que la carne esté completamente cocinada. Coloca pedazos cocidos de carne en un plato de servir .
Ahora que la carne esté cocida, es hora de configurar sus tacos! Coge una tortilla de harina y encima le pone unas rebanadas de carne de cerdo, repollo asiático y si lo que buscas es un condimento especial, no dude en añadir un chorrito de Sriracha .
Me gusta poner mi mesa, estilo buffet con tortillas, el repollo asiático y carne de cerdo diseñada para que todos puedan hacer sus propios tacos a su gusto. ¿Quieres compartir tu alegría con otros en los medios de comunicación social? Vaya a porkteinspira.com/inspirateadar para crear su propia tarjeta de felicitación de felicitaciones #InspirateADar. Por cada tarjeta de felicitación inspirada en Pork que sea compartida, el National Pork Board donará una libra de carne de cerdo a una organización caritativa.